Shorts Waded Into Financials Just in Time for Deutsche Bank Rout
by
Fed rate decision damps prospects for U.S. lenders' profits

Election uncertainty, volatility in crude add to angst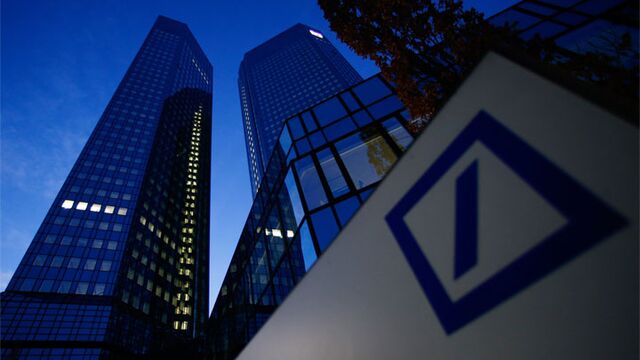 Even before Deutsche Bank AG's drop to a record low dragged down U.S. financial shares on Monday, investors were braced for the worst.
Blame the Federal Reserve's decision to hold interest rates steady last week, prolonging the wait for higher yields on cash holdings for financial firms. Traders responded by pushing short interest on an exchange-traded fund tracking the industry to a seven-month high, according to data compiled by Bloomberg and IHS Markit Ltd.
That's proven prescient as concerns over Deutsche Bank's weakened finances sent an index of financial companies in the S&P 500 Index down 1.5 percent at 4 p.m. in New York, while the benchmark gauge lost 0.9 percent to 2,146.10. It marked the latest hiccup for a sector already maligned by a nearly 12 percent plunge this month for scandal-plagued Wells Fargo & Co., formerly the biggest U.S. bank by market value.
"The fact that rates were not raised made financials a relative underperformer last week," said Michael James, managing director of equity trading at Wedbush Securities Inc. in Los Angeles. "And given what's going on with Deutsche Bank and Wells Fargo, I would expect that weakness to continue with financials as a whole. It could be a headwind to the whole market making an upside move."

Short interest on the Financial Select Sector SPDR ETF rose to 4.5 percent of shares outstanding on Thursday, the highest since Feb. 2, IHS Markit data show. Still, it wasn't the first time investor skepticism around financial stocks perked up in recent weeks. In a Sept. 14 note to clients, Goldman Sachs Group Inc. said that while investors should be getting bullish on banks ahead of a rate hike, the cost to hedge them is no different from the broader S&P 500.
Now, with the Fed's decision to stand pat on lending rates in the rear-view mirror, investors are turning their attention to the first of three televised debates between presidential candidates Hillary Clinton and Donald Trump tonight. The pair is deadlocked in a head-to-head race in the latest Bloomberg Politics national poll. The Democratic candidate had a 6-point advantage on her Republican rival in August. A Trump victory could lead to equity declines, Citigroup Inc. analysts warned last month.
Investors are also awaiting a meeting between major oil producers this week after crude slumped on Friday on concern OPEC won't reach an agreement to curb output. Its members and Russia meet on Wednesday in Algiers to discuss coordinated action to support prices. Crude rebounded Monday from its worst one-day drop in more than two months, as Saudi Arabia's offer to cut output opened the door to a future deal.
The S&P 500 increased 1.2 percent last week as the Fed's decision to hold rates steady renewed the appeal of stocks to yield-seeking investors -- although the move higher was damped by a 0.6 percent decline on Friday.
"The spillover from Friday's weak action, with nothing material coming from overseas other than the Deutsche Bank concerns, it's not surprising to see the market with a weaker tone," said James. "There isn't a lot happening this week, so the presidential debate is likely to have a big impact tomorrow and potentially going forward."
Lenders in the S&P 500 posted the steepest slide in almost three months, with Bank of America Corp. and Citigroup Inc. losing more than 2.6 percent, while the yield on the 10-year Treasury note fell to a two-week low. The Dow Jones Industrial Average dropped 166.62 points, or 0.9 percent, to 18,094.83, while the CBOE Volatility Index jumped 18 percent. About 5.9 billion shares traded hands on U.S. exchanges, 11 percent below the three-month average.
Deutsche Bank slumped 7.1 percent in U.S. trading after a media report said the German government wouldn't step in to back the lender. Chief Executive Officer John Cryan's efforts to shore up profitability and capital, by cutting thousands of jobs and shrinking, have been put at risk by the U.S. Justice Department requesting $14 billion to settle a probe tied to residential mortgage-backed securities.
Among shares moving on corporate news, Pfizer Inc. slipped 1.8 percent after deciding not to pursue a strategy of splitting into two separate companies. Bats Global Markets Inc. fell 4.6 percent after agreeing to be bought by CBOE Holdings Inc. for about $3.2 billion in cash and stock. Bats jumped 20 percent Friday on a Bloomberg report that the two companies were in talks.
Investors are also weighing economic data and the prospects for corporate profits, with Alcoa Inc. unofficially kicking off the next earnings season when it reports results on Oct. 10. A gauge today showed purchases of new homes dropped in August after surging a month earlier to the fastest pace since 2007. Releases on durable-goods orders, a revised look at second-quarter growth, as well as readings on personal income and spending are due later this week.
Before it's here, it's on the Bloomberg Terminal.
LEARN MORE