Renzi Starts Ten-Week Fight for Italy Referendum and His Job
By
Italian premier sets Dec. 4 for vote on constitutional reform

Renzi says governments in Italy live less than cat on highway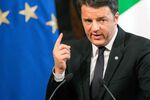 Prime Minister Matteo Renzi picked Dec. 4 for a referendum on constitutional changes that aims to streamline the way Italy is run, setting the clock ticking on a ballot that will seal his political fate.
In a vote with echoes of the Brexit referendum that cost David Cameron his job, Renzi's push for "the mother of all reforms" is being closely watched by financial markets because it feeds political instability just as the third-biggest economy in the euro area struggles to boost sluggish growth. The date was approved at a cabinet meeting on Monday.
Renzi has already intensified his campaign with almost daily trips to companies, schools and political rallies as he argues the constitutional reform will mean speedier and more efficient legislation, fewer politicians and an end to revolving-door governments. The country has seen 63 different administrations since the end of World War II.
Under the current system "a cat on the motorway between Florence and the sea lasts longer than a government," Renzi said at a "Yes" rally in Prato, Tuscany, on Saturday. "This is an opportunity which won't come again, at stake for Italy are 20 years of future and of hope."
Five Star
Also in jeopardy is the Renzi government. The prime minister's political foes, led by the anti-establishment Five Star Movement, have seized on his pledges to resign if he loses the vote. Virginia Raggi, the Five Star mayor of Rome, said at the weekend that a "No" victory would bury the government.
Renzi was the first to realize that he needs to shift the focus of his message away from his promise to quit, said Ettore Rosato, head of Democratic Party lawmakers in the lower house in a telephone interview. "Opposition parties have turned the referendum into a clash with the government, so our job is to inform voters about the content of the reform," Rosato said. Renzi has declined to be drawn on his promise to quit in recent interviews.
Opponents of the reform, a vast array ranging from dissidents within Renzi's party to the anti-immigrant Northern League, argue that it would give too much power to governments, fail to make substantial savings, and reduce the Senate to a weak assembly of mayors and regional councilors who are appointed and not elected.
"This is a reform which cuts down the number of politicians," Renzi said in an interview on the Rete 4 TV channel hours after the date was announced. "And if you cut the jobs for the boys, you're not shrinking democracy."
Abstract Reform
Apart from persuading voters they should vote "Yes" to keep him in power, Renzi's challenge is to make people understand what the reform means. "Changing the powers of the Senate, the relationship between the houses of parliament -- it's all very abstract compared to people's daily lives," said Alessandra Ghisleri, chief executive officer of Milan-based pollster Euromedia Research.
The result is too close to call, with pollsters divided on which camp is in the lead. A survey by the Ixe institute for RAI state television, published on Monday, credits "Yes" with 52.1 percent and "No" with 47.9 percent.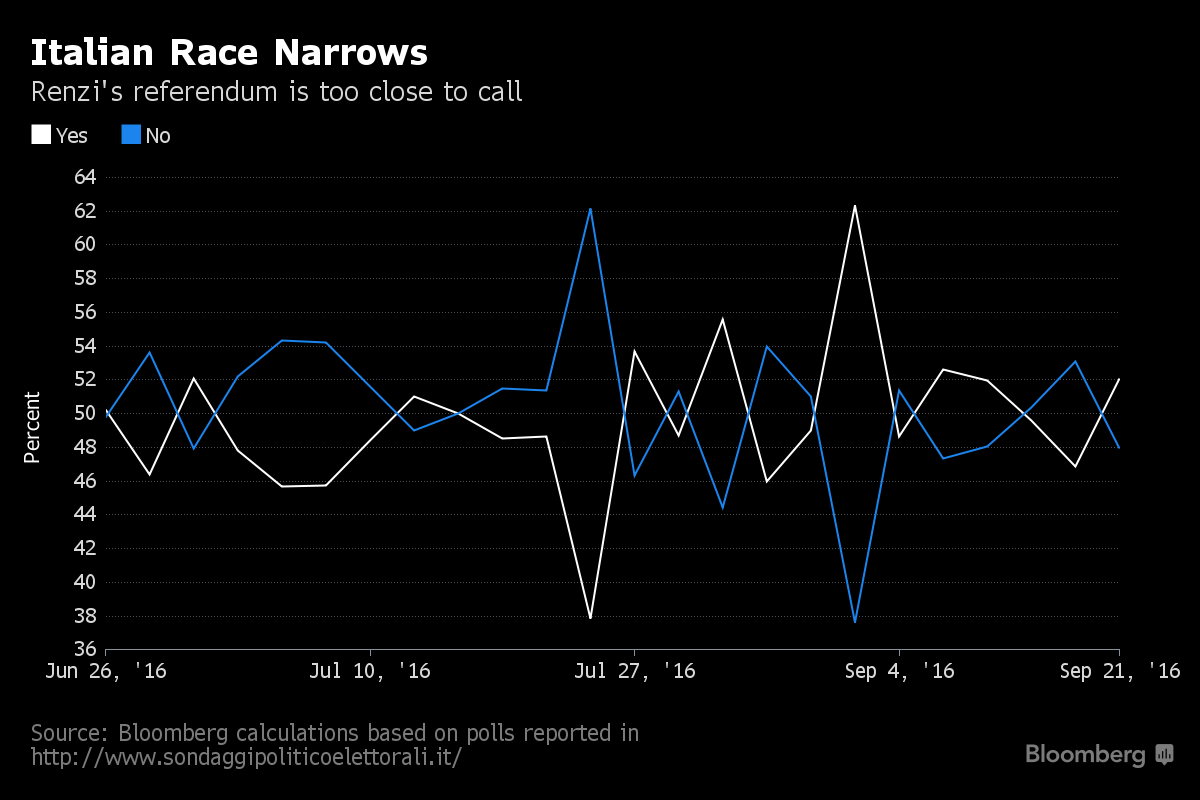 With anti-European Union feeling helping Five Star catch Renzi's party in the polls, the prime minister has stepped up criticism of Germany and Chancellor Angela Merkel as the chief champion of austerity policies in the bloc. On a visit to New York last week, Renzi said "stressing austerity means destroying Europe" and that the only country benefiting from it was Germany.
Renzi is also seeking to woo voters with new stimulus in the forthcoming budget including tax cuts and pension reform. But the government is expected to revise its growth forecast for both this year and 2017, compared with previous estimates of 1.2 percent for each year.
If "No" wins and early elections are called, the most probable option is "a grand coalition government led by a centrist politician," Nicola Nobile, senior euro zone economist at Oxford Economics Ltd. wrote in a briefing earlier this month.
"We would not expect a radical shift in economic policy or a reversal in the reforms implemented in recent years, but there would probably be a sustained period of political gridlock and policy inaction," Nobile said. "This might result in a weakening of fiscal policy, leading to a rise in government bond yields."
Before it's here, it's on the Bloomberg Terminal.
LEARN MORE