Rajoy's Search for Spanish Allies Boosted by Regional Elections
By
Prime minister's party hangs on to majority in Galicia

Socialists overtaken by Podemos in two northern regions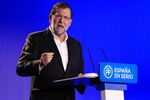 Caretaker Prime Minister Mariano Rajoy's bid for a second term in Spain was strengthened after his party won a regional election in his home region on Sunday.
Rajoy's People's Party claimed 41 of the 75 seats in Galicia's regional assembly while his main rivals at national level, the Socialists, suffered losses, according to data released by the local administration. In a separate election in the Basque Country, the PP held on to nine of its 10 seats, making the party a player in the horse-trading that will be required to approve a budget.
Rajoy is struggling to piece together a majority in the Spanish Parliament after losing his majority in December. In a confidence vote in parliament this month, the PP leader was six votes short of taking office. If lawmakers fail to choose a prime minister by the end of October the country will be headed for an unprecedented third election in a year.
Sunday's victory in Galicia, the PP's traditional stronghold, will strengthen Rajoy's authority within his party, while his result in the Basque region will give him leverage in negotiations to form a government in Madrid -- Rajoy could, in theory, give Basque leader Inigo Urkullu a majority in his regional assembly in exchange for the Nationalists' five votes in the Spanish parliament.
"The People's Party is willing to talk to anyone who has a project for our country," PP Secretary General Maria Dolores de Cospedal said on Sunday night, when asked about the prospect of talks with the Basques. "We can talk to the Basque Nationalists or with any other party, so long as they respect the rule of law."
Socialist Losses
Discontent in the aftermath of the economic crisis and a wave of corruption turned many voters toward new parties -- the anti-establishment group Podemos and the liberals of Ciudadanos. With nationalist groups like the Basques and Catalans holding onto another handful of seats, no one has been able to form a majority, even after a repeat vote on June 26.
Socialist leader Pedro Sanchez is trying to persuade Podemos and Ciudadanos to form an anti-Rajoy majority in the national assembly, but his claim was damaged by losses on Sunday when his party was overtaken by Podemos, its main rival for left-wing voters, in both regions.
"It has been a negative result," the Socialists' head of party organization, Cesar Luena, said. "It was a very difficult campaign."
Sanchez is under pressure from party elders and regional heavyweights to halt his efforts to lead his own majority and instead give Rajoy the abstentions that would let him take office.
In Galicia, Podemos's local ally, En Marea, won more votes than the Socialists, though both parties got 14 seats. In the Basque Parliament, the Socialists fell to nine lawmakers from 16 in 2012 as Podemos claimed 11 seats in its first election in the region.
The Basque Leader Urkullu signaled he's ready to negotiate with Rajoy and that he may seek further autonomy for his region as the price of his party's support.
"The coming weeks will be a time for political dialogue," Urkullu said Sunday night. "We'll talk to all parties. Our goal is reaching the agreements needed to give the Basque government stability."
Before it's here, it's on the Bloomberg Terminal.
LEARN MORE