Poland Risks Being Left Behind as Cheap-Debt Train Departs
by and
Government should start financing 2017 budget now: Amundi

December's Fed meeting may be a turning point for Polish debt
Poland may regret its pledge to avoid the Eurobond market for the remainder of 2016, the first time it's stayed away from foreign markets in the final four months of any year since 2008.
So say Amundi Asset Management and Bank Pekao SA, which think the government should prefinance next year's budget and seize on a rally in emerging-market debt that's driven Poland's euro borrowing costs to near a record low. While euro- and dollar-denominated bonds are outperforming local notes, the country has no plans to return to international debt markets this year, according to Finance Minister Pawel Szalamacha.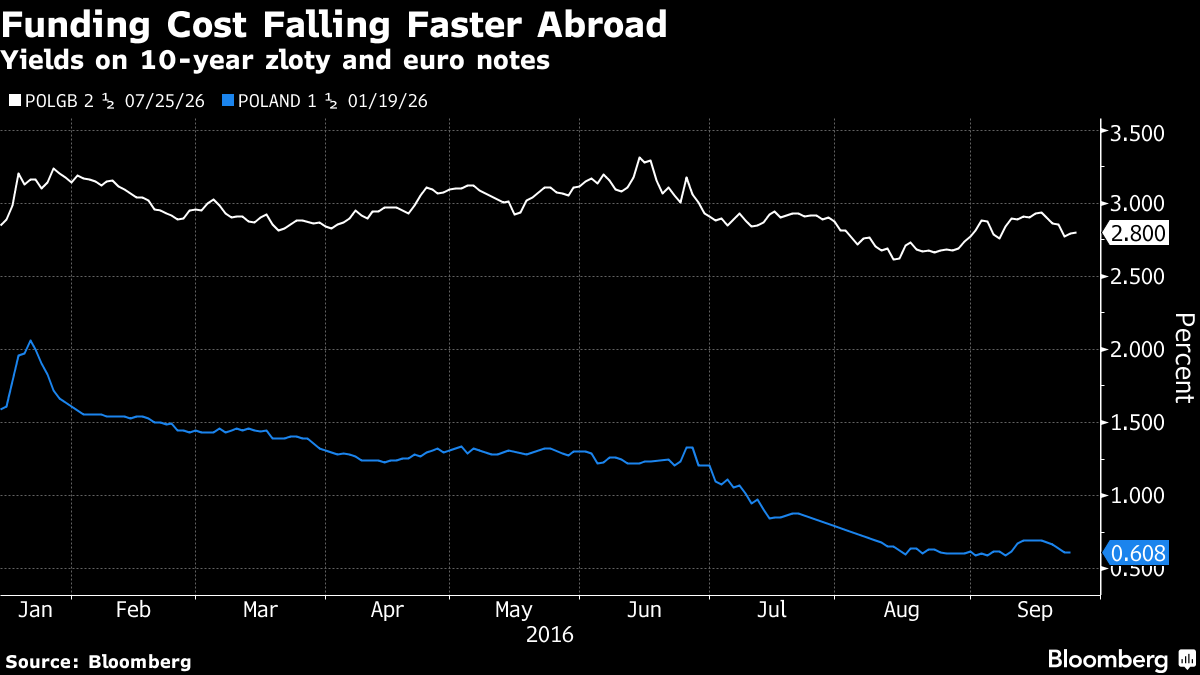 Amundi and Pekao contend the conditions for raising debt cheaply won't get better and the central European nation should emulate Russia's Eurobond tap it rushed to market after the Fed held rates last week. With presidential elections in the U.S. approaching and the Federal Reserve moving closer to tightening monetary policy, the cost of funding the Polish government's pledges to voters on pensions and cutting the retirement age in 2017 may rise.
"If the Fed starts tightening in December, we may see higher yields," Arkadiusz Urbanski, a strategist at Pekao in Warsaw, the second-largest Polish lender, said by e-mail. "It would be good to make use of current market opportunities and sell more debt this year. Prefinancing 15-20 percent of next year's borrowing needs would be a good sign."
Wrapping Up
The government has already met 86 percent of this year's budget-funding plan and can reach its target with as few as two zloty-debt sales, Deputy Finance Minister Piotr Nowak said earlier this month.
In 2017, the going may be harder. The European Commission has forced Poland to suspend a new levy on retailers, while revenue from a tax on banks is falling short of plan. The government's net target for borrowing will increase 22 percent to a record 79 billion zloty ($21 billion).
"I would be more opportunistic in tapping the market if I were the Polish government," said Esther Law, a London-based money manager at Amundi, which oversees $1 trillion of assets worldwide. "While last week's decision by the Fed and Bank of Japan were both taken positively by the financial market, I think it is appropriate for the Finance Ministry to be prudent when coming to the market given the risks still lying ahead."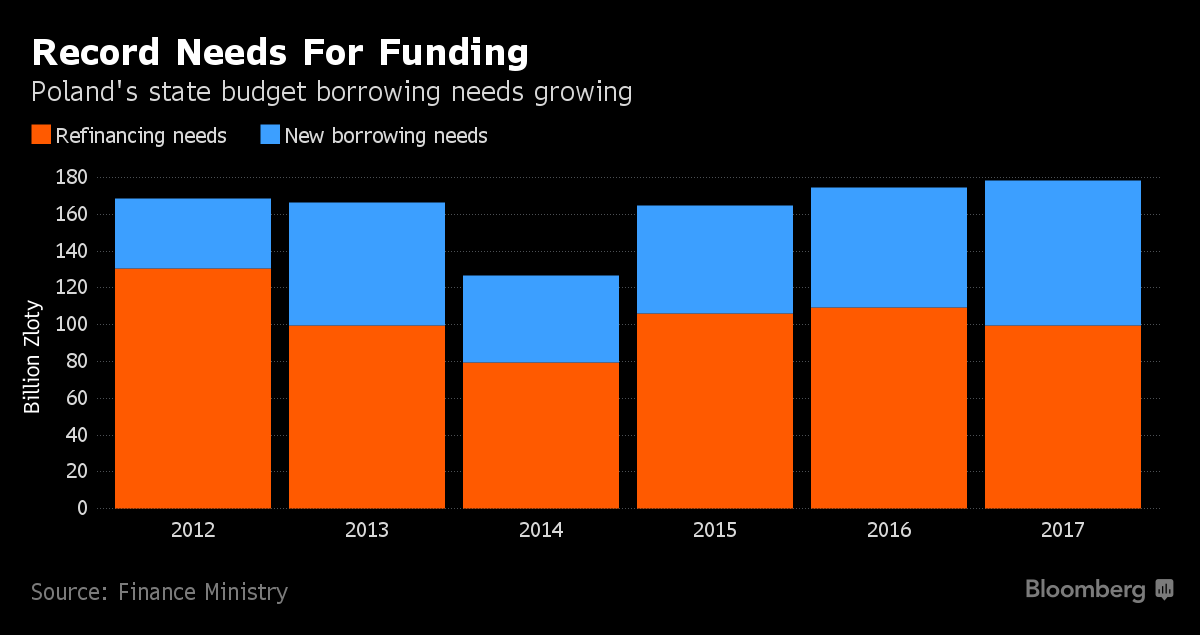 As well as the factors outside its borders that may hamper its efforts to borrow next year, Poland's local risks have grown since the Law & Justice party swept to power in October.
Markets sank in January when the nation received its first credit rating downgrade from S&P Global Ratings, which cited concern about the government's commitment to the independence of "key institutions." Investors are waiting for the final version of a plan to convert billions of dollars of Swiss-franc mortgages and the 10-month old cabinet, including the Finance Minister Szalamacha, could be overhauled as early as this week, according to media reports.
While Poland remains a "strong credit," the rally in emerging-market debt has left it trading "relatively tight" to U.S. treasuries and German debt, according to Anton Dombrovsky, a Munich-based fund manager at Pacific Investment Management Co. LLC.
The yield on Poland's euro-denominated 10-year notes has fallen 65 basis points this quarter, more than double the drop for similar-maturity zloty debt, data compiled by Bloomberg show. The extra yield investors demand to hold Polish sovereign bonds over equivalent U.S. securities has tumbled to 96 basis points from 149 in June, according to JPMorgan Chase & Co. indexes.
Paul McNamara, who oversees $4.5 billion in emerging-market debt at GAM Holding AG in London, says Poland can weather a possible Fed hike in December. Still, it would be a "missed opportunity" if Poland doesn't jump on the low yields before the end of the year, he said.
Before it's here, it's on the Bloomberg Terminal.
LEARN MORE