Philippine Peso Slides With Stocks as Duterte Unnerves Investors
by and
Global funds sell the nation's shares for a 23rd day

Peso's weakness "mainly due to politics," Oanda's Halley says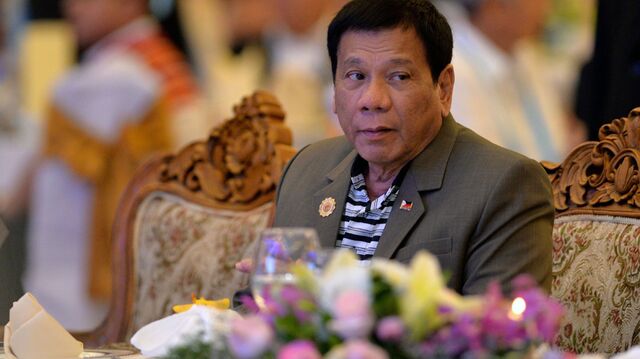 The Philippine peso sank to a seven-year low and stocks declined as investors pulled money from the nation's assets amid concerns about President Rodrigo Duterte's policies.
Global funds sold Philippine stocks for a 23rd straight day amid nervousness about the fallout from Duterte's anti-drug war and his outbursts against the U.S. and the United Nations. Central bank Governor Amando Tetangco, who last week sought to soothe investors spooked by Duterte's rhetoric, said Monday the currency's movements partly reflect uncertainty about the Federal Reserve's next policy action. The peso led a drop in emerging-market currencies ahead of the U.S. presidential debate and a meeting of oil producers this week.
The peso's decline is "mainly due to politics, with the Philippine president's ongoing war on drug dealers and his intent to seem to alienate all of their major trading partners," said Jeffrey Halley, a market strategist at Oanda Asia Pacific Pte in Singapore. "Any rally would be quite short-lived in the peso this week just until the political situation clarifies a lot more. We also have the first U.S. presidential debate coming up and I think it's quite a big event that hasn't really been priced by the market."
The peso tumbled 0.5 percent to 48.245 per dollar in Manila, according to Bankers Association of the Philippines data compiled by Bloomberg. It reached 48.260 earlier, the weakest since September 2009, and has lost 3.9 percent over the past month, the worst performance in Asia.

In about three months on the job, the Philippine leader has used expletives in talking about U.S. President Barack Obama and vowed to end cooperation with the U.S. military in both fighting terrorism and patrolling the disputed South China Sea. He's moved to boost economic and defense ties with China and Russia.
S&P Global Ratings has warned that the Philippines' sovereign credit rating may be under downward pressure if Duterte's commitment to reforms stalls to an extent that the nation's growth potential weakens or fiscal position is undermined.
The Philippine Stock Exchange Index dropped 1.2 percent, after rallying 2.3 percent last week, the most in more than two months. The yield on 10-year government bonds climbed four basis points to 3.61 percent, according to fixing prices from the Philippine Dealing and Exchange Corp.
"The weakness in the region and political concerns are driving some investors to take profit," said Rafael Palma Gil, a portfolio manager at Rizal Commercial Banking Corp. in Manila. S&P's statement may have contributed to the slide in stocks, he said.
'Political Noise'
International investors were net sellers of Philippine shares on Monday, and have pulled $351 million so far this month.
"If one were to ignore the political noise generated by certain groups, one could clearly hear the voices of continued optimism over President Duterte's commitment to bring real change through the implementation of transformative reforms not only in the economy but on the peace and order front as well," Finance Department spokesperson Paola Alvarez said in a statement. "Confidence remains high on the capability of the Duterte administration to deliver on its commitment of inclusive growth."
Before it's here, it's on the Bloomberg Terminal.
LEARN MORE