U.S. Stocks Rise on Consumer Confidence After Debate; Oil Slumps
by and
Iran sinks crude with unwillingness to freeze production

Most Asian index futures fall with Topix going ex-dividend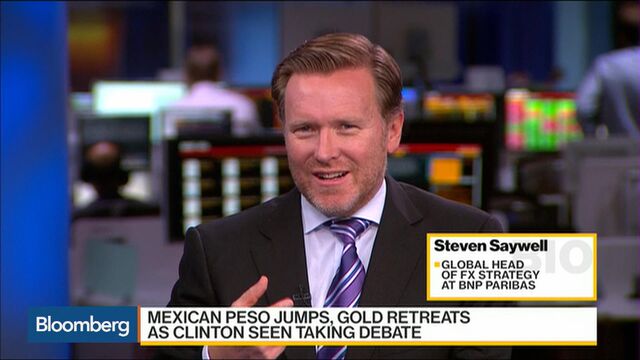 U.S. stocks shrugged off a drop in oil, rallying as consumer confidence jumped and banking shares rebounded. Mexico's peso led emerging-market currencies higher on the perception American presidential nominee Hillary Clinton beat Donald Trump in their first debate.
The S&P 500 Index furthered its quarterly advance, led higher by technology and retail companies, while European stocks halted a two-day rout as lenders trimmed their losses. Mexico's peso, increasingly a barometer of anxiety around the Trump campaign, jumped the most since February versus the dollar. Treasuries advanced to a three-week high as the greenback retreated. Oil tumbled as Iran said it's unwilling to freeze output at current levels and wants to raise production to 4 million barrels a day. Gold and copper also declined.

Equities climbed after data showing U.S. consumer confidence rose to the highest since 2007 bolstered optimism around the world's largest economy. The report also fueled gains in Europe, where lenders almost erased losses and Deutsche Bank AG was unchanged after plunging to a record low. While stocks struggled to find direction in early trading, polls showing Clinton outperformed Trump in the debate were also cited as a reason for relief. Citigroup Inc. has said a Republican win in November could send shares slumping, and warned this week that such an event may also spur volatility for gold and currencies.
"You have the perspective that Trump lost the debate, and good consumer confidence numbers," said Dennis Debusschere, a senior managing director and global portfolio strategist at Evercore ISI in New York. "If Deutsche Bank goes to the back page on the day, markets can focus on the election and the confidence data."
The first of three presidential debates between Trump and Clinton ahead of the Nov. 8 election drew more than 83 million viewers, making it the most-watched in history. It beat the previous record for the biggest audience set during the 1980 debate between Jimmy Carter and Ronald Reagan, which had 80.6 million viewers.
A CNN poll showed that 62 percent of voters who watched the debate said Clinton won the discussion, compared with 27 percent for Trump. Still, the Republican and Democratic nominees each got 46 percent of likely voters in a head-to-head contest in a Bloomberg Politics national poll released before the event.
"Polls on voting intentions still show that the race is essentially neck and neck," said James Athey, a money manager at Aberdeen Asset Management Plc in London, which has $402.9 billion in assets. "It will be these polls which truly have the power to drive a genuine re-pricing."
Stocks
The S&P 500 added 0.6 percent to 2,159.93 as of 4 p.m. in New York, bringing its quarterly advance to 2.9 percent. Amazon.com Inc. jumped to a record, while Microsoft Corp. was up 1.9 percent to pace the rally.
"Really, it's the consumer confidence number, which was extremely strong here, a big positive surprise that has helped the market," said Timothy Ghriskey, who helps manage 1.5 billion as chief investment officer at Solaris Asset Management LLC in New York.
The Stoxx Europe 600 Index added less than 0.1 percent, wiping out an earlier decline. Banks trimmed losses as Deutsche Bank erased a drop of as much as 3.5 percent. Commerzbank AG fell after a report that it plans to cut jobs and suspend dividend payments. Credit Suisse Group AG slid as its chief executive officer said the lender is mulling further cost cuts at the global markets unit that posted a loss earlier this year.
MSCI's gauge of global equities rose 0.3 percent, and emerging-market shares halted a two-day slide, climbing 0.6 percent.
Futures on Asian indexes signaled declines after most benchmarks rallied Tuesday. Futures on Japan's Nikkei 225 Stock Average slipped 0.4 percent in Osaka but jumped 1.1 percent in Chicago with most shares on the country's broader Topix index due to trade without the right to a dividend on Wednesday. Contracts on stock gauges in Australia, South Korea and Hong Kong fell at least 0.1 percent.
Currencies
The Mexican peso rebounded from a record low, respite for a currency that has posted the worst performance among major peers the past month amid polls showing that Trump gained ground on Clinton. The U.S. Republican candidate has vowed to renegotiate the North American Free Trade Agreement if he wins and said he'd build a wall between the U.S. and Mexico.
"Markets perceive a lower probability of Trump winning after the debate," said Andres Jaime, a strategist at Barclays Plc who was the top forecaster for the peso in the first half of the year. "As shorts get squeezed, the Mexican peso is outperforming its peers."
Bloomberg's Dollar Spot Index, which measures the greenback against major peers, dropped 0.3 percent. The yen was little changed at 100.44 per dollar, while the euro slipped 0.4 percent.
The Swedish krona led losses among its Group-of-10 peers after Riksbank Governor Stefan Ingves said that he remains determined, if necessary, to fight low inflation with more stimulus. The Egyptian pound slipped to a record low on the black market amid speculation policy makers will weaken the official exchange rate for the second time this year.
Bonds
U.S. 10-year notes advanced for a second day, with yields falling three basis points, or 0.03 percentage point, to 1.56 percent, according to Bloomberg Bond Trader data. Merrill Lynch's Option Volatility Estimate Index, known by the acronym MOVE, declined for a fifth day to 58.9 Monday, the lowest closing level in 21 months. It has fallen about 14 percent since Sept. 20, the day before the Federal Reserve's latest policy review.
A closer-than-expected U.S. election or further turmoil in the European banking sector may serve as catalysts that would propel volatility higher, according to Timothy High, U.S. strategist at BNP Paribas SA in New York, a primary dealer.
"I don't think we're going to get a big warning before a volatility event," High said. "It's kind of like when a flock of birds changes direction. When one goes, they all go at the same time."
European securities from higher-rated nations climbed as investor uneasiness about Deutsche Bank's financial footing sparked demand for the safest assets at the expense of those from more indebted nations. Germany's 10-year bond yields fell to the lowest level since July and Finland's dipped below zero for the first time.
Commodities
West Texas Intermediate oil for November delivery dropped 2.7 percent to $44.67 a barrel on the New York Mercantile Exchange. 
It's "not on our agenda" to reach agreement at OPEC talks in Algiers on Wednesday, Iranian Oil Minister Bijan Namdar Zanganeh said in the Algerian capital. Influential forecasters gave a worsening outlook for the market, with the head of the International Energy Agency saying supply and demand won't be in balance until late 2017 and Goldman Sachs Group Inc. cutting its fourth-quarter price forecast.
"The chances of a deal being reached are shrinking," said Phil Flynn, senior market analyst at Price Futures Group in Chicago. "The more we hear, the greater the doubts. The IEA's comments and Goldman cutting their forecast put further pressure on the market."
Nickel surged after top ore supplier Philippines said three-quarters of its mining industry fell short in an audit. Gold futures sank 1 percent to $1,330.40 an ounce, while copper declined 1.3 percent in New York.
Before it's here, it's on the Bloomberg Terminal.
LEARN MORE