business
London Mayor Khan Urges Labour to Win Cities in Power Push
By
Effective local government can show party is ready for office

Mayor thanks EU citizens and says they are welcome in Britain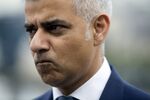 London Mayor Sadiq Khan called on his Labour Party to use elections to run cities across Britain next year as a springboard to defeating Prime Minister Theresa May's Conservative government.
Speaking at the party's annual conference in Liverpool, northwest England, Khan said effective local government can prove to voters that Labour is ready for power nationally. Current national polling shows the main opposition party, which has been split by a leadership battle, as much as 15 percentage points behind the Conservatives, suggesting Labour would be heavily defeated in a general election.
"With Labour in power, Britain is a fairer country -- a more equal country and a more just country," Khan said on Tuesday. "With Labour in power in cities and regions we can show that our party can be trusted to govern again, we can demonstrate that we can make a real difference to people's lives, and we can prove that we're ready for government."
Khan, who was elected in May and has the biggest personal mandate of any British politician, said the re-election of Jeremy Corbyn on Saturday has "decided" the question of the party's leadership and activists must concentrate on winning power instead of infighting. The mayor, who supported the leader's challenger, Owen Smith, said the party owes it to the most vulnerable in society.
There are mayoral elections in Liverpool, Birmingham and Manchester, three of England's biggest cities, next year, while Labour also has an opportunity to prove itself in other cities where it holds the mayoralty, Khan will say. As well as in London, Labour took control in Bristol in May.
Khan has sought to make his mark in the months since he took office with moves to free more public land for housing, lift a block to the development of London City Airport and introduce a system that allows travelers to use a bus ticket a second time within an hour.
He also used his speech to reassure European Union citizens living and working in the U.K. in areas such as the state-run National Health Service that they are welcome in the country after their future was called into question by the June 23 vote to quit the bloc.
"The future of EU citizens in Britain, who came here because they want to work and contribute, is being used as a bargaining chip. Well, that's wrong and the government should be ashamed," Khan said. "European citizens living across Britain, and who make a huge contribution to our NHS, schools, on construction sites and in business, you make a massive contribution to our country; economically, socially and culturally. Thank you for all that you do to make our country great."
Before it's here, it's on the Bloomberg Terminal.
LEARN MORE