markets
Ireland May Be a Winner From Brexit, Debt Office Chief Says
By
Referendum result may amplify Ireland's allure for investment

O'Kelly says would not be opportunistic on finance jobs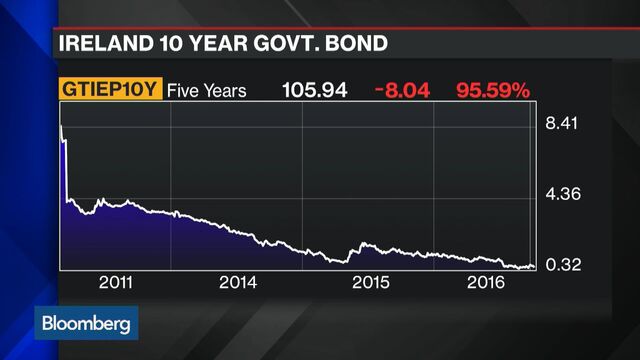 Ireland may eventually gain from the U.K.'s vote to leave the European Union even if it causes a short-term downturn, the head of Ireland's debt management agency said.
"The advantages of Ireland as a destination for foreign direct investment from multinationals are likely to be amplified," Conor O'Kelly, chief executive officer of the National Treasury Management Agency, said in a Bloomberg Television interview with David Westin in New York on Monday. "Strategically, if Britain continues to isolate itself, Ireland's place as a global hub may be very significant."
The Brexit vote may hurt Irish exporters in the short term but Ireland is a "very adaptable economy," O'Kelly added.
Ireland is seen as one of the favored destinations for financial firms based in Britain that want to retain so-called "passporting" rights which allow them to trade in the EU. O'Kelly said he ''would not be opportunistic" about Ireland attracting large numbers of companies from the U.K. immediately.
"It's not about the next year or two, it's about the next five or 10 years," he said.
Before it's here, it's on the Bloomberg Terminal.
LEARN MORE