China Stocks Decline Most in Two Weeks as Volatility Resurfaces
Bloomberg News
Shanghai Composite closes below 3,000 first time since Aug. 5

Investors taking profit before mainland holidays, Jingxi says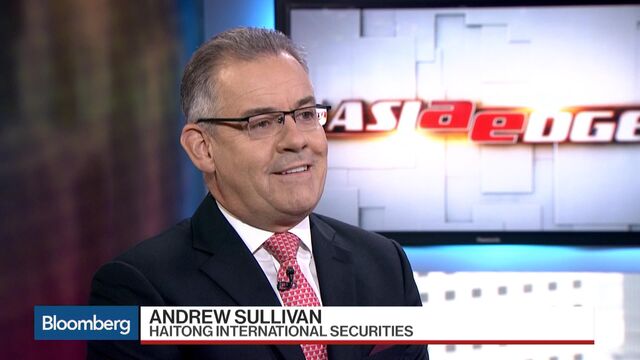 Chinese stocks slumped the most in two weeks as volatility returned before the start of a week-long holiday.
The Shanghai Composite Index dropped 1.8 percent to close below the 3,000 level, with 13 stocks declining for each that rose. A gauge of 10-day volatility jumped to the highest in a month. Hong Kong's Hang Seng Index retreated 1.6 percent, paring Asia's best quarterly performance.
The sudden drop came after turnover on China's equity exchanges fell to the lowest level in two years as a booming housing market and an equity rally across the border in Hong Kong lured mainland investors. Margin traders cut bullish bets on the nation's shares to the lowest level in more than a month on Friday. The Shanghai Composite is one of the world's worst performing stock gauges this year after last summer's $5 trillion rout. Holidays will close China's financial markets for the whole of next week.

"Investors are selling as the week-long holiday is approaching as they wouldn't risk holding their shares for such a long period to avoid uncertainty," said Wang Zheng, Shanghai-based chief investment officer at Jingxi. "The other reason is probably the current boom in the property market has siphoned off part of the capital from the stock market."
The Shanghai Composite Index slid to 2,980.43 as Anhui Xinli Finance Co. and Anhui Andeli Department Store Co. fell by their daily 10 percent limit. Trading volume on China's CSI 300 Index was 27 percent below its its 30-day average at the time of the day, according to data compiled by Bloomberg. The Hang Seng China Enterprises Index lost 1.7 percent, while the Hang Seng Index trimmed its gain since the end of June to 12 percent.
Mainland Investors
Mainland investors resumed purchases of Hong Kong stocks through a cross-border trading program with Shanghai on Monday, buying a net 2.97 billion yuan ($445 million) of shares. Global funds turned net sellers of mainland equities.
Some of the Hang Seng Index's biggest gainers of the quarter fell, with AAC Technologies Holdings Inc. and Sands China Ltd. -- both up at least 17 percent since the end of June -- declining more than 3.2 percent each. Chinalco Mining Corp. International jumped by a record 25 percent after parent Aluminum Corp. of China's privatization offer of HK$1.39 per share. Chinalco's price still fell short of the offer price, at HK$1.31.
Markets in other regions also dropped, with Japan's Topix and Taiwan's Taiex losing 1 percent. Monday was the first time since Aug. 5 that the Shanghai Composite closed below the 3,000 level.
"The market has lost confidence as the index has dropped blow a psychologically important level now," said Wei Wei, an analyst at Huaxi Securities Co. in Shanghai. "It's now pretty hard for the market to come back before the holidays."
— With assistance by Shidong Zhang, and Kana Nishizawa
Before it's here, it's on the Bloomberg Terminal.
LEARN MORE