Here's Why You're Paying $200 to Rent a Clunky Set-Top Box
by
U.S. FCC wants to let homeowners buy their own boxes

Cable and allies say competing boxes would slow innovation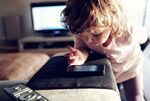 Imagine watching TV without paying the cable company for the blinking set-top box, using a gadget of your choice that makes it easy to switch between cable channels, streaming programs and online shows.
The idea, simple in concept, is proving difficult in execution.
U.S. Federal Communications Commission Chairman Tom Wheeler is pushing a plan to force cable companies to give up their control over set-top boxes, "unlocking" the marketplace as he puts it.
But he's drawn opposition from lawmakers in both parties, not to mention some of the most active corporate lobbyists in Washington. Comcast Corp. and the cable industry -- which stands to lose $20 billion a year in box rentals -- say it's unnecessary and are fighting it. So are Hollywood studios, DirecTV owner AT&T Inc., and CBS Corp. Even a fellow commission Democrat said Wheeler's plan set for a Sept. 29 vote is flawed.
"This issue is a classic inside-the-Beltway versus the people of America issue," Senator Richard Blumenthal, a Connecticut Democrat, said at a Sept. 15 congressional hearing. "Inside the Beltway there's this hand-wringing and, 'My goodness what are we doing.' Outside the Beltway there is no question that consumers deserve to save money through more choice and more competition."
TV Via App
The TV and film industries say they're fine with competition and fine with new ways to distribute their programming. But they say Wheeler's plan would slow movement toward making shows available via apps on tablets and mobile phones, because cable providers and content owners will struggle to satisfy new federal licensing requirements.
Wheeler said 99 percent of subscribers rent boxes from cable and satellite TV providers "because they don't have meaningful alternatives." Previous attempts to spur competition left consumers with devices that didn't get all channels and were hard to install, with cable companies offering poor support, the FCC said in February, adding that consumers pay more than $231 annually to rent boxes.
Under Wheeler's plan, pay-TV companies would have to provide online applications that grant access to their programming to independent device makers, such as Alphabet Inc.'s Google, Amazon.com Inc., TiVo Corp. and Roku Inc.
Netflix, Hulu
The devices would show available programming, including channels paid for as well as video available on the likes of Netflix Inc., Google's YouTube and the online Hulu LLC service owned by 21st Century Fox Inc., Walt Disney Co. and Comcast's NBCUniversal. Hulu has 12 million subscribers and may offer live TV channels soon.
Set-top boxes saddle consumers today with "antiquated" ways to interact with video programming, said Nicholas Economides, a professor at New York University's Leonard N. Stern School of Business who studies the economics of networks. 
Companies such as Microsoft Corp., Google and Apple Inc. could come up with search functions that outperform today's typical set-top box experience, which features tabular formats that list programming in a grid that doesn't extend beyond a week or two, Economides said. One likely result: easier access to programming outside cable's bundle of channels.
"The set-top box being independent of the cable company will make a big difference," Economides said in an interview. "Because then you would be able to use the set-top box itself to download -- to connect to Netflix, to connect to Hulu or anyone else. "
Direct Downloads
Unless cable companies offer "very aggressive" competitive moves such as slashing prices, "the introduction of new set-top boxes will accelerate the movement away from cable and toward direct downloads," Economides said.
Bringing in nimble, innovative companies could open possibilities just as ending AT&T's telephone monopoly in the 1980s finished the era of boxy desk phones that were available only for rent, not purchase, said Ed Black, president of the Computer & Communications Industry Association. The Washington-based trade group, with members including Amazon, Google, and Facebook Inc., has been prodding the FCC to act as part of the Consumer Video Choice Coalition.
"When we got rid of the black AT&T phones, nobody really could tell you there's going to be a fax machine and cell phones and all the things that came after," Black said in an interview. "When you do not have dominant company control, when you have lots of companies trying to get into this space -- there's an explosion of creativity and products."
Fighting Regulations
Comcast, the nation's biggest cable provider, says regulation isn't necessary because it already makes its TV service available without a set-top box. In April, the company said customers will be able to watch channels via Roku devices and Samsung Electronics Co.'s smart TVs. Charter Communications Inc. has also tested making its service available as an app on Roku devices.
"It's an environment where the amount of choice for consumers is high and accelerating," Comcast Chief Financial Officer Michael Cavanagh said at a conference in May. "So the idea that there's a need for a government mandate in that space strikes us as odd."
Besides lucrative rental fees, pay-TV providers have another reason for fighting the regulations: set-top boxes store detailed data about what shows viewers watch, which is valuable when advertising and negotiating with programmers. Comcast also uses its X1 set-top boxes to offer high-tech features like communicating with its voice-controlled remote.
Some doubt Comcast can stem the tide toward sleeker devices.
Bye-Bye Box
"The day of the traditional big, heavy company-controlled set-top box is over," Roku's founder and chief executive officer, Anthony Wood, said in an interview.
Programming's increasingly escaping the cable bundle, Wood said, citing such outlets as HBO Now, Time Warner Inc.'s streaming service with more than 1 million subscribers, and Dish Network Corp.'s streaming Sling TV, which offers live broadcasts from channels including NBC and ABC as well as cable networks ESPN, USA and Bravo.
"The cable stranglehold on distribution broke awhile ago," Wood said. "Consumers haven't all adopted it yet, but that's changing."
"This FCC rule might accelerate that, or it might have no impact. But I think market forces have already started the process," Wood said.
Cable Shows
Currently, not every device-making company will get the access to cable shows that Roku was able to negotiate, said John Bergmayer, an attorney with Public Knowledge, a Washington-based policy group that supports the proposed rule.
"The cable companies are slowly supporting some platforms," Bergmayer said. "The FCC proposal is different: You have to support all of the major platforms, you can't pick and choose."
Jessica Rosenworcel, a Democratic FCC commissioner, told senators at the hearing the agency lacks authority to carry out parts of Wheeler's plan. He needs her vote to win a majority, because two Republicans at the five-member agency have expressed opposition.
Rosenworcel and Wheeler said they'd work to resolve differences, and closed-door negotiations continue this week.
"It's time to inject competition into our set-top box market," Rosenworcel told senators. "Nobody has ever written me telling me that they love their set-top boxes."
Before it's here, it's on the Bloomberg Terminal.
LEARN MORE