Germany Sees 'No Grounds' for Speculation Over Deutsche Bank Aid
by and
Merkel spokesman pushes back on Focus report ruling out help

Government won't participate in any such speculation: Seibert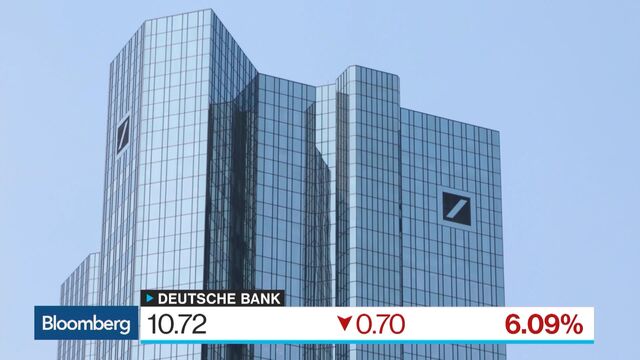 Chancellor Angela Merkel's government sees "no grounds" for speculation over state funding for Deutsche Bank AG, her chief spokesman said, pushing back against a magazine report that the German leader has ruled out any such aid.
"There are no grounds for such speculation,'' German government spokesman Steffen Seibert told reporters in Berlin on Monday when asked about the report. "The government won't participate in any such speculation.''
Merkel had ruled out any state financing for the Frankfurt-based lender heading into the national election in September 2017, Focus magazine reported Saturday, citing an unidentified government official. The chancellor also declined to wade into Deutsche Bank's legal imbroglio with the U.S. Justice Department, the magazine said. The Justice Department earlier this month opened negotiations to settle a long-running investigation of the bank's mortgage-securities business with a demand for $14 billion.
While Merkel meets regularly with finance executives in Germany, Seibert said he couldn't confirm a one-on-one meeting with Deutsche Bank Chief Executive Officer John Cryan. Focus reported that Cryan had suggested in a meeting this summer that diplomatic overtures by the German government would be helpful.
"The German governmental is broadly aware that the U.S. Justice Department in the past has made agreements with other financial institutions about compensation payments," Seibert said Monday. Germany "expects that at the end of these negotiations, for reasons of fair treatment, that a fair outcome will be achieved," he said.
Deutsche Bank AG shares dropped to a record low on Monday amid concerns that mounting legal bills, including the looming fine over its pre-crisis mortgage bond business, may force the lender to raise capital. The stock fell as much as 6.9 percent and traded 6.1 percent lower as of 12:34 p.m. in Frankfurt.
"I don't buy at all what's coming out of Germany in terms of Germany not wanting to step in ultimately if Deutsche Bank was really in trouble -- it's too important for the German economy," Allianz Global Investors Global Chief Investment Officer Andreas Utermann said on Bloomberg TV's Surveillance with Francine Lacqua and Tom Keene. "These are rumors that are not based on facts."
Before it's here, it's on the Bloomberg Terminal.
LEARN MORE