business
First Taste of Mamma Guidara's, the Nomad Hotel's Red Sauce Throwback
One of the world's best chefs tackles an old-school Italian Sunday supper at his Manhattan hotspot.
By
Some nights, New York seems like one giant Italian restaurant, with an infinite strand of pasta connecting everything and everybody.
It's hard to get that vision out of your head if you spend a night at the just-opening Mamma Guidara's, the red sauce spot that's taking over every Sunday evening at the Nomad Bar in the Gramercy Park neighborhood starting Oct. 2. When you're sitting in the dark wood-and-gold-walled, bi-level hotspot, digging into a massive plate of chicken parm while Sinatra, Billy Joel, and the Godfather theme play in the background, you might feel like you've been transported to the set of Goodfellas, and that's Ray Liotta at the next table.

Monday through Saturday, Nomad Bar is one of the great, bubbling, chic places to socialize in the country. Guests eagerly tackle such items as the indulgent Cocktail Explosion, a tank-size drink in a fancy glass decanter, or hot dogs decadently slathered with truffle aioli.
But on Sunday evenings from now on, you'll find all the tables covered with red-and-white-checked cloths and decorated with candles set in straw-covered chianti bottles with epic amounts of wax dripping down the sides. There's no written menu; the server recites the four-course menu to you, which, though it will change frequently, will invariably include Caesar salad, antipasti, and the option of chicken parmesan for two, which you'll be hearing a lot about.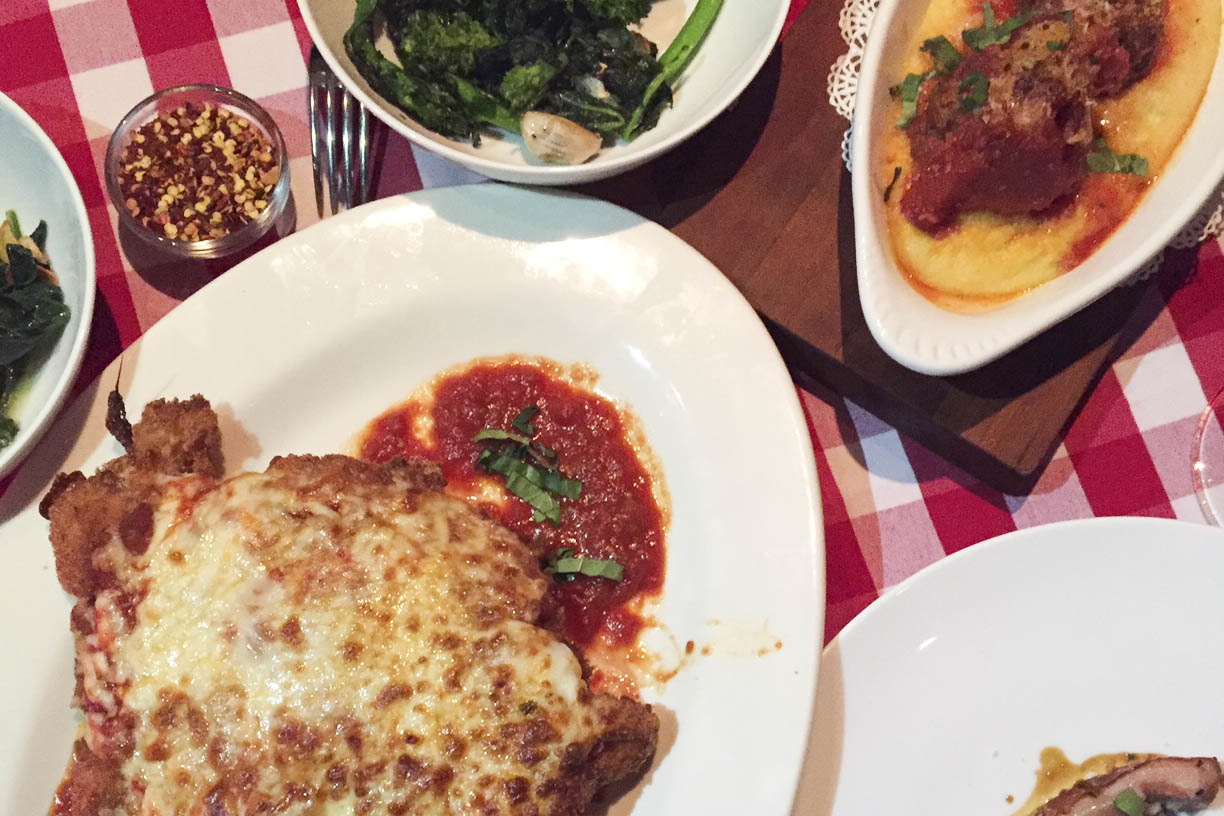 Mamma Guidara's is the brainchild of Will Guidara, co-owner of the Nomad Bar as well as Eleven Madison Park, which ranks as the No. 3 restaurant in the world. In spite of his upscale day-to-day work life, Guidara is a huge Italian-American food fan: His father ran the seminal Times Square area restaurant Mamma Leone's, which specialized in vast spreads of veal parm with spumoni for dessert and helped put a certain type of Italian cooking on the map in New York. Working with chef Daniel Humm and general manager Jeff Tascarella, Guidara created Mamma G's. 
Here's what you'll get: first off, a sliced small loaf of semolina bread with little packets of salted butter in a wicker basket, and a plate of antipasti animated by red peppers stuffed with whipped feta and goat cheese. The bread looks as though it comes from an ancient bakery somewhere in Brooklyn; in fact, it's baked in house and is gorgeous. (The butter comes from wherever butter in little packets comes from.)

Soon you'll have old-school wooden bowls of Parm-topped Caesar salad, and a server will arrive with the largest pepper grinder you've seen in a long time. Next, a celebration of dishes from the fryer: arancini that leaves exemplary cheese strings when you crack them open and stellar fried calamari with a rich caramelized garlic tomato sauce that hopefully will never go off the menu. But the dish you'll hear everyone talk about is the platter-size chicken parmesan for two, thick and juicy, with a well-seasoned crispy crust.  It will make you feel sorry for most of the other chicken parms you've had in your life. Even if you're eating alone, get it.

Mamma Guidara's House Wine list sits on the table, modestly encased in plastic. There are just five options, and they include quintessential Italian restaurant options such as Pinot Grigio and Chianti Classico. But wine director Thomas Pastuszak sourced them carefully: The Pinot Grigio is 2015 Venica & Venica; the Chianti is 2011 Castell'in Villa; both are $70 a bottle. Anyway, you can always ask for his wine list that is stocked with bigger choices and reminds you that you are, after all, at the Nomad.    
A four-course dinner at Mamma Guidara's is $68, not including drinks. Reservations via Tock.






Before it's here, it's on the Bloomberg Terminal.
LEARN MORE