China's Economy Shows Fresh Signs of Strength
Bloomberg News
Corporate leaders are more optimistic, but small firms less so

Satellite factory reading indicates first expansion since 2014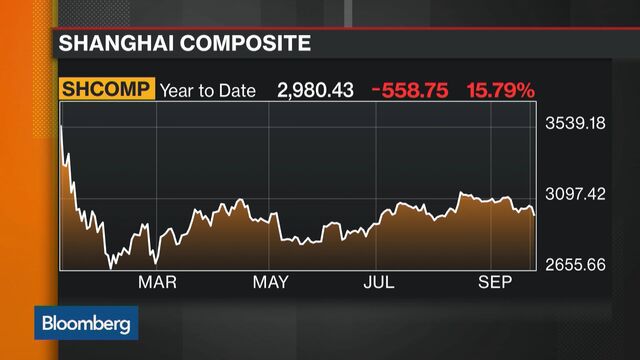 China's economy is showing fresh signs of strength, from increased business confidence to an expansionary factory gauge reading, according to the earliest private indicators for September.
Most private gauges showed improvement and a proxy for factory activity jumped to the strongest level in almost two years, suggesting better readings in August data have been followed up this month.
A steady flow of credit has boosted property sales, helping offset sluggish exports and continued weakness in private investment.
Here's what those first indicators show:
SME Confidence
Standard Chartered Plc's Small and Medium Enterprises Confidence Index rose to 56 this month from 54.9 in August. Sales and production recovered from weather-related disruptions, even as the investment appetite remained muted, Shen Lan, a Beijing-based China economist, wrote in a report. "Expectations relating to total financing, investment and employment weakened, indicating that SMEs' confidence has not fully recovered," Shen said.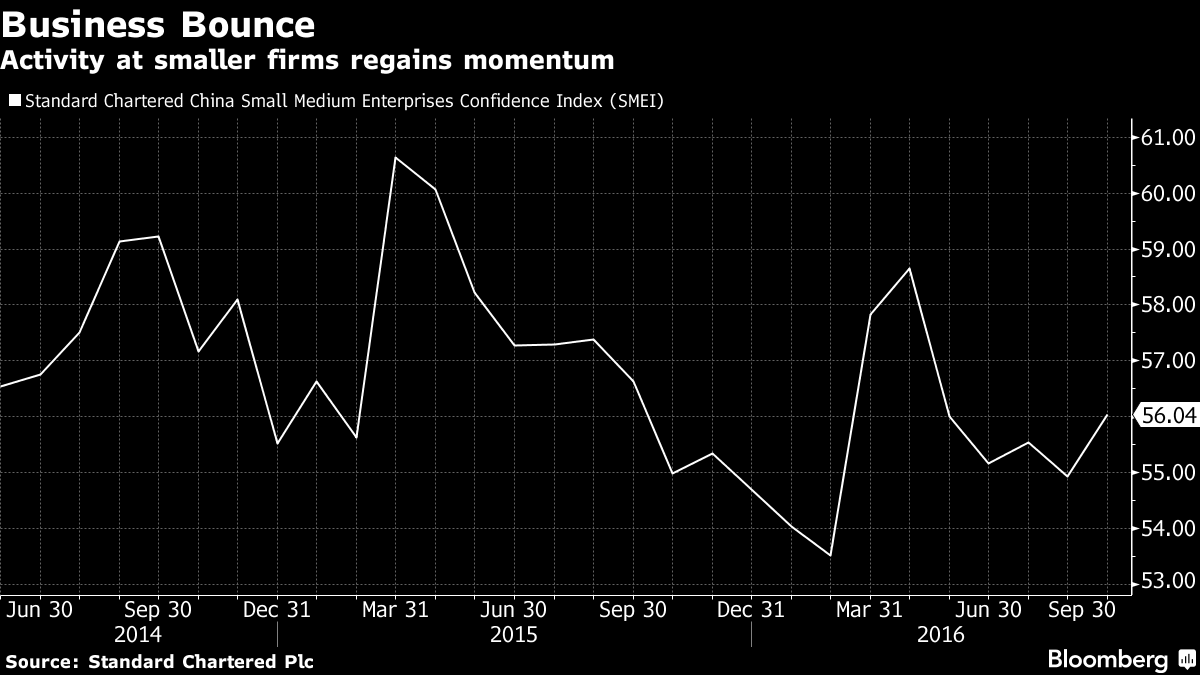 Satellite View
The China Satellite Manufacturing Index jumped to 50.2 in the first weeks of September, according to according to San Francisco-based SpaceKnow Inc., which uses algorithms and commercial satellite imagery to analyze thousands of industrial facilities. That's the first reading above 50 since November 2014. Like the official manufacturing purchasing managers index, readings above 50 indicate expansion.
The official PMI probably held steady this month at 50.4, according to economist estimates in a Bloomberg survey. That would match the September reading, which was the highest in almost two years. The report is due for release Oct. 1.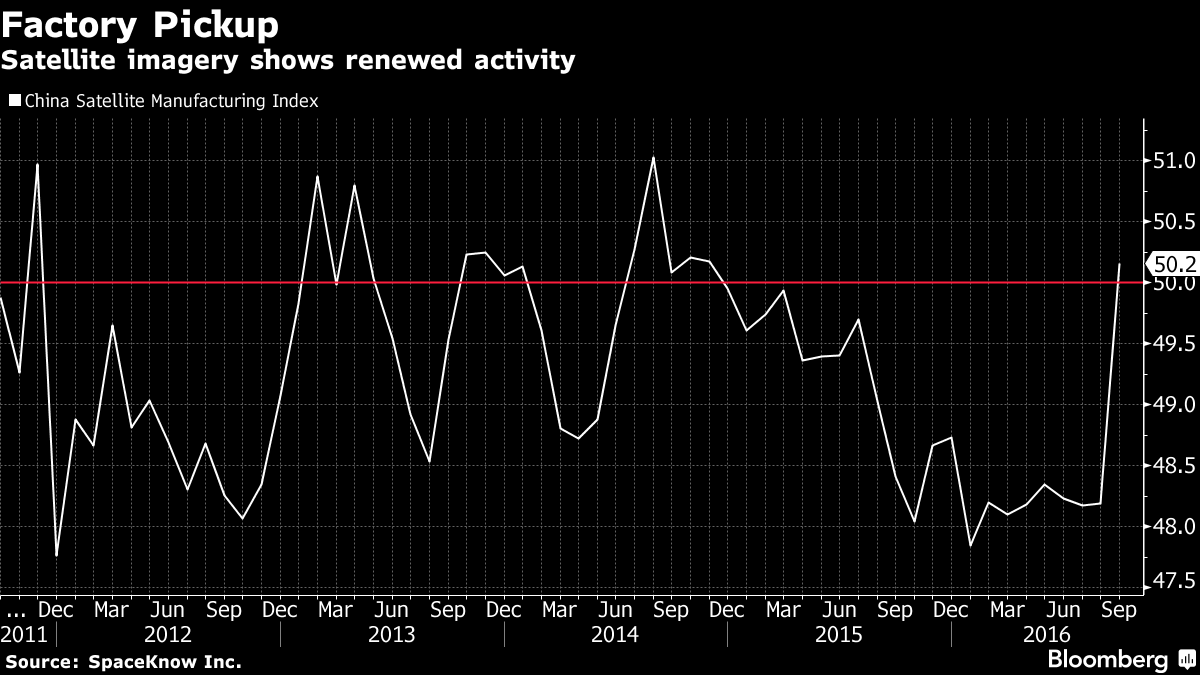 Upbeat Executives
Business leaders are more optimistic. The Market News International China Business Sentiment Indicator surged to a 13-month high of 55.8 from a revised 54.1 in August as new orders helped to offset a softening in output. The indicator is based on a survey of executives of companies listed on the Shanghai and Shenzhen stock exchanges.
"The Chinese economy will likely end Q3 on a fairly strong note, with growth holding up in both manufacturing and services," Andy Wu, a senior economist at MNI Indicators, wrote in the report. "While the outlook remains challenging, our forward-looking activity indicators suggest that growth momentum is likely to continue into the final quarter of the year, supported by a continuation of policy easing."
Sales Managers
An index by London-based research firm World Economics Ltd. was little changed at 51.3 in September. Services continue to be a growth engine, widening a lead over manufacturing. Business confidence remains low in comparison with previous years, and sales growth reflects continuing but modest growth, Chief Executive Ed Jones wrote in a statement.
Steel Outlook
The S&P Global Platts China Steel Sentiment Index climbed to 74.43, the second highest reading this year, from 62.68 in August. The gauge is based on a survey of about 70 to 85 China-based market participants including traders and steel mills.
Still, the steel outlook remains uncertain as surging property prices across China's biggest cities may portend more local governments will roll out curbs on new home-buying.
"The market is definitely reacting to some potential tightening of funding and liquidity in the property sector, particularly in Tier 2 cities, to try and avoid the market overheating," said Paul Bartholomew, a senior managing editor for steel and raw materials at S&P Global Platts in Melbourne. "Many investors expect this to have a dampening impact" on demand, he said.
— With assistance by Miao Han
Before it's here, it's on the Bloomberg Terminal.
LEARN MORE