DTE, Rice Drop After Billion-Dollar Bets on U.S. Shale Gas
by and
DTE Energy to buy gas gathering systems for $1.3 billion

Rice Energy to purchase Vantage Energy for about $2 billion
DTE Energy Co. and Rice Energy Inc. fell in New York trading after announcing billion-dollar bets on eastern U.S. shale formations rich in natural gas. DTE's credit ratings are being reviewed by Moody's Investors Service.
DTE agreed on Monday to buy natural gas pipeline assets from M3 Midstream LLC and Vega Energy Partners Ltd. for $1.3 billion. The Canonsburg, Pennsylvania, gas explorer Rice Energy said it's buying Vantage Energy LLC and Vantage Energy II LLC for about $2 billion, its biggest acquisition yet in the core of the Marcellus shale play of the U.S. East.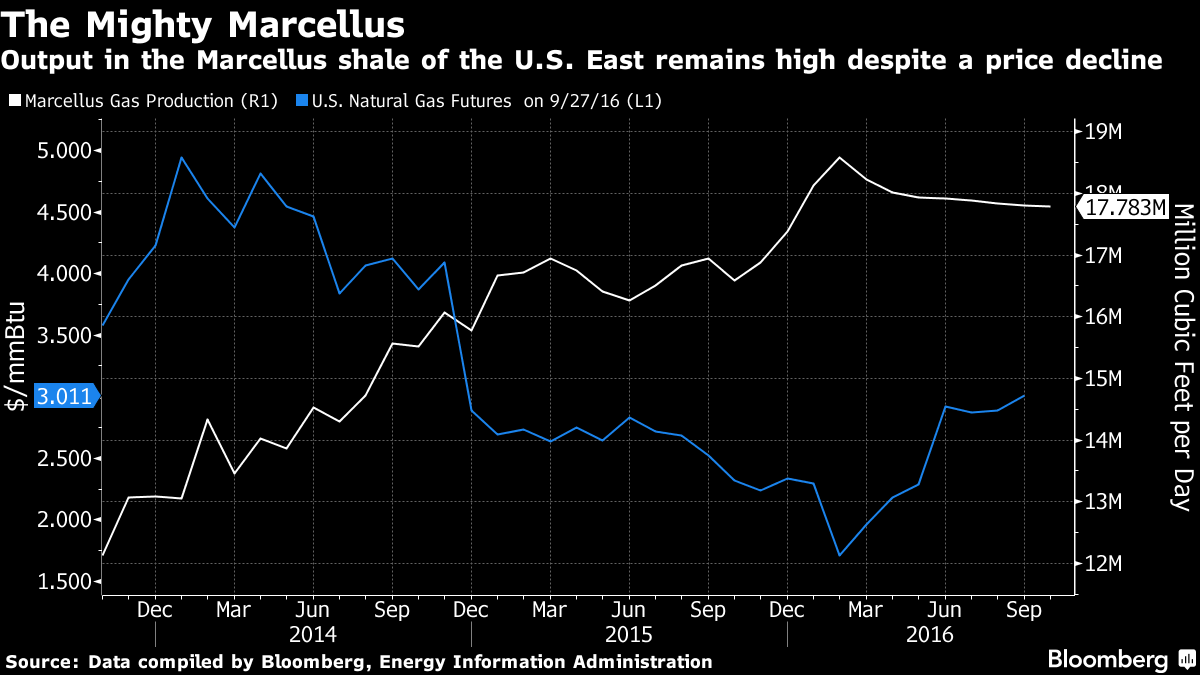 Companies are snapping up U.S. gas assets following a collapse in energy prices that led more than 100 companies into bankruptcies. U.S. oil and gas deals have totaled almost $65 billion so far this quarter, the most since the end of 2014, data compiled by Bloomberg show. Enbridge Inc. has agreed to buy U.S. gas pipeline giant Spectra Energy Corp. for $28 billion, and TransCanada Corp. closed its $10.2 billion takeover of Columbia Pipeline Group Inc. in July.
Shares of Rice fell as much as 7.9 percent to $24.99 in intraday trading, the most since March 8. DTE lost as much as 1 percent.
While Vantage's midstream assets are positive for Rice, they carry a "lofty headline price tag," TJ Schultz, an analyst at RBC Capital Markets LLC, wrote in a note.
Pipeline Returns
The planned acquisitions follow purchases by other utilities including Southern Co., Duke Energy Corp., Dominion Resources Inc. and Consolidated Edison Inc. that have invested in gas pipelines in search of greater returns.
DTE's purchase is "part of a pattern of utilities investing in gas midstream infrastructure to boost earnings in an environment of weak electric demand," said Stacy Nemeroff, an analyst with Bloomberg Intelligence.
DTE Tuesday raised its 2016 earnings guidance range to $5.09 to $5.35 a share compared with an earlier estimate of $4.91 to $5.19, according to an investor presentation. Meanwhile, Moody's Investors Service placed the ratings of DTE under review for downgrade, Moody's said in a statement Tuesday. The ratings of DTE utility subsidiaries DTE Electric Company and DTE Gas Company are not under review and Moody's said their outlooks are stable.
Gas Fundamentals
Detroit-based DTE is buying the Appalachia Gathering System, in Pennsylvania and West Virginia, and 40 percent of the Stonewall Gas Gathering network in West Virginia from M3 Midstream LLC, the company said in a statement. It's also buying a 15 percent stake in the Stonewall Gas Gathering from Vega Energy Partners Ltd.
DTE sees the deal increasing its earnings per share starting in 2017 and adding 10 cents to earnings per share in 2020, according to a slide presentation posted late Monday. DTE expects to complete the transactions in the fourth quarter of this year. Wells Fargo Securities LLC served as financial adviser to DTE.
With the Vantage Energy deal, Rice Energy will have amassed about 231,000 net acres in the core of the Marcellus and Ohio Utica shale gas formations. Rice Midstream Partners LP plans to buy the midstream assets acquired as part of the deal from Rice Energy for $600 million. The transaction is also expected to close in the fourth quarter.
"Natural gas fundamentals have markedly improved over the course of this year and this is why now is a great time to do such a value enhancing strategic acquisition," Chief Executive Officer Daniel Rice said in a conference call Tuesday.
Evercore acted as financial advisor to Rice Energy's board, and Latham & Watkins LLP served as legal counsel to Rice.
Before it's here, it's on the Bloomberg Terminal.
LEARN MORE