Mario Draghi Goes on a Political Tour
by and
Central bank wants governments to do more to help growth

German surplus puts its fiscal capacity in the spotlight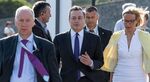 Mario Draghi will visit Brussels and Berlin this week with his increasingly urgent message that governments must act to bolster the economy. In the German capital, he may have a special request: Spend more, now.
The European Central Bank president will testify to the European Parliament on Monday and address a closed-door session of German lawmakers on Wednesday. One of his concerns is that governments are being too slow to implement structural reforms. Another is that even if they accelerate the pace, the benefits could take years to come through.
To set a reminder to watch Draghi's testimony live, click here.
Step up to the plate, Germany. From Draghi's perspective, Europe's biggest economy is running budget and current-account surpluses that give Chancellor Angela Merkel's government the fiscal space to boost demand immediately. Not surprisingly, the view in Berlin is rather different -- for a start, government spending has been outpacing consumer spending for more than a year.

"If you scrap out consumption and construction, Germany would hardly have grown," said David Milleker, chief economist at Union Investment Privatfonds GmbH in Frankfurt. "We could still do more, but you can't really blame the government for not doing anything, at least not any more."
Even so, the ECB wants politicians to ramp it up. Monetary policy is already stretched, yet data this week is forecast to show inflation at just 0.4 percent in the euro area, far below the goal of just under 2 percent, and little better at 0.5 percent in Germany. Unemployment in the currency bloc probably edged down to 10 percent in August from 10.1 percent in July, according to a separate Bloomberg survey.
The central bank is so worried about the slow pace of structural adjustment that it has set up a task force on economic reforms to consider possible ideas. But in the meantime, policy makers want to see fiscal spending by some governments, and they're not afraid to name names.
"Countries that have fiscal space should use it. Germany has fiscal space," Draghi told reporters on Sept. 8. Executive Board member Peter Praet said in an interview with L'Opinion last week that the nation's current-account gap of 9 percent of gross domestic product is an "anomaly" that should be reduced by developing internal demand. 
They're not alone. Italian Prime Minister Matteo Renzi, facing a stagnating economy and a festering bad-loan crisis, said last week that Germany's trade surplus is a concern.
German Finance Minister Wolfgang Schaeuble has urged lawmakers to take a tough stance with Draghi when he goes before legislators, Bild reported over the weekend. He is irritated at the criticism, saying it's the ECB that's at fault, according to the German newspaper.
Watch Schaeuble respond to criticism of Germany's current-account surplus
In comments last week, he claimed that when QE was under consideration, he told Draghi it would drive up Germany's surplus. He has also pointed to euro-area fiscal rules that budget deficits should be under 3 percent of gross domestic product and total debt below 60 percent. The budget surplus -- the "Schwarze null" or "black zero" that Schaeuble has promised -- was 0.7 percent of GDP last year and 1.2 percent in the first half of 2016. Even then, reaching the debt target will take until 2020.

The heightened pace of German public spending so far isn't entirely voluntary. Part of the outlay is to deal with an influx of refugees as the country takes the bulk of the European Union's asylum applicants.
Nor is there an obvious need for stimulus in Germany. A report by the Munich-based Ifo institute on Monday showed business sentiment surging to a two-year high.
Still, there are reasons for Schaeuble to consider loosening the purse strings a little. The economic outlook has clouded since the U.K., the second-largest destination for German exports, voted to quit the EU. A report published Friday showed private-sector growth at the weakest in 16 months in September and services close to stalling.
"The results of the latest Ifo survey show that the basic recovery in Germany is not at risk" Heinrich Bayer, an economist at Postbank in Frankfurt, wrote in a note to clients. "However, due to the severe swings and sometimes contradictory results of various business surveys, it would be exaggerated to assume an acceleration of economic activity."
With an election looming next year and populist parties gaining ground -- a trend that Schaeuble has attributed in part to the ECB's low interest-rate policies -- the finance minister has held out the prospect of tax cuts for low and medium-income earners. He only sees leeway for 15 billion euros ($16.8 billion), but even that could be music to Draghi's ears.
"A lot will depend on the scale of the slowdown and whether it hurts average Germans," said Carsten Brzeski, chief economist at ING DiBa in Frankfurt. "Right now, the discussions only focus on minor tax cuts. But they could easily grow into a general debate on more fiscal support for investment to increase the German economy's potential growth rate."
Before it's here, it's on the Bloomberg Terminal.
LEARN MORE