business
Draghi Says U.K. Shouldn't Get Any Favors in Brexit Deal
By , , and
ECB president comments in testimony to European Parliament

Also says governments must act to 'unleash growth' in region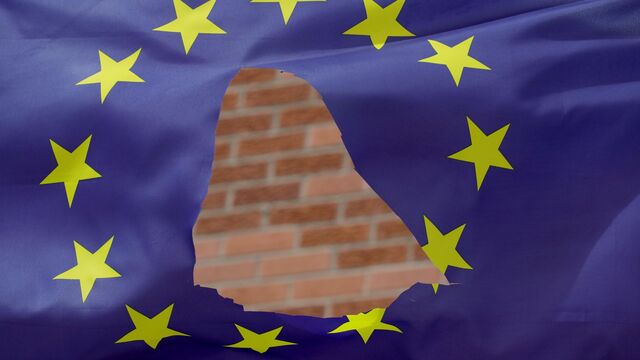 Mario Draghi said the U.K. shouldn't be granted any special favors on single-market access during negotiations over its exit from the European Union.
"Any outcome should ensure that all participants are subject to the same rules," the European Central Bank president told European Parliament lawmakers on Monday. "It is very hard to imagine that any agreement that will be perceived as discriminatory against some subjects or in favor of other subjects could be a source of stability for the future of our EU."
Since the Brexit referendum on June 23, the U.K. government has been trying to work out whether it can retain access to the single market without accepting all of its conditions, most notably the free movement of labor. Poland, the biggest exporter of workers to the U.K., last week joined a chorus of voices from the EU's eastern nations in signaling it may veto any agreement that would erode the rights of its citizens to live and work throughout the bloc.
Draghi said that while the ECB doesn't have an official role in the Brexit negotiations, it could act in an advisory capacity. He also noted that the central bank has jurisdiction over the payment system and that there may be a need to consider changing the regulatory framework for the planned capital markets union.
'Empower Individuals'
His comments came as he urged governments to act to stem rising public discontent, in his latest warning that monetary policy can't sustain the region's recovery alone.
"Europeans are calling on our institutions to bring tangible benefits to their everyday lives," he said in the testimony in Brussels. "Actions by national governments are needed to unleash growth, reduce unemployment and empower individuals, while offering essential protections for the most vulnerable."
Draghi has grown increasingly vocal in his calls for elected politicians to boost spending and reform their economies as the ECB struggles to stoke inflation. The central bank's program to buy 80 billion euros ($90 billion) a month of debt faces scarcity concerns and its negative interest rates have prompted criticism by banks and savers.
"Low rates are a symptom of the underlying economic situation," Draghi said, while adding that their implications must be carefully monitored . "Other policy actors need to do their part."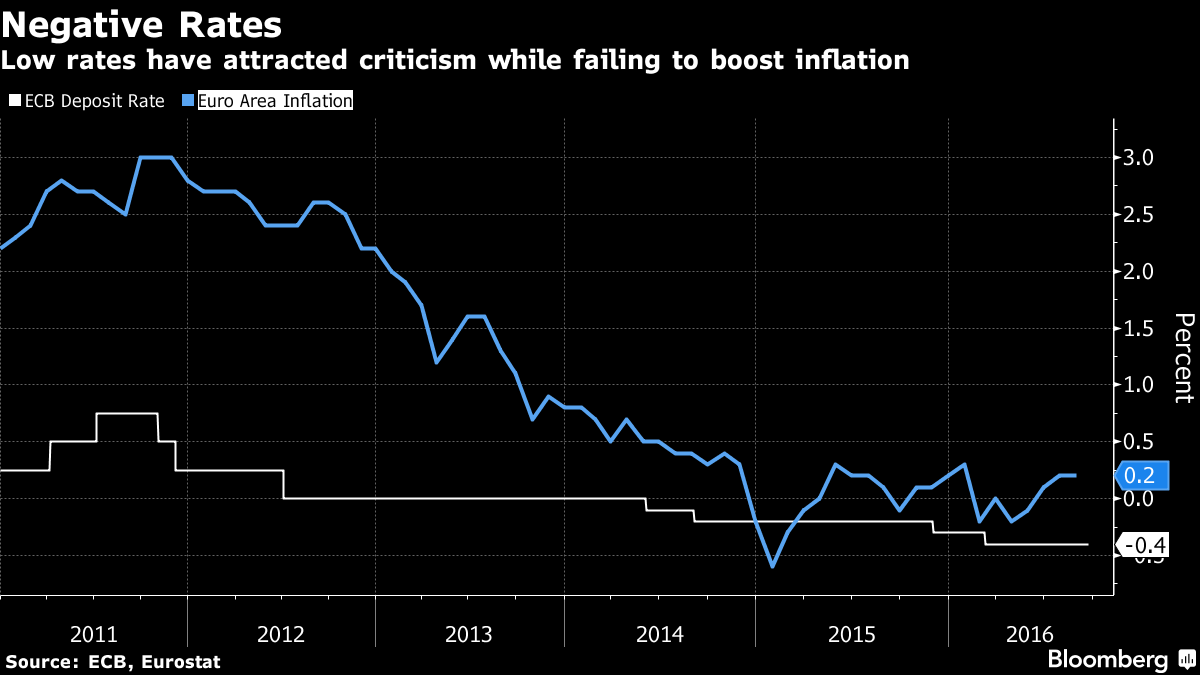 Executive Board member Benoit Coeure addressed the topic earlier in a speech in Rome, where he said the EU is going through a "difficult phase" and that national governments need to live up to their responsibilities.
"If fiscal and economic policies do not in fact play this role, we risk being trapped in a low growth, low interest-rate equilibrium," Coeure said. "Moving from interest rates being 'low for long' to being 'low forever' would severely limit the room for maneuver for conventional monetary-policy tools but, even more worryingly, it would threaten the contract between generations as well as risk tearing up our social fabric."
Policy makers are so worried about the slow pace of structural adjustments that they've created a task force on economic reforms. Draghi said officials will be "exploring the interactions" of different concepts, and that's it doesn't have a mandate to make specific recommendations to governments.
In the meantime, the Governing Council has urged administrations to pursue growth-friendly fiscal policies. After the last monetary-policy meeting on Sept. 8, Draghi went further, singling out Germany in his comments. The nation, which is running budget and current account surpluses, has "fiscal space" and "should use it," he told reporters.
Bundestag Appearance
On Monday, he noted that countries with fiscal space are "not compelled" to use it, highlighting what he called an "asymmetry" in the application of the EU's rules on national budgets. His opinions have been criticized by German Finance Minister Wolfgang Schaeuble, and could make for a lively debate on Wednesday when the ECB chief attends a closed-door meeting with German lawmakers in Berlin.
Draghi insisted that the ECB still has monetary-policy firepower left. The central bank is currently reviewing the design of its quantitative-easing program to ensure it doesn't run out of assets to buy. The plan is scheduled to run until March 2017, but policy makers have pledged to keep it going as long as needed.
Options include removing the rule limiting purchases to securities yielding more than the deposit rate of minus 0.4 percent, and changing the issuer or issue limits. Shifting buying allocations toward countries with larger amounts of outstanding debt has already run into opposition from the two German members of the Governing Council -- Executive Board member Sabine Lautenschlaeger and Bundesbank President Jens Weidmann.
"Widespread feelings of insecurity, including economic insecurity, remain a major concern," Draghi said. "We cannot simply wait for better times: we need to renew our efforts to ensure that Economic and Monetary Union offers protection and prosperity. The ECB will do its part."
— With assistance by Catherine Bosley, Ian Wishart, Alessandro Speciale, Jill Ward, Carolynn Look, Scott Hamilton, and Maria Tadeo
(
Updates with comments from Draghi starting in fourth paragraph.
)
Before it's here, it's on the Bloomberg Terminal.
LEARN MORE