Cinda Lines Up Asia's Largest Syndicate Group for Blockbuster AT1 Deal
All hands on deck for Cinda's inaugural AT1 deal.
By and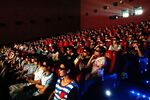 China Cinda Asset Management Co. smashed a record last week by hiring 23 joint arrangers for the issuer's inaugural issuance of Additional Tier 1 capital.

It's also the first time a non-bank Chinese company's opted to beef up its capital ratio through an offshore offering. The bad-debt manager "may need a larger number of joint bookrunners to guarantee the success of the deal, given the potential bulk size," said He Xuanlai, a credit analyst at Commerzbank AG, in an interview.

The perpetual non-call five-year notes, whose size was capped at 30 billion yuan ($4.45 billion), launched on Friday with an initial price guidance in the 4.5 percent area. The company ended up tightening its guidance slightly to 4.45 percent, and said it would issue $3.2 billion. So-called AT1 bonds count among the riskiest debt securities, because they're the first to suffer losses if a bank runs into trouble.
The six joint global coordinators and 17 joint book runners that the company's hired represent by far the biggest syndicate group to have worked on a comparable deal in the region, according to data compiled by Bloomberg.
One of big four Chinese banks, Industrial and Commercial Bank of China Ltd., for example, picked only seven banks on its return outing to the Additional Tier 1 bond-market in July. China Huarong Asset Management Co., another Chinese state-owned asset management company, had a total of 15 banks helping to market its Tier 2 bonds earlier this month.
Annisa Lee, a credit analyst at Nomura International Ltd., said that more joint leads are helpful as investors will find issuance from a distressed-debt manager relatively novel compared with deals from banks. "There may not be big benefits, but given it's the first time it's better to include all the relationship banks," she said.  
Chinese asset-management companies have been raising capital in the offshore debt market as their distressed debt rises, in part due to their recent acquisitions. The growth of their bad-loan businesses is spurring them to raise capital overseas, Fitch Ratings said in an interview earlier this month.
China's bad debt stood at 1.4 trillion yuan as of June 30, up by 45 billion yuan since the end of the first quarter, according to Bloomberg data.
Cinda AT1 issue is expected to help the company avoid a ratings downgrade after its purchase of Nanyang Commercial Bank at HK$68 billion ($8.76 billion) pressured its capital-adequacy ratio, according to analysts.
The company's consolidated tangible common equity to tangible managed assets ratio, a measure of its financial strength, dropped to around 8 percent after the acquisition from more than 14 percent, Moody's said in a note on June 2.


Before it's here, it's on the Bloomberg Terminal.
LEARN MORE