Chicago Schools Cut Deeper Into Junk by Moody's on Crisis
By
Board of Education bonds downgraded one level to B3 from B2

Liquidity is 'increasingly precarious,' credit rater says
The Chicago Board of Education, already junk-rated, was cut to six levels below investment grade by Moody's Investors Service as the nation's third-largest school district faces "acute" borrowing needs amid a financial crisis.
The one-step downgrade to B3 from B2 comes about a month after school officials approved a $5.4 billion budget that hinges on their ability to secure funding from the state and wrest concessions from the teachers' union. The district has $6.8 billion of general-obligation debt, including $5.8 billion that's rated by Moody's, which has a negative outlook on the 400,000-student system.
The cut "reflects the district's increasingly precarious liquidity position and acute need for cash flow borrowing to support ongoing operations," Moody's said in a statement. "The downgrade is also based on the district's deepening structural deficit, with budgets that are built on unrealistic expectations of assistance from the state of Illinois, which faces its own financial challenges."
The rating cut comes as the Chicago Teachers Union moves closer to walking off the job. Teachers have voted for a strike, and its governing body may act Wednesday to authorize a work stoppage. The strong labor group and escalating pension costs, including more than $700 million due in June, factored into its decision, Moody's said.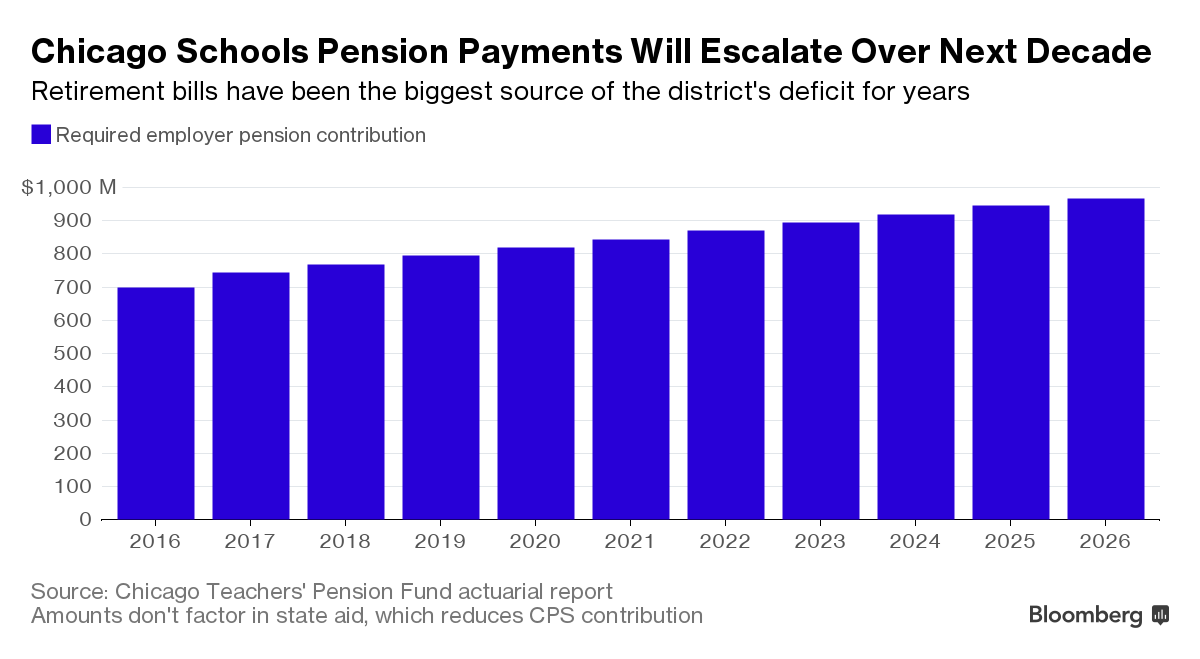 "CPS will continue to work to strengthen its finances and finalize the path forward to fiscal soundness in the years to come,'' Ron DeNard, the district's senior vice president of finance, said in an e-mailed statement. He described the budget as improved from last year and called Moody's an "outlier." S&P Global Ratings ranks the district B+, two levels higher but still four levels below investment grade.
Despite the fiscal strains, the board's bonds have rallied this year after the district won an influx of state aid and $250 million property tax levy for pensions at the end of June. A portion of securities due in 2044 traded for an average of 106.8 cents on the dollar this month, up from 101.1 cents in June, according to data compiled by Bloomberg.
Before it's here, it's on the Bloomberg Terminal.
LEARN MORE