Brexit Bulletin: CEOs Make Plans for Life After Britain
Banks and businesses aren't feeling good about what's coming.
By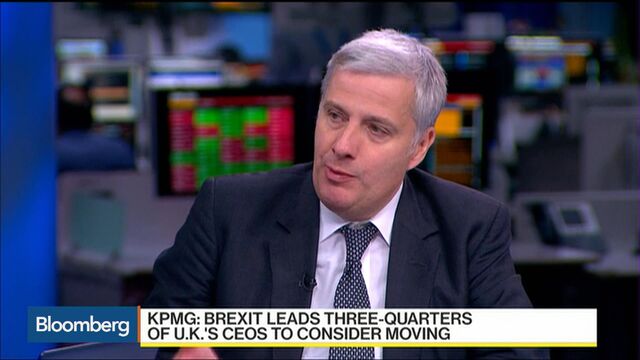 Sign up to receive the Brexit Bulletin in your inbox.
It was a busy weekend in Brexit Britain, with the one remaining U.K. party leadership contest coming to its (foregone) conclusion, and a key Remainer taking a few well-aimed jabs at the new prime minister.
Elsewhere, serious matters are afoot. More than three-quarters of chief executive officers are considering moving either their headquarters or some operations outside of Britain, accountancy firm KPMG reports today, citing a survey of 100 business leaders from companies with annual sales of at least £100 million.
Separately, the CBI and PricewaterhouseCoopers report that sentiment in the financial services sector deteriorated in the three months to September. That matters: the Financial Times today estimates that banks which use the U.K. as an EU gateway employ more than 590,000 people and have assets of more than £7.5 trillion.

The surveys suggest Prime Minister Theresa May faces a challenge to retain businesses and jobs once the Brexit negotiations get underway, and that talk of a "Hard Brexit" risks prompting companies to accelerate introduction of their own exit strategies.
"CEOs are reacting to the prevailing uncertainty with contingency planning," said Simon Collins, KPMG's U.K. chairman.
Still, 69 percent of firms told KPMG they're confident Britain's economy will continue to grow over the next year and 73 percent were sure their own businesses would expand. A study by Z/Yen also reported today that on the eve of the referendum, the U.K. beat 86 other financial centers to be the best in the world ahead of New York and Singapore.
Hollande Plays Politics
French President Francois Hollande, on a visit to the northern French port of Calais, said the vote to leave the European Union doesn't end Britain's responsibility to migrants trying to reach its shores.
Speaking in the northern port, home to several migrant camps including the infamous "Jungle," Hollande said Brexit meant Britain would need to engage fully in finding a solution:
"The U.K. is not freed of its obligations because of the sovereign decision that it took. I would say it's the opposite. I'm calling on U.K. authorities to do their full share today and tomorrow to support France in dealing with the immigration issue."
Theresa May's government might need to to take note–France will be a key player in any eventual Brexit talks and a happy Hollande could well have a bearing on how the shape of a deal pans out.
'Tis the Season for Some Speeches
It's party conference season in the U.K., so be prepared for two weeks of speeches.
This week the opposition Labour Party meets in Liverpool. Shadow Chancellor John McDonnell speaks today, making the case for an interventionist government to prop up key industries after Brexit.
Ahead of the Tories' event next week, Trade Secretary Liam Fox speaks at the World Trade Organization on Tuesday. Onlookers will be watching for signals on whether he wants to pull Britain out of the customs union with the EU to seek trade accords with other countries.
Economic data to come this week include a final take on U.K. gross domestic product and business investment in the second quarter, as well as consumer confidence and current account statistics for the same period.
As a backdrop to that comes a new report from the Centre for European Reform. The U.K. is wrong to blame the EU for hampering its economic potential, says the CER's deputy director, Simon Tilford, who argues British households are no richer relative to the EU-15 average than they were 15 years ago. The roots of the problem stem from "awful" productivity and supply-side issues, he says.
Weekend Recap
To no-one's surprise Jeremy Corbyn was re-elected Labour leader, and said manufacturing will suffer if Britain loses trade ties with the EU. He also called on Theresa May to better inform parliament of her plans for the Brexit negotiations.

May came in for criticism in excerpts from Brexit-related books hit the pages of Britain's Sunday newspapers. Cameron called May and Chancellor of the Exchequer Philip Hammond "lily-livered" on immigration reform, the Sunday Times reported. Craig Oliver, Cameron's director of communications, told of 13 times when May failed to support Cameron, according to the Mail on Sunday.
Elsewhere, a German academic group warned British universities could lose up to 15 percent of their staff, the Guardian reported; Wall Street banks are prepared to begin shifting operations elsewhere in the EU, the Daily Telegraph said; and Azko Nobel CEO Ton Buechner is requesting clarity from the government despite committing to the U.K.
On the Markets
Sterling touched its weakest against the euro since mid-August amid signs of a "hard Brexit".  
The bad news for Britain is that a falling pound may not provide it with much of an economic boost, according to a Goldman Sachs study of recent currency declines.

Equity markets were suffering in Europe after declines in Asia, dragged down by bank stocks.

And Finally...
Bilal Hafeez, a currency strategist at Nomura, dug deep into English history to look for Brexit insights from the reign of King Henry VIII and his 1534 break with Rome. That was the last time the nation declared its independence from continental Europe. What happened next? Economic output per capital barely changed for a century afterwards, Hafeez found.

For more on Brexit follow Bloomberg on Twitter, Facebook and Instagram, and see our full coverage at Bloomberg.com
Before it's here, it's on the Bloomberg Terminal.
LEARN MORE