Billionaire Banker Backs New Big-Money Group Aiding Trump
by
Andy Beal is paying expenses for a new Trump super-PAC

The group disclosed spending more than $1 million last week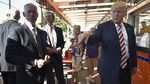 Andy Beal, a billionaire banker and friend of Donald Trump, is behind a new effort to help the Republican presidential candidate defeat Democrat Hillary Clinton.
Save America From Its Government, a super-political action committee, was formed earlier this month and spent about $1 million on advertisements last week, Federal Election Commission records show. According to Save America's website, Beal helped set up the group and is paying an undisclosed amount of administrative and overhead expenses. It's also soliciting outside donations. 

At a rally in June, Trump suggested that his friend might serve a role in a Trump administration, remarking that he could put him in charge of negotiating with China. Beal was one of the original 13 men named in August as members of the Trump economic advisory team, although more names were later added to the list.
Most of the super-PAC's spending so far has been on newspaper advertising, according to its reports to the FEC. A full-page newspaper ad shown on its website attacks President Barack Obama's health-care law, questions Clinton's honesty and warns about creeping government expansion. "ENOUGH IS ENOUGH!!" it concludes. "Vote Trump."
QuickTake U.S. Campaign Finance
A representative for Beal didn't immediately respond to inquiries about his role at Save America today. Last week, he discussed his support for Trump in an interview with Bloomberg, saying "Washington just needs something different to shake it up. Donald is the only one who will get it done."

In a written statement issued last week, a spokesman for Beal added that "American trade policies are shifting jobs overseas, decreasing the U.S. standard of living, and increasing the standard of living for many foreign countries. Mr. Beal believes that current U.S. government is the problem, and that more of the same simply perpetuates the problems."
Beal owes his fortune, estimated by Bloomberg at about $8 billion, to financial holdings including Dallas-based Beal Bank. He tangled with Trump in 2009 when he tried to wrest control of a bankrupt Trump company that owned property in Atlantic City, New Jersey. "There are no hard feelings," Beal told the Wall Street Journal earlier this year.
Before it's here, it's on the Bloomberg Terminal.
LEARN MORE