Asian Stocks Drop Most in Two Weeks as Investors Wait for OPEC
Choong En Han
China shares down most in two weeks as volatility returns

Apple suppliers, banking stocks weigh on Japan's Topix gauge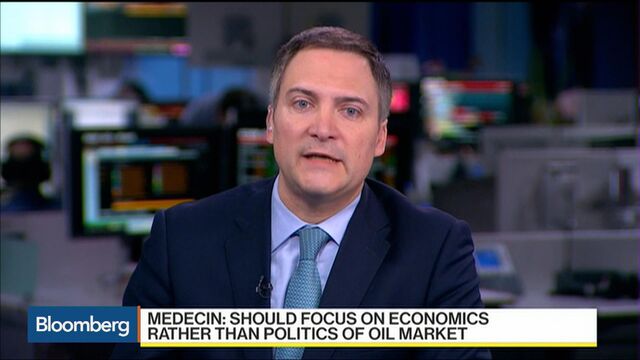 Asian stocks fell the most in two weeks as Chinese shares slumped before a week-long holiday and amid uncertainty over whether OPEC will be able to curb output that's pushed down oil prices.
The MSCI Asia Pacific Index dropped 0.9 percent to 140.68 as of 4:01 p.m. in Hong Kong, retreating for a second day after closing at a 14-month high on Thursday. Hong Kong's Hang Seng Index fell 1.6 percent and the Shanghai Composite gauge lost 1.8 percent as volatility rose before Chinese financial markets shut down next week. Japan's Topix index decreased 0.8 percent, after rallying 2.9 percent last week, as Apple Inc. suppliers dropped and bank stocks weighed on the benchmark gauge.
Saudi Arabia, the world's largest oil exporter and the leading member for the Organization of Petroleum Exporting Countries, sparked a plunge in oil prices on Friday when it said an upcoming meeting in Algiers would be consultative and unlikely to reach a firm decision on curbing output. That knocked investor sentiment that had been buoyed by the Federal Reserve's scaling back its timetable for raising interest rates. Algeria's energy minister said Monday that Saudi Arabia has offered to cut production to January levels.
"Oil spot prices will have a big influence on where equities markets are going to trade for the early part of the week," said Angus Nicholson, a Melbourne-based analyst at IG Ltd. "There are uncertainties over whether the OPEC members can reach an agreement."

West Texas Intermediate crude futures rose 0.2 percent in New York Monday after being up as much as 1.1 percent earlier. They dropped 4 percent on Friday, the most in more than two months.
New Zealand's trade gap widened as exports fell to a three-year low and Singapore's industrial output rose less than expected. New Zealand's S&P/NZX 50 Index lost 0.4 percent, as did Singapore's benchmark measure.
Regional Gauges
Taiwan's Taiex gauge dropped 1 percent, retreating from a 17-month high, and South Korea's Kospi Index fell 0.3 percent. Australia's S&P/ASX 200 Index was little changed, while India's S&P BSE Sensex measure was down 1.2 percent amid concern the recent rally has outpaced the outlook for earnings growth.
The first increase in Thai exports in five months failed to lift the country's stocks, which fell 0.4 percent. The Jakarta Composite Index lost 0.9 percent and the Philippine Composite Index dropped 1.4 percent as a run of daily stock outflows extended to 23 days amid concern President Rodrigo Duterte's policies and abrasive approach are deterring investors.
The Asian benchmark stock gauge is still set for its best quarter in four years with technology and material shares leading gains, as Japan's Nintendo Co. surged 83 percent since the end of June after the launch of a smartphone game.
TDK Corp. dropped 6.3 percent in Tokyo on Monday, leading declines for Apple's Japanese suppliers after reports citing a German market data firm that said iPhone 7 unit sales were 25 percent lower than the previous year's sales of an older model. Taiwan Semiconductor Manufacturing Co. declined 2.4 percent in Taipei.
Futures on the S&P 500 Index fell 0.6 percent. The U.S. equity benchmark index rose 1.2 percent last week, the biggest advance in more than two months, after the Fed opted to wait for further evidence of stronger inflation before raising rates, even as the economy showed signs of improvement.
Before it's here, it's on the Bloomberg Terminal.
LEARN MORE