West Slams Russia for Aleppo Bombings at UN Security Council
by
Syria truce hopes fade amid intense bombing of Aleppo

Power accusses Russia of "barbarism" as death toll climgs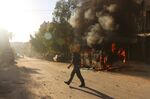 Western powers traded barbs with Russia during an acrimonious emergency meeting of the UN Security Council to halt intensive bombing of Aleppo, the center of opposition to the government of Syria's Bashar al-Assad, without reaching agreement.
UN special envoy Staffan de Mistura said Sunday that nearly 2 million people in Aleppo, Syria's largest city and former commercial center, are without running water following an escalation in fighting over the past few days. At least 231 civilians have been killed in violence in Aleppo and its outskirts since a truce collapsed this week, according to the Syrian Observatory for Human Rights, a monitoring organization.
Western nations, including the ambassadors of France and the U.K., said the bombing of civilians in Aleppo was tantamount to a war crime.
"What Russia is sponsoring and doing is not counter-terrorism; it is barbarism," said Samantha Power, the U.S. ambassador to the UN. "Instead of helping get life-saving aid to civilians, Russia and Assad are bombing the humanitarian convoys, hospitals, and first responders who are trying desperately to keep people alive," she said.
For a QuickTake on Syria's civil war, click here
Sunday's gathering in New York was the third contentious security council meeting on Syria since Sept. 17. During a meeting on Sept. 21, Secretary of State John Kerry called on Russia and Syria to ground their aircraft, a demand which was rejected.
"A so-called military solution or victory in Syria is impossible, including in Aleppo," de Mistura told Sunday's meeting. "My appeal to this council today is the following: please develop a common course of action to enforce a cessation of hostilities in Syria."
The U.S. and Russia reached an agreement on cessation of hostilities on Sept. 9 which went into effect three days later. It called for a reduction in violence, a grounding of the Syrian Air Force, and ultimately the joint-targeting of the Islamic State and Nusra Front terrorist groups.
The truce didn't last long. On Sept. 17, coalition aircraft bombed a military base in the Syrian city of Deir Ezzor, killing 62 Syrian soldiers and wounding 100. Power told an emergency security council meeting on the same day that the U.S. regretted the attack.
Convoy Bombed
Three days later, on Sept. 20, a UN humanitarian convoy delivering aid to Aleppo was bombed, killing 20 aid workers and destroying 18 trucks. U.S. officials said Russia was responsible, a claim that was denied by Russia.
The latest escalation in fighting comes after failure of two International Syria Support Group meetings last week as world leaders gathered for the UN General Assembly in hopes of reaching an agreement on another truce and on how to advance talks on the political process.
The foreign minister of Iran, which supports Assad's government and has fighters on the ground in Syria, said on Twitter that "talk is cheap" at the Security Council.
The aim of the cease-fire was to allow terrorist groups to replenish their fighting ability,  Russia's UN Ambassador Vitaly Churkin told the council. "We always sought to compromise," Churkin said. "The rebels are taking medicine and food allocated for civilians; 200,000 Aleppo residents are prisoners of terrorist groups."
In a statement, UN Secretary General Ban Ki-moon condemned the "chilling" escalation in Aleppo, which he said marked the "most sustained and intense bombardment since the start of the Syrian conflict."
France, Germany, Italy, the U.K., the U.S. and the European Union said in a joint statement that Russia must prove it's willing to take "extraordinary steps" to help restore a cessation of hostilities in Syria.
Before it's here, it's on the Bloomberg Terminal.
LEARN MORE