The Sun Also Rises, Trump Campaign Says of Times' Clinton Nod
By
Newspaper says Democrat among 'most tenacious' politicians

Trump has promised the moon and offered the stars 'on layaway'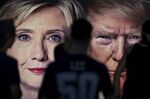 Donald Trump's campaign was unimpressed by the New York Times' endorsement of rival Hillary Clinton for president, deadpanning in a press release "the sun also rose in the east this morning."
The newspaper endorsed the former U.S. secretary of state, a Democrat, in an editorial for Sunday's newspaper that was published online on Saturday, praising her "record of service and a raft of pragmatic ideas." It followed up on Sunday with a companion piece on "Why Donald Trump Should Not be President."
"The news that the ultra-liberal, elitist, out-of-touch New York Times editorial board endorsed an ultra-liberal, elitist, out-of-touch candidate in Hillary Clinton has to be some of the least surprising news ever," Jason Miller, senior communications adviser to Trump, said in the release. The Times is looking for plaudits from "cocktail parties and dinners in the power corridors of this country," he said.
The New York Times last supported a Republican for president in 1956, when Dwight D. Eisenhower ran for a second term (the newspaper also endorsed his 1952 run). Its editorials were published as Clinton and Trump, the Republican nominee, prepare to face off Monday in the first of three planned debates, and as early voting is already under way in some states ahead of the Nov. 8 election.
The Un-Trump
The newspaper's endorsement of Clinton said that the best case for the former senator from New York "cannot be, and is not, that she isn't Donald Trump."
Clinton's "occasional missteps" have distorted perceptions of her character and her status as "one of the most tenacious politicians of her generation," the newspaper said of the former first lady.
By contrast, Trump "discloses nothing concrete about himself or his plans while promising the moon and offering the stars on layaway," the Times wrote.
Trump's campaign has been "marked by bursts of false and outrageous allegations, personal insults, xenophobic nationalism, unapologetic sexism and positions that shift according to his audience and his whims," the newspaper said in Sunday's piece, which ran to over 1,400 words.
The "bluster, savage mockery of those who challenge him, degrading comments about women, mendacity, crude generalizations about nations and religions" that Trump exudes are a poor role model for generations of American children, the Times said.
Tight Race
Polls show the race to succeed President Barack Obama is tight. A RealClearPolitics average of recent surveys shows Clinton up by 2.5 percentage points, 46.2 percent to 43.7 percent for Trump. In a four-way race which also includes Libertarian candidate Gary Johnson and the Green Party's Jill Stein, Clinton leads by 2.2 percentage points.
Almost three of four Americans plan to watch the first presidential debate at Hofstra University in Hempstead, New York, on Monday night, according to an ABC News/Washington Post poll, which will make it one of the most-watched television events in U.S. history.