Corbyn Victory Leaves Little Resolved for U.K. Labour Party
by and
Leader battles lawmakers for control of party mechanisms

Meetings at conference illustrate divisions within Labour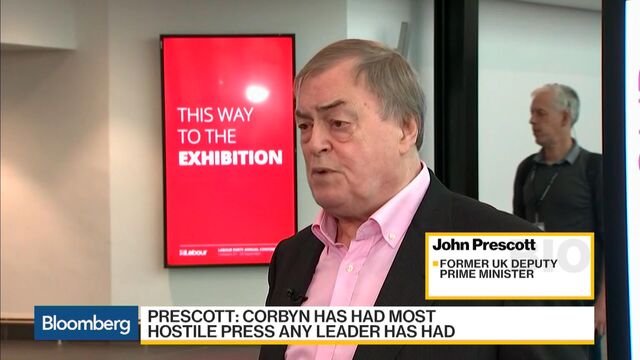 Jeremy Corbyn's victory in the U.K. opposition Labour Party's leadership contest, for the second time in 12 months, did little to resolve differences between him and his members of Parliament, and between them and grassroots party members.
Labour is trailing Prime Minister Theresa May's Conservatives by as much as 15 percentage points in opinion polls, suggesting it's unlikely to be able to oust the Tories from power under Corbyn's leadership. But as the party began its annual conference in Liverpool, northwest England, discussion of ordinary voters and how to win back their support was drowned out by arguments about internal processes.
There were debates about the make-up of Labour's National Executive Committee, about the appointment of members of the team of policy spokesmen, known as the shadow cabinet, and about how parliamentary candidates are chosen. At stake in all of those arguments is who controls the party and its policies -- Corbyn or his MPs.
The vast majority of Labour lawmakers said earlier this year that they had no confidence in Corbyn. His re-election has left both sides facing the question of how to reach an accommodation. While he has asked those who resigned from his shadow cabinet to return, lawmakers have said they want to elect their own representatives to the team. Meanwhile, they've sought assurances that the leader won't encourage activists to replace them with candidates closer to his views for the next general election, due in 2020. Corbyn's response was equivocal.
"The relationship between the member of Parliament and their constituency is a complex one," Corbyn told the BBC's "Andrew Marr Show" on Sunday. "It's not necessarily a box-ticking exercise. Let's have a democratic discussion, and I think the vast majority of members of Parliament will have no problems whatsoever."
'Agitating Against Me'
Heidi Alexander, who resigned as health spokeswoman in protest at Corbyn's leadership, said she had concerns about moves by Labour activists to push her out from her south London electoral district. Asked by the BBC if she's in danger, she said: "I hope I'm not, but I know that there are people who are agitating against me."
Alexander said she isn't prepared to return to Corbyn's shadow cabinet. "What Jeremy needs to do is prove that he can unite the party and craft a message that can appeal to the country," she said.
Chuka Umunna, Labour's former business spokesman, told Bloomberg Television on Monday that Corbyn's re-election means "this issue is settled" and the party needs to work together.
"The members have spoken and the members from all different wings of the party want us to come together and look towards a general election," Umunna said. "The challenge now is for the leadership to illustrate how people should have confidence in them and why the public should have confidence in us as a party."
Competing Rallies
Two events on different sides of town illustrated the divide in Labour. Momentum, the internal pressure group that grew out of Corbyn's first leadership campaign, organized a four-day conference of its own. The building was so packed on Sunday evening that people were standing in line outside.
There was little difficulty getting into the competing Progress rally, 15 minutes' walk away, though it was standing room only. In a crowded bar, Labour lawmaker after Labour lawmaker took to the stage to offer blunt attacks on the Labour leader.
"Labour is a long way from power," said Caroline Flint, who served as a minister under Gordon Brown. "Jeremy's image is more than anything down to Jeremy. If he wants more than 20 percent of people to think of him as a prime minister in waiting, he's got to act like one."
A ComRes poll for the Sunday Mirror newspaper found just 16 percent of people saying Corbyn is likely to lead Labour to victory in the next election. It also found 74 percent of people saying the party is "more divided now than I can ever remember."
Peer Quits
Parry Mitchell, a Labour representative in the unelected upper House of Lords, said he's leaving the party because he feels Corbyn is uninterested in tackling anti-Semitism among his supporters.
"I'm Jewish and I'm very strongly Jewish, and I make no bones about it, and there's no doubt in my mind that Jeremy himself is very lukewarm on this subject, he's never been as vociferous in condemning anti-Semitism as he should be," Mitchell told the BBC. "But even more than that, he surrounds himself with a coterie of people who hold violent, violent anti-Israel views, and allied with it they are very hostile to Jews so, in my view, they're pretty bad guys."
Corbyn told the BBC that Mitchell's comments were "unfortunate."
"It's not a fair comment, and I would hope that he would reflect on that because clearly there are diverse views within the party on issues in the Middle East, but there is absolute unity in the party of opposing any form of anti-Semitism, any form of racism in the party," the Labour leader said. "That is very clear."
Meanwhile, Corbyn's supporters urged lawmakers to get into line. Len McCluskey, general secretary of the Unite trade union, told the BBC he thinks the "vast majority" of them would be willing to serve under Corbyn.
"We've got to unite and we've got to be seen now, very quickly, as a government in waiting," Corbyn's Treasury spokesman, John McDonnell, told ITV. "And that means putting differences behind us."
At the Progress meeting, Wes Streeting, a member of Parliament's Treasury Committee, referred sarcastically to McDonnell's "softly softly voice" in his television appearances. "When they say unity, they don't mean coming together in common endeavor," Streeting said. "What they really demand isn't unity, it's silence."
Before it's here, it's on the Bloomberg Terminal.
LEARN MORE