BHP Faces Rating Risk as Easing Gloom Helps Rivals' Outlooks
By and
Credit metrics will be below A rating threshold: S&P

Uncertainty over Brazil dam failure weighing on biggest miner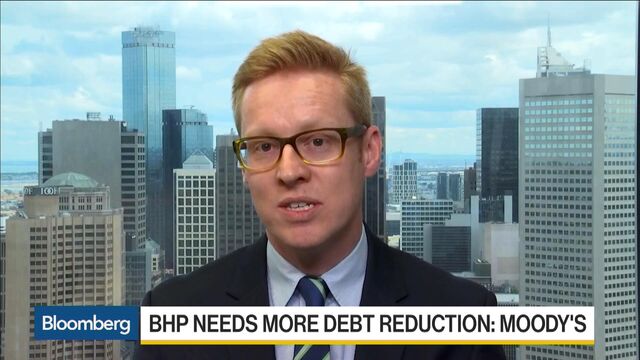 BHP Billiton Ltd. faces a battle to hold on to its credit score even as lower-rated mining rivals including Rio Tinto Group have seen their debt outlooks boosted amid the rebound in resource prices.
Credit metrics for the world's biggest miner will be below limits for existing ratings in the current fiscal year, according to both S&P Global Ratings and Moody's Investors Service, which grade BHP at their sixth- and seventh-highest rankings, respectively. That will focus attention on its efforts to balance debt reduction against potential acquisitions and returns to shareholders. Analysts will also be attuned to further fallout from the failed Samarco dam in Brazil.
Large mining peers including Rio, Fortescue Metals Group Ltd. and Vale SA have had ratings upgraded or the outlook on their scores boosted as commodities including iron ore have rallied in 2016. They've also gained from efforts to lower costs and bolster balance sheets. Improved prices won't boost BHP profits enough to buoy its rating outlook, while the producer's oil division will make only a limited contribution this year, according to S&P.
"There has been good progress," S&P analyst Elad Jelasko said in an e-mailed response to questions. "But still not sufficient to stabilize the outlook."
Below Threshold
Metrics for the company, presently rated A with a negative outlook by S&P, will remain "slightly below" the threshold for its current score in 2017, Jelasko said. Volatile metals and oil prices, uncertainties over BHP's financial policy and liabilities tied Samarco are key to the credit assessor's outlook, he said.
"Our balance sheet strength has been maintained with both cash flow and gearing metrics within our target ranges, liquidity of $16 billion and a long-dated debt maturity profile," BHP said in an e-mailed statement. The producer seeks to ensure its strategy supports a solid 'A' credit rating, it said in an annual report published Wednesday.
BHP booked post-tax charges of $2.2 billion related to financial impacts from the Samarco failure in full-year results for the 12 months to June 30, it said last month. Ongoing legal proceedings, including about 23,000 small claims, mean BHP can't yet reliably estimate the likely extent of its liabilities, the producer said last week.
Moody's, which has the company at A3 with a negative outlook, also expects BHP's metrics to fall below its rating parameters, although they're likely to move in line with its tolerance levels in the fiscal year beginning next July, Sydney-based analyst Matthew Moore said by phone. To move to a stable outlook, BHP would need to carry out further debt reduction beyond current expectations, he said.
Net Debt
With stronger free cash flow projected on improved prices, BHP expects its net debt to fall in the current fiscal year, Chief Financial Officer Peter Beaven said last month. BHP's net debt rose 7 percent to $26.1 billion in the fiscal year ended in June compared to the previous 12 months, according to filings.
"BHP is more diversified, so they have exposure across multiple sectors of the market, whereas Rio is more of an iron ore based business," said Gavin Goodhand, a debt investor who helps oversee the equivalent of about $520 million at Altius Asset Management. Weaker oil prices and uncertainty over the Samarco incident are continuing to weigh on BHP, he said.
Rating Tolerances
The money manager said that while investors do become a bit concerned when rating thresholds are breached "you can't look at the triggers as a hard and fast reason to see something downgraded or upgraded. There will be tolerances." He saw BHP's bid to protect its credit score as offering some reassurance and said he remains "comfortable" with the miner.
Fitch Ratings, which didn't immediately respond to a request for comment, has a negative view on the credit as well, although its ranking is the equivalent of one step above S&P's.
A Bloomberg default risk model that assesses metrics including the share price, debt, interest expenses and cash flow indicates BHP miner should currently be rated at the second-lowest investment grade, two steps below its current Moody's score.

So far, the market doesn't appear to be showing a tremendous amount of concern, with the cost of protecting its notes against non-payment tumbling as global credit has rallied. Credit default swaps on BHP have fallen 65 basis points this year to 117 basis points as of Friday, although that's less than the 75 basis-point slide for equivalent Rio Tinto contracts.
BHP shares were at A$21.56 as of 11 a.m. in Sydney, having risen 21 percent this year.
Stronger than expected iron ore prices and a recent surge in coal are factors that have boosted expectations on BHP's profits for the year to June 30, Macquarie Group Ltd. equity analysts wrote in a Sept. 20 report, lifting its rating on the producer to outperform from neutral. "The improved coal price outlook has translated to significant upgrades to our forecasts for BHP," the analysts said.
BHP, the No. 3 iron ore shipper, is the largest exporter of metallurgical coal, which has more than doubled in price since the start of last month. Coal prices are likely to hold at least some of the gains, Morgans Financial Ltd. analysts said in a Sept. 21 note.

Before it's here, it's on the Bloomberg Terminal.
LEARN MORE