Bonds Rally, Stocks Drop Before Debate as Deutsche Bank Tumbles
By , , and
German lender sinks on concern it will need to raise capital

Most Asian index futures signal losses amid haven revival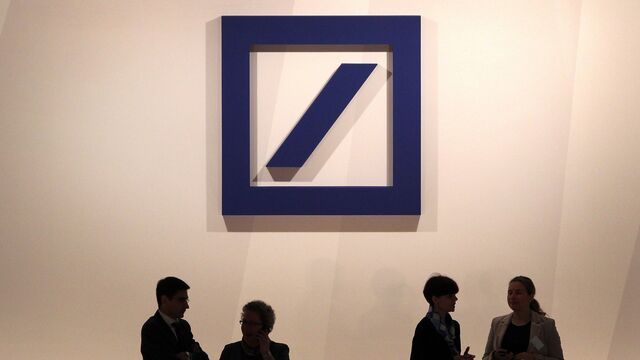 Traders bracing for a heated U.S. presidential debate tonight had another element to contend with -- a selloff in global banks.
Equities wiped out their monthly advance as Deutsche Bank AG tumbled to a record low on speculation Germany's largest lender will need to raise capital. Treasury yields declined the most in almost three weeks, while the yen led gains among major peers. Emerging-market shares slumped after Turkey's credit rating was cut to junk by Moody's Investors Service. Oil surged as Saudi Arabia's offer to cut output opened the door to a future OPEC deal.

Investors piled into safer assets as Deutsche Bank's plunge spurred a rout in global financial companies on concern the lender is struggling with tougher capital standards, negative interest rates and soaring legal bills. Haven assets were also in demand as traders awaited the first of three U.S. presidential debates ahead of the Nov. 8 election amid a Bloomberg poll showing Donald Trump and Hillary Clinton were deadlocked. Citigroup Inc., which last month said that victory for the Republican candidate could hit equities, warned on Monday that such an event could cause heightened volatility in both gold and currency markets.
"There's a fear factor in the market that's very sizable and it's in the market overseas," Dan Fuss, vice chairman of Loomis Sayles & Co. in Boston, said in an interview with Bloomberg Television. "It's people hedging as to what on God's earth is going to come out of this U.S. election. That's the concern."
The debate, hosted by Hofstra University in New York, starts at 9 p.m. local time. The Republican and Democratic nominees each won the support of 46 percent of likely voters in a head-to-head contest in the latest Bloomberg Politics national poll. Trump gets 43 percent to Clinton's 41 percent when third-party candidates are included.
Stocks
The MSCI All-Country World Index fell 0.9 percent as of 4:15 p.m. in New York. The S&P 500 Index slipped 0.9 percent to 2,146.10, while the Stoxx Europe 600 Index dropped 1.6 percent, its biggest slide since early July,
JPMorgan Chase & Co., Bank of America Corp. and Wells Fargo & Co. led losses in U.S. financial shares, while Deutsche Bank sank 7.5 percent. Chancellor Angela Merkel's government sees "no grounds" for speculation over state funding for the lender, her chief spokesman said, pushing back against a magazine report that the German leader has ruled out any such aid.
"The negative implications of what's happening at Deutsche Bank are weighing on sentiment," said Michael James, managing director of equity trading at Wedbush Securities Inc. in Los Angeles.
A measure of emerging-market stocks slumped 1.3 percent as Turkish shares led losses among the world's biggest equity markets.
Futures on most Asian indexes foreshadowed further losses, with contracts on Japan's Nikkei 225 Stock Average dropping 1.8 percent in Chicago as the yen bounced. Futures on stock gauges in Australia and South Korea fell at least 0.5 percent, while those on Hong Konng's Hang Seng Index gained 0.1 percent.
Bonds
Yields on 10-year Treasuries fell four basis points, or 0.04 percentage point, to 1.59 percent, according to Bloomberg Bond Trader data.
"U.S. politics are moving right to center stage," said Rene Albrecht, a rates and derivatives analyst at DZ Bank AG in Frankfurt. "There are rising uncertainties about the effects of the election results. And when you got uncertainty, you better rotate out of stocks and into safe havens."
Germany's 10-year bund yields fell four basis points to minus 0.12 percent, extending a drop of nine basis points from last week. Yields on similar maturity Italian bonds retreated three basis points to 1.18 percent, while the rate on Spanish debt slid five basis points to 0.9 percent.
Mario Draghi said euro-area governments must act to stem rising public discontent, in his latest warning to politicians that the European Central Bank can't sustain the region's recovery alone. The central bank's program to buy 80 billion euros ($90 billion) a month of debt faces scarcity concerns and its negative interest rates have prompted criticism by banks and savers.
"Low rates are a symptom of the underlying economic situation," the ECB governor said. "Other policy actors need to do their part, pursuing fiscal and structural policies which will contribute to a self-sustaining recovery and increase the economic growth potential of the euro area."
Currencies
Bloomberg's Dollar Spot Index, which measures the greenback against major peers, fell 0.1 percent, extending last week's 0.6 percent decline.
The yen rose against all but one of its major peers, while the pound was little changed after more than three-quarters of chief executive officers in a KPMG survey said they'd consider moving operations outside the U.K. following the vote to leave the European Union.
"Foreign-exchange markets are getting off to a cautious start this week," said Ned Rumpeltin, European head of currency strategy at Toronto-Dominion Bank in London. "Banks and Brexit newsflow keep European risks in the frame, while the U.S. presidential debate tonight is a key focus for investors."
The Philippine peso sank to a seven-year low as investors pulled money out of the nation's assets amid concerns over the fallout from President Rodrigo Duterte's anti-drug war and his outbursts against the U.S. and the United Nations.
Commodities
West Texas Intermediate crude rose 3.3 percent to $45.93 a barrel in New York after slumping 4 percent on Friday. Total volume traded was 11 percent below the 100-day average. Prices have averaged about $44.80 this quarter.
While Saudi Arabia and Iran didn't reach an agreement after two days of preparatory talks ahead of Wednesday's gathering of producers in Algiers, the Saudis did offer to pump less crude if Iran caps output, according to two people familiar with the negotiations. The kingdom proposed to cut its production to January levels, Algerian Energy Minister Noureddine Boutarfa said Sunday.
"I think it's positive that OPEC is getting together," Francisco Blanch, head of commodity markets strategy at Bank of America Merrill Lynch in New York, said in a Bloomberg TV interview. "It's in the Saudi's interest and other OPEC member's interest to start coming together and do something."
Gold may be in for a bumpy ride in the final quarter with U.S. Republican candidate Trump given a 40 percent chance of winning the presidential election and investors preparing for the possibility of higher interest rates, according to Citigroup.
"Polls have started to tighten ahead of the U.S. presidential election, and Citi has raised the probability of a Trump victory," the bank said in the note. "We expect a Trump win would bring out higher volatility in gold and forex, which in turn should lead to higher volumes in other precious metals."
Before it's here, it's on the Bloomberg Terminal.
LEARN MORE