Merkel Rules out Assistance for Deutsche Bank, Focus Reports
by
Chancellor also won't step into U.S. legal issue, Focus Says

Spokespeople for German bank, government decline to comment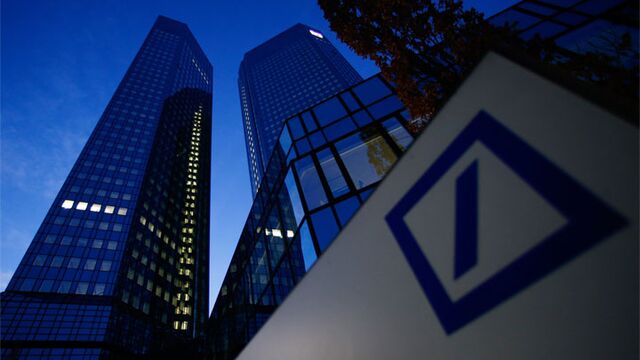 Chancellor Angela Merkel has ruled out any state assistance for Deutsche Bank AG in the year heading into the national election in September 2017, Focus magazine reported, citing unidentified government officials.
The German leader also declined to step into the Frankfurt-based bank's legal imbroglio with the U.S. Justice Department, which may seek as much as $14 billion in sanctions against Deutsche Bank's mortgage-backed securities business, the magazine said. A German government spokesman declined to comment on the report Saturday. A Deutsche Bank spokeswoman also wouldn't comment.
The finances of Germany's biggest lender, which has lost almost half of its market value this year, are raising concern among German politicians. At a closed session of Social Democratic finance lawmakers this week, Deutsche Bank's woes came up alongside a debate over Basel financial rules, according to two people familiar with the matter.
Germany's government expects a "fair outcome" in the U.S. probe, the Finance Ministry said on Sept. 16.
Deutsche Bank has said it's unwilling to pay the maximum amount sought by U.S. authorities as investors fret about the bank's capital. Chief Executive Officer John Cryan, 55, has struggled to boost profitability by selling riskier assets and eliminating jobs as unresolved legal probes and claims add to concerns that the lender will be forced to raise capital.
Focus cited a discussion between Merkel and Cryan in the summer.
Before it's here, it's on the Bloomberg Terminal.
LEARN MORE