Culture Caucus Podcast
What Colin Kaepernick's Political Protest Says About the NFL
By and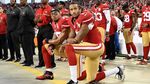 The NFL is a league that has always been focused on order, power, and control. Players are meant, mostly, to be anonymous, interchangeable, and above all, compliant. This is a league, after all, where all the players have masks and non-guaranteed contracts. It's also a league that, for all its issues of the last few seasons, has mostly been able to stay out of the culture wars. But all that changed in a preseason game last month, when San Francisco 49ers quarterback Colin Kaepernick decided not to stand for the national anthem in protest of the way African-Americans are treated in the U.S. Suddenly, our most watched national entertainment option went political in a way no one could have anticipated.
In the 13th episode of Bloomberg Politics' Culture Caucus podcast, we discuss the ramifications of Kaepernick's statement, its aftermath, and what it might portend. How are players reacting to it? How is the league? Will we see more of this? And just how connected is the NFL to the American conscience? Too much?
In the second half, we welcome former White House press secretary Joe Lockhart, who now works as the top public-relations official for the NFL. We ask him about how the league handled Kaepernick's protest, what the league sees as its public responsibilities, and the continued attempts to make the game of football safer, if such a thing is possible.
We've been on a bit of a hiatus, but we're back. Enjoy! You can e-mail us about it at politics@bloomberg.net. Come say howdy!
Before it's here, it's on the Bloomberg Terminal.
LEARN MORE