U.S. ELECTION WRAP: Trump Already Has 'Keys' to Oval Office
History will be on Donald Trump's side on Election Day, according to election forecaster Allan Lichtman.
By and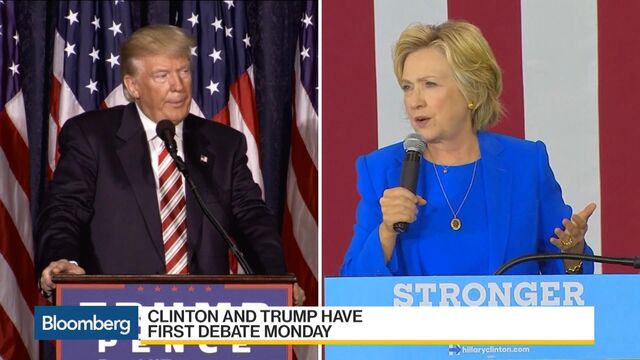 If history is a guide, then Donald Trump will move into the White House in January, says forecaster Allan Lichtman, who has correctly called every presidential election since 1984.
But in a year of muddled political orthodoxy, Trump "may well break the pattern of history and snatch defeat from the jaws of victory," Lichtman said in interview after formally declaring the Republican nominee as the favorite to win on November 8
Lichtman's prediction model, which isn't based on polls, suggests victory for a "generic" GOP candidate

"Trump is anything but generic": Lichtman

The American University professor's "Keys to the White House" system looks at 13 true/false questions. If six or more of the keys go against the incumbent party occupying the White House then that means a win for the challenger; exactly six keys are now turned against Democrats, including one addressing Hillary Clinton's candidacy and the perception she doesn't possess the outward charisma of a Barack Obama or national-hero status of a Dwight Eisenhower
While former Democratic candidate Bernie Sanders won over a horde of young people by taking on the status quo, Clinton has yet to find a "simple, compelling message to inspire people": Lichtman

That's the challenge for her in Monday night's first presidential debate, he says, where she'll need to show in clear terms how "fundamentally" she and the GOP nominee differ in their competing visions for the future
"I don't think anyone could tell you in one sentence what Clinton's message is," he says
Click here to get the U.S. Election Wrap by e-mail every afternoon

DEBATE WATCH
NBC's Lester Holt is in the hot seat as Monday's debate moderator, with a bevy of commentators weighing in on what he should or shouldn't do in his role overseeing what some say could be one of the most watched television broadcasts since the 1969 moon landing
Aside from the obvious pressure of keeping the candidates on topic and enforcing debate rules, Holt faces the added challenge of refereeing Trump in the former reality-TV star's first one-on-one political debate
Bloomberg's Will Leitch explores Holt's options for how to handle possible false statements by the candidates here
The 90-minute debate at Hofstra University in New York is a chance for both Clinton and Trump to win over undecided voters, Bloomberg's Mark Niquette and Terrence Dopp wrote
Clinton "for sure" has the most to lose Monday night, says Steve Schmidt, senior adviser to 2008 GOP nominee John McCain

"All of the expectations are on Hillary Clinton," he said today on MSNBC
Expectations for Trump are "very, very low" and the "burden is on her to try to disqualify him, which has been the central effort of her campaign, and that effort has hit the rocks, so to speak, over the last three weeks as she's gone through a really difficult time": Schmidt

President Obama has some advice for Clinton

ENDORSEMENTS

ADVERTISING
A new TV ad for Clinton highlights Trump's prior remarks about women, Time magazine reported

"Is this the president we want for our daughters?" the ad asks
The ad features girls looking at themselves in the mirror as sound-bites play of Trump remarks such as "I'd look her right in that fat ugly face of hers"; and, "A person who is flat chested is very hard to be a 10"

ON THE TRAIL
Neither Clinton nor Trump have events scheduled today; Trump is set to hold rally Saturday in Roanoke, Virginia.
Former first daughter Chelsea Clinton and actress Sally Field are set to stump for the Democratic nominee in Ohio Saturday

The cast of TV show The West Wing also barnstorms through the Buckeye State this weekend to help Clinton
The actors from the NBC White House drama that ran for seven seasons starting in 1999 will discuss why they are backing Clinton and urge Ohioans to register to vote ahead of an October 11 deadline, according to the campaign

OBAMACARE'S FATE
If Democrats keep the White House come November, millions of Americans could gain health-care coverage. If Republicans take it back, millions could become uninsured. A new study ran the numbers under the proposals of both U.S. presidential candidates

Click here for full Bloomberg side-by-side analysis of the candidates' health plans

ETC
U.S. election anxiety loomed over this week's UN gathering of world leaders in New York City, Bloomberg's Flavia Krause-Jackson reported

Trump got a nod from Hungary, while Italy is leaning toward Clinton; read full story here

Heidi Cruz, who left Goldman Sachs last year to help her husband Senator Ted Cruz in his bid for the Republican presidential nomination, is returning to the bank in a newly created role in the Houston office, according to Politico
UBS wealth management CIO Mark Haefele tells Bloomberg TV that the market hasn't fully discounted a Trump victory; see video here 
Clinton if she were president would sign the bill President Obama plans to veto that allows September 11 attack victims to sue Saudi Arabia, campaign spokesman Jesse Lehrich said in statement reported by Yahoo News
The State Department told a federal judge Friday it found 5,600 work e-mails from Clinton on a disk of deleted messages recovered from her private e-mail server by the FBI, then turned over to the department

The department will produce up to 1,050 pages of documents in three batches to plaintiff Judicial Watch before the November 8 presidential election, Bloomberg's Ben Brody reported

Trump's campaign is calling for Clinton to return a pair of campaign donations from former Represntative Anthony Weiner after reports that federal and municipal investigators are probing allegations that he had a sexting relationship with a 15-year-old, Washington Post reported

The GOP nominee also has financial ties to Weiner, having previously given to his congressional campaigns, according to the newspaper

If Trump returns to his Manhattan offices in two months as opposed to the Oval Office, he'll be coming back to a brand that's been dramatically reshaped by his two-year political adventure—and maybe not in a good way; read story here
Bloomberg's Carol Hymowitz looks at Big Labor's efforts to galvanize women for Clinton
Charlotte Mayor Jennifer Roberts criticized Trump over his explanation of the violence and unrest in her city, Politico reported

Trump said "drugs" are as "a very, very big factor" in the unrest seen this week in the North Carolina city

CONGRESSIONAL ELECTIONS
SENATE RACES (Republicans hold 54-46 majority)
AZ: Democratic Rep. Ann Kirkpatrick backs state initiative to raise minimum wage to $12/hour by 2020, KNAU Arizona Public Radio reported

Kirkpatrick trying to unseat GOP Sen. John McCain, who "hasn't commented specifically" on state's Proposition 206 but has opposed other minimum wage hikes
Kirkpatrick among 16 Democrats voting yday for Republican bill that would bar U.S. government from making cash payments to Iran
MO: Republican Sen. Roy Blunt highlights his ability to work with Democrats, saying in new TV ad that "when bipartisan solutions solve real problems, I'm all for it"

Blunt touted achievements with Democratic Sens. Sherrod Brown, Ohio, on manufacturing employment; Debbie Stabenow, Mich., on mental health; Chris Coons, Del., on curbing child abuse; and Patty Murray, Wash., on health-research funding
Blunt opposed by Democratic Sec. of State Jason Kander
OH: Some Democrats are "exhibiting buyer's remorse" as party-backed ex-Gov. Ted Strickland struggles against Republican Sen. Rob Portman, Associated Press reported

"Stevie Wonder could have seen this coming," ex-Rep. Dennis Eckart, who backed a different candidate in Democratic primary, told AP
PA: Republican Sen. Pat Toomey's campaign and National Republican Senatorial Cmte released TV ad saying Toomey is "endorsed by leading independents and Democrats" like Gabrielle Giffords, a leading advocate for gun-control measures

NRSC is political arm of Republican senators, who overwhelmingly opposed 2013 proposal co-authored by Toomey that would have expanded gun background-check system
McCain touted Toomey as a "work horse" during campaign visit today in suburban Philadelphia, Morning Call's Laura Olson wrote on Twitter
Democrat Katie McGinty in statement said Toomey sought "to defund and defang" Consumer Financial Protection Bureau, which McGinty supports as a needed watchdog in light of Wells Fargo & Co. account scandal
HOUSE RACES (Republicans hold 246-186 majority)
AZ-01: Republican Paul Babeu's campaign released 15-second TV ad saying he "cracked down on political corruption" as Pinal County Sheriff

Babeu opposed by Democrat Tom O'Halleran for Kirkpatrick's district, which includes Flagstaff, Casa Grande, Oro Valley
AZ-02: Republican Rep. Martha McSally's campaign released TV ad with Air Force veteran praising her efforts to save A-10 aircraft and noting McSally was "first woman to fly in combat"

McSally opposed by Democrat Matt Heinz, a physician and former state legislator, in competitive district that includes most of Tucson and part of U.S.-Mexico border
CA-17: Democrat Ro Khanna's campaign manager resigned after Democratic Rep. Mike Honda filed lawsuit alleging Khanna's campaign illegally accessed information about Honda's campaign donors, San Jose Mercury News reported

Honda's campaign manager said "it's very serious and a federal crime," while Khanna called lawsuit "baseless and meritless"
Honda, Khanna in Democrat-only rematch of 2014 race that Honda won 52%-48%
FL-26: Democratic Congressional Campaign Cmte added ex-Rep. Joe Garcia to "Red to Blue" list of candidates in targeted GOP-held districts

DCCC preferred Annette Taddeo, who lost to Garcia in Democratic primary last month
Republican Rep. Carlos Curbelo, who unseated Garcia 51.5%-48.5% in 2014, seeking 2nd term in Hispanic-majority, Miami-area district made more Democratic after court-ordered redistricting
ME-02: Republican Rep. Bruce Poliquin's campaign released TV ad referring to "dangerous, extreme liberal Emily Cain" and accusing the Democrat of launching "false attacks" on his views on Social Security and Medicare

Poliquin beat Cain 47%-42% in 2014 in district that includes Lewiston, Bangor, and substantial rural territory
MN-02, NV-04: League of Conservation Voters Victory Fund targeting Republicans Jason Lewis and Rep. Cresent Hardy as part of $1m campaign to defeat House candidates it deems anti-environment, according to release

Lewis opposed by Angie Craig for competitive district of retiring GOP Rep. John Kline; Hardy challenged by state Sen. Ruben Kihuen in Democratic-leaning district
National Republican Congressional Cmte in statement said Craig supports "job-killing energy policies"
Cook Political Report rates both districts as "Lean Democratic"
MN-03: Republican Rep. Erik Paulsen's campaign released TV ad attacking Democrat Terri Bonoff on tax and spending policy, saying she turned $2b surplus into $6b deficit

Ad cites votes Bonoff cast in state Senate
NC: League of Women Voters of N.C. among plaintiffs filing federal lawsuit saying state's new congressional map is unconstitutional and "one of the worst partisan gerrymanders in modern American history"

Republicans favored to win 10 of 13 districts under revised map, which GOP state legislators enacted this year after three-judge federal panel said 2012/2014 map included two racially gerrymandered districts
NE-02: Republican Don Bacon and NRCC released TV ad narrated by Bacon's wife, who says he was "called to serve in Congress" after Air Force service and "our country needs outsiders like Don who will shake up Washington"

Bacon, shown in ad doing household chores and bringing his wife flowers, seeking to unseat one-term Democrat Brad Ashford in Omaha-based district
Before it's here, it's on the Bloomberg Terminal.
LEARN MORE