U.S. Abandons Syria Truce Efforts and Lays The Blame With Russia
By
John Kerry seeks 'major gesture' to revive cease-fire plans

Syria starts new Aleppo offensive as diplomats discuss truce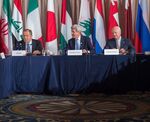 U.S. Secretary of State John Kerry abandoned his bid to salvage a cease-fire aimed at easing Syria's 5 1/2-year civil war, saying it was pointless to press ahead without a "major gesture" from Russia to end the violence.
Kerry spoke to reporters after the U.S., Russia, Iran and other members of the International Syria Support Group met in New York on Thursday to discuss a truce that went into effect Sept. 12 but quickly unraveled. The U.S. says Russia has failed to use its influence over President Bashar al-Assad to stop the violence, or to ground its own jets, which entered the conflict on Assad's behalf a year ago.

"The simple reality is that we can't resolve a crisis if one side is unwilling to do what is necessary to avoid escalation," Kerry told reporters after the meeting. "Russia and the regime must do their part, or this will have no chance."
In the months since a February cease-fire fell apart, Kerry had sought to find a new way to ease the violence, meeting Lavrov twice in Geneva and during a gathering of the Group of 20 in China. He and Lavrov eventually came up with a plan for seven days of calm that would, if successful, lead to cooperation between the U.S. and Russia in targeting Islamic extremists in the country.
Truce Falls Apart
The plan struggled from the start and, despite a U.S. insistence that it could be recovered, suffered two grievous blows. First, a series of U.S.-led coalition air strikes targeted a Syrian army base, killing at least 60 soldiers in what the Americans said was an accident. Then, on Monday, a convoy of trucks bringing aid to Aleppo was attacked, killing dozens more. Russia and Syria denied involvement, while the U.S. said it was an air strike and those two countries were the only ones with planes in the air at the time.
In an interview with The Associated Press published on Thursday, Assad blamed the U.S. for the collapse of the truce and accused it of deliberately targeting Syrian army soldiers. He reiterated his denial of any involvement in the convoy strike.
In a contentious meeting of the United Nations Security Council on Wednesday, Kerry wagged his finger at Lavrov and said the Russians were living in a "parallel universe." He said Russia and Syria should ground their aircraft, and repeated the demand Thursday.
"Absent a major gesture like this, we don't believe there is a point in making more promises or issuing more plans or announcing something that simply can't be enforced or reached," Kerry said.
During the meeting, the diplomats got word that Syria had announced a new offensive against Aleppo. Kerry said that attack was "exactly the kind of regime action that has done so much damage to this process and to the credibility of the concept of restraint or ceasefire."