U.K. Labour Set for 'Same Jeremy Corbyn' After Leadership Vote
By and
Incumbent is 1:100 favorite to see off challenger Owen Smith

Corbyn warns opposition party's lawmakers to fall into line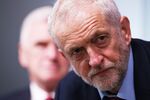 Jeremy Corbyn is expected to be re-elected leader of the U.K.'s opposition Labour Party on Saturday after a bruising summer that saw the bulk of his lawmakers rebel in an attempt to unseat him.
Polls and bookmakers suggest Corbyn will easily defeat his challenger Owen Smith, one of dozens of members of Parliament who quit Labour's front-bench team in protest at his leadership. Many blamed Corbyn's lackluster performance in the European Union referendum campaign and his failure to effectively challenge the Tory government for their resignations.
While Corbyn overwhelmingly lost a confidence vote among Labour lawmakers in June, he retains strong support among the party's 500,000-strong membership. Ladbrokes Plc has him at odds of 1:100 for victory, meaning a 10-pound bet would yield just 10 pence of winnings. The new leader is due to be announced in Liverpool, northwest England, at 11:45 a.m.
Corbyn appealed for the party to unite behind his leadership after voting finished on Wednesday, reminding lawmakers of his support among rank-and-file members and warning them not to challenge him.
Personal Attacks
"We owe it to the millions of people Labour exists to represent to end the sniping and personal attacks, and work together for all those who depend on the election of a Labour government," Corbyn said in a statement. "All Labour party members and MPs have a responsibility to work within the democracy of our party and respect the leadership of whoever is elected."
Corbyn was the biggest Labour rebel when Prime Ministers Tony Blair and Gordon Brown were in office, and was an unlikely victor in last year's leadership election with 60 percent of first preference votes. His anti-austerity, hard-line socialist message and "authentic" image appeals to party activists disillusioned with mainstream politics -- a theme seen across crisis-stricken Europe in recent years -- but is less popular among U.K. voters.
Prime Minister Theresa May's Conservative Party leads Labour by about eight points in opinion polls and Corbyn's approval ratings lag behind the premier. An Ipsos Mori poll of 1,000 voters between Sept. 10 and Sept. 14 gave May a satisfaction rating of 27 while Corbyn scored minus 31. No margin of error was given.
Election Chances
"While 23 percent think he'd make a great prime minister, the difficulty is that 53 percent think that Theresa May is a great prime minister," Ben Page, chief executive officer of Ipsos Mori, said in a telephone interview. "Given all of the evidence it will be a massive surprise if Owen Smith wins, which means Labour's chances of winning the 2020 general election remain as remote as ever."
Corbyn attended 59 events during the campaign, including rallies in city centers attended by thousands of supporters. His team made 300,000 phone calls to Labour members and signed up 40,000 volunteers to support his leadership, he said.
Opponents contrasted Corbyn's fight to keep his job with his performance before the referendum, during which he refused to appear alongside members of other parties and failed to attend campaign strategy meetings with his Labour colleagues. He was also criticized for not being tough enough on misogyny and antisemitism in the party.
'At a Crossroads'
Both candidates committed to spending hundreds of millions of pounds on infrastructure, taking the railways back into government control and halting private-sector involvement in the National Health Service. Smith differed with Corbyn by promising to be a more effective leader, rebuild Labour's image as a government-in-waiting and press for a referendum on any Brexit deal.
"Our party is at a crossroads, and the choice we face is between renewing our party to pursue unity and power, or satisfying ourselves with ongoing division and opposition," Smith wrote in an open letter to Labour Party members on Tuesday. "I want to see a Labour government again. I want to see a radical, transformative government that can change our country for the better and bring an end to another generation of Tory rule."
Corbyn is already in talks with rebel lawmakers to persuade them to return to his team, but says he will not change his style or policies to address their concerns. What they'll get is "the same Jeremy Corbyn who's been through the last year, indeed the last 30 years in Parliament," he said in a BBC interview on Wednesday.
The divisions in the party, alongside his poor personal ratings, will make it hard for Corbyn to lead Labour to an election victory, according to Ipsos Mori's Page.
"It damages their prospects of being seen as electable. People don't like divided parties," he said. "The winner of the general election is always the party that is seen as best on the economy and having the best leader, and unfortunately for the party under Jeremy Corbyn, Labour is neither."
Before it's here, it's on the Bloomberg Terminal.
LEARN MORE