Turkey's Erdogan Says Central Bank Must Be Cleansed of Gulenists
By and
Police 'need to remove them' in wake of failed coup: Erdogan

Prosecutors have claimed bank 'dominated' by Gulen followers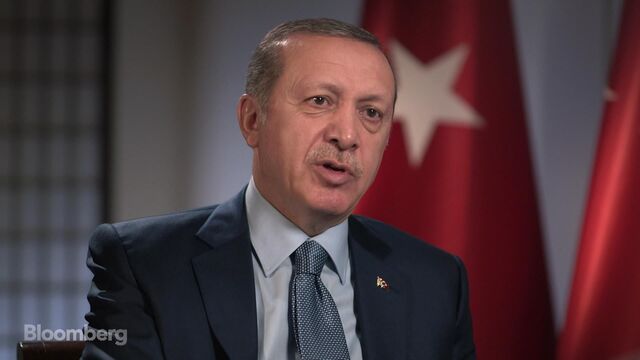 Turkish President Recep Tayyip Erdogan said that any followers of the Gulen religious movement must be removed from the central bank, one of the only major Turkish institutions that hasn't publicized widespread purges since a failed coup in July.
"An important place like the central bank needs to be cleansed of them, it needs to be purified of them," Erdogan said in an interview Thursday with Bloomberg in New York. "I can't know right now who has what kind of influence in the central bank. But if our police or judiciary have determined that there are Gulenist or FETO terrorist organization members inside the central bank, then they've removed them from duty, and they need to remove them."
Erdogan didn't indicate how many people may have been suspended from the institution so far. According to an indictment filed by prosecutors on July 22, the bank is "dominated by" followers of Fethullah Gulen, the U.S.-based cleric who Erdogan blames for the failed coup attempt 10 weeks ago. Since then, some 100,000 people have been suspended from their duties, fired or detained for alleged connections to the movement, including military officers and employees at most ministries and regulatory bodies.
Halley's Comet
The purges have been so severe that they've left at least one key public institution unable to perform its duties at all. In August, the Capital Markets Board failed to publish a weekly bulletin, the first time it's gone a month without doing so since 1990. The panel, which must approve activities including bond sales, capital increases and initial public offerings, has been left with just two members, short of the legally required quorum, after three others were suspended for suspected links to the Gulen movement.
Erdogan said in the interview that Gulen, a former ally who's been in exile in rural Pennsylvania since 1999, is a terrorist who should be extradited by the U.S. for trial in Turkey. Gulen has denied the charges against him, and the U.S. says Turkey needs to provide clear evidence that he was involved.
Erdogan's hostile relationship with the nation's central bank has improved since Murat Cetinkaya took over the governorship in April from Erdem Basci, who'd been accused of treason by the president for not lowering interest rates quickly enough. Cetinkaya has cut rates every month since taking the job, including a 25 basis-point reduction on Thursday.
The prosecutor's indictment alleged that Gulen followers use a Halley's Comet symbol to mark the institutions they've infiltrated. It cited imagery of the comet on Turkish banknotes as evidence that the central bank was among them.
Read These Next:
Watch Next: Turkey's Erdogan on U.S. Relations, Fethullah Gulen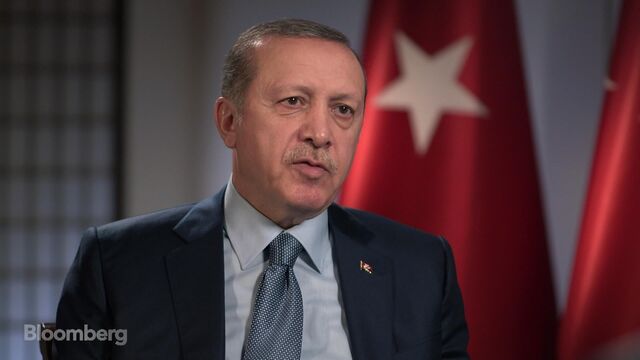 — With assistance by Sangwon Yoon
Before it's here, it's on the Bloomberg Terminal.
LEARN MORE