SpaceX Sees Clue to Rocket Blast in Super-Chilled Helium Breach
by
Sept. 1 blast found to have no connection to mishap last year

Second launchpad in Cape Canaveral coming online in November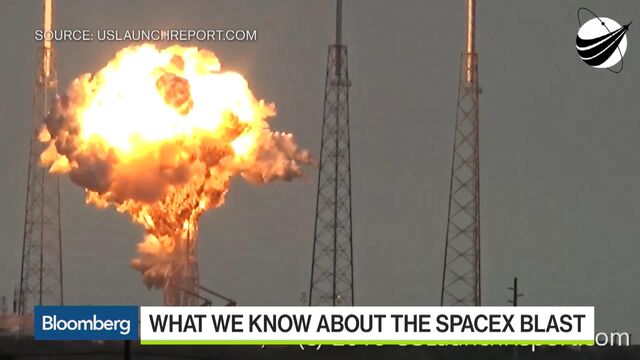 Elon Musk's SpaceX revealed a crucial new clue in its hunt to determine what triggered a fireball that engulfed its rocket on a Florida launchpad: a "large breach" in the Falcon 9's super-chilled helium system.
Investigators are still trying to determine why the rocket blew up Sept. 1 as it was being fueled during a dress rehearsal for an upcoming mission. The timeline is "extremely short," less than a 10th of a second, Space Exploration Technologies Corp. said in a statement posted to its website Friday.
Pending the outcome of that probe, the company said it could resume flights as early as November. While the investigation continues, SpaceX's rockets, which fly missions for commercial satellite customers as well as the National Aeronautics and Space Administration, remain grounded.
"At this stage of the investigation, preliminary review of the data and debris suggests that a large breach in the cryogenic helium system of the second stage liquid oxygen tank took place," SpaceX said in the statement. "All plausible causes are being tracked in an extensive fault tree and carefully investigated."
A team of experts from SpaceX, NASA, the U.S. Air Force and the Federal Aviation Administration has ruled out any link between this year's mishap and a June 2015 accident that destroyed a Falcon 9 rocket minutes into flight.
Launchpad Damage
In last year's incident, a Falcon 9 bound for the International Space Station broke up two minutes and 19 seconds into the mission. The blast occurred in the rocket's upper-stage liquid-oxygen tank, moments before the main booster was set to separate after takeoff. An accident investigation revealed that a two-foot-long, inch-thick strut in a liquid oxygen tank snapped. SpaceX returned to flight in December.
Addressing this year's blast, SpaceX said "substantial areas" of the launchpad at Cape Canaveral, Florida, were affected. But it said another pad, known as 39A, should come online in November.
Musk's company is currently working to return to space. Manufacturing and production of rocket components continues at SpaceX headquarters in Hawthorne, California, "with teams continuing to build engines, tanks and other systems as they are exonerated from the investigation," the company said.
Before it's here, it's on the Bloomberg Terminal.
LEARN MORE