markets
Slowest Core Inflation in 2 Years Ratifies Poloz's Pessimism
Greg Quinn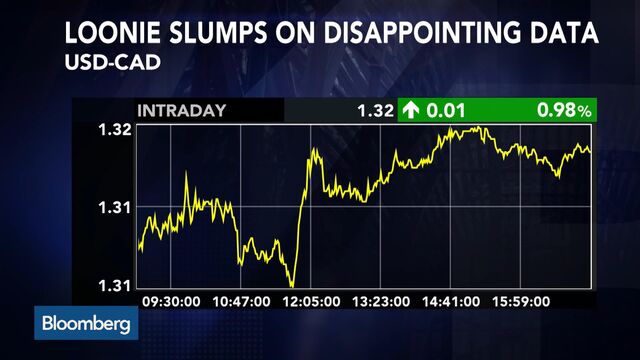 Canada's core inflation rate was the slowest in two years in August, missing even the most bearish forecast, in another blow to the country's economic outlook.
The 12-month pace of consumer prices excluding eight volatile items slowed to 1.8 percent, from July's 2.1 percent rate, Statistics Canada said Friday from Ottawa. The overall inflation rate decelerated to 1.1 percent, from 1.3 percent.
Both readings lagged the lowest forecast in Bloomberg economist surveys, and analysts predicted overall prices would accelerate on the month instead of slowing.
Inflation risks have tilted to the downside since July, in part because of slack in the broader economy linked to weak exports, Bank of Canada Governor Stephen Poloz said earlier this month. Deepening the gloomy economic outlook, Statistics Canada also reported Friday that retail sales fell 0.1 percent in July, versus a forecast for a 0.1 percent increase.
"It keeps him wary about the economic outlook, the inflation numbers are moving away from their midrange target of 2 percent," Paul Ferley, assistant chief economist at Royal Bank of Canada, said by phone from Toronto. "We are in a fairly volatile period in terms of the growth numbers. It leaves the Bank on the sidelines."
Canada's currency weakened after the report, dropping 0.6 percent to C$1.3125 per U.S. dollar at 8:43 a.m. Toronto time. Yields on two-year government bonds dropped 3 basis points to
0.54 percent.
Food Prices
Food-price gains slowed to 1.1 percent in August from 1.6 percent in July, including a 0.4 percent gain for food purchased from stores that was the smallest since June 2010. The recreation category slowed to 1.1 percent from 1.9 percent.
"Smaller year-over-year gains in the food index and the recreation, education and reading index contributed the most to the deceleration," Statistics Canada's report said.
Gasoline prices, one of the main things holding down inflation over the last year, exerted less of a drag in August. Prices at the pump fell 11.5 percent in August, less than the 14 percent decline in July.
Lower gasoline prices were also part of the story for the July retail sales figures, as receipts at gas stations fell 3 percent on the month, Statistics Canada said. Excluding gasoline, sales rose 0.2 percent.
Retail Sales
Still, the overall 0.1 percent drop came in a month where economists forecast a gain of 0.1 percent, and means sales have been little changed for three months. Furniture and home furnishing sales fell 1.4 percent and motor vehicle dealer sales by 0.2 percent, the fourth decline in five months.
Family benefit payments started being delivered in July, one of the main fiscal actions by Prime Minister Justin Trudeau's Liberal Party took this year to boost sluggish growth as the country recovers from an oil shock.
Consumer spending has stalled since a peak in February, coinciding with signs the broader economy was taking longer than expected to recover from an oil shock. Earlier this month the Bank of Canada said growth and inflation prospects had weakened in recent months, a step back from a July prediction shipments outside the energy industry were set to dominate a recovery.
(Updates with economist comment in fifth paragraph.) --With assistance from Erik Hertzberg.
Before it's here, it's on the Bloomberg Terminal.
LEARN MORE