President Trump? U.S. Election Anxiety Looms Over UN Gathering
By
Global leaders emphasize U.S. system of checks and balances

Trump gets nod from Hungary, while Italy leans toward Clinton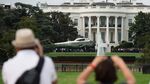 A Trump presidency is no longer a joking matter for leaders gathered at the United Nations this week.
With U.S. elections looming, Republican candidate Donald Trump has narrowed the gap with Democrat rival Hillary Clinton by promoting populism and anti-immigration sentiment in an unusually confrontational and polarized campaign. This has sparked concerns among much of the international community about a return to protectionism and isolationism by the world's largest trade partner.

Back in June, the then President-in-waiting of Peru Pedro Pablo Kuczynski said in jest that he'd "grab a saw" and cut off the U.S. if Trump won. He now takes the prospect more seriously and says he would have to find a way of making it work.
"I'd never saw the U.S. off," the president said at Bloomberg headquarters in New York on Monday. "I negotiated a free trade treaty with the U.S. that has worked very well for us and because of that we did tons of other free trade treaties."
Click here for an overview on the feud over Free Trade Agreements.
Once dismissed as a wild card, Trump has tapped into the bubbling anger of a U.S. society in the wake of the global financial crisis. His call for a wall to keep Mexicans out or hit China with trade tariffs for not playing fair have struck a chord with a large swath of voters.
While the outside world has been by turns alarmed or amused by Trump's assertions, the idea that international trade has led to a loss in U.S. manufacturing jobs or that a war-weary nation should sever expensive military forays overseas has gained traction.
For Brazil, which has a new president after the impeachment of Dilma Rousseff, a lot rides on the resilience of the U.S. system of checks and balances that can prevent the executive branch of government from exerting too much power.

"Of course we have our personal preferences, but they're personal, not institutional," President Michel Temer said in an interview at Bloomberg, when asked which candidate would be better for Brazil's interests. "We know that whoever makes it to the presidency of the United States, considering the strength of American institutions, will surely not do things just of his or her own will."
What is the biggest risk to Brazil, Latin America's largest economy, should Trump win the election? Temer ducked the question diplomatically: "I don't want to speak about him exactly, but rather about protectionism."
Anti-Trade Rhetoric
Peru's Kuczynski echoed those worries and emphasized how it's not just about Trump, but the broader mood that has taken hold in the country. He highlighted the contrast between the anti-trade rhetoric in the campaign and the economic fact that Montana ranchers rely on Peru for their beef exports.
"There are protectionist moves in the U.S., there's no doubt about it," he said. "Is this pre-election bluster? Is it reality?"
Trump has his admirers globally, too. Czech President Milos Zeman endorsed him this week, saying Clinton would continue Barack Obama's policies which he said turned the Middle East into a place full of "festering wounds." That followed Hungarian Prime Minister Viktor Orban's decision to back Trump in July. At the time, the Hungarian premier openly admired Trump's plans to limit immigration by building a wall on the U.S.'s southern border.
For a QuickTake Q&A on the Trump-Clinton debates, click here.
The prime minister of Italy, a country with a long history of immigration to the U.S., seized on the opportunity in New York this week to coyly express his view on the election.
"Italy will work with every president, particularly if it's a woman," Prime Minister Matteo Renzi told an audience of policy experts at the Council on Foreign Relations in New York.
What some leaders at the UN are trying to discern about this unusual U.S. campaign is what is just for show and what should be taken seriously.
Hage Geingob, president of Namibia, remembers learning about how democracies worked and the importance of freedom of speech in the U.S., as a college student in the 1960s at the height of the Vietnam War. His takeaway is that the world can handle whatever happens in November.
The campaign "is something of a circus, but that's the American system," said Geingob in an interview. "Even if Mr. Trump is coming, it will be different. He will comb his hair, and he will be fixed by the system, and therefore controlled by the system."