National Bank of Canada Wins North American Panda Bond Race
by and
Montreal lender approved by China to sell up to 5 billion yuan

'Milestone' will diversify bank funding, aid Chinese expansion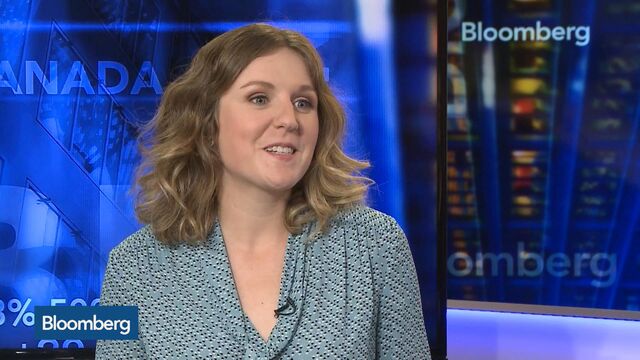 National Bank of Canada is set to become the first North American bank to issue panda bonds, joining international lenders including Standard Chartered Plc and HSBC Holdings Plc in issuing yuan-denominated securities in China's domestic bond market.
National Bank, the nation's sixth-largest lender by assets, was approved to sell up to 5 billion yuan ($750 million) of bonds in China's interbank market, according to a statement.
"This clearly will capture the attention of the marketplace," Caroline Owen, founder and chief executive officer of RMB Global Advisors LLC, said Friday in an interview. "I'll bet you they'll be running to the market soon before any other Canadian bank can get there, so that they can capture the milestone of being the first Canadian bank."
China has been relaxing its rules governing capital markets, such as allowing some issuers to repatriate proceeds from a debt sale, encouraging international borrowers to increase issuance in the yuan-denominated onshore bond market. Those changes are part of China's efforts to make the yuan, also known as the renminbi, a key currency in global business. China's currency will be added to the International Monetary Fund's Special Drawing Rights basket of global reserve currencies in less than two weeks.
'Expansion Plans'
"National Bank of Canada wishes to better serve Canadian firms who intend to do business in China as well as Canadian firms who are well-established there, along with local Chinese partners, by financing their expansion plans," Chief Executive Officer Louis Vachon said in a statement.
Beyond Canada, National Bank has also issued bonds in U.S. dollars, euros, British pounds and Hong Kong dollars, according to data compiled by Bloomberg.
"We've definitely seen an increase in international issuance from Canadian banks over recent years," Kris Somers, fixed-income analyst at Bank of Montreal's BMO Capital Markets, said in a phone interview from Toronto. "National Bank saw an opportunity to diversify their funding base and they took it."
Efforts by the Montreal-based lender follow the 3 billion yuan sale by the Canadian province of British Columbia in January amid efforts to strengthen business ties with China, Canada's second-largest trading partner. The Western Canadian province priced the bond at 2.95 percent.
Well Positioned
National Bank would follow German automaker Daimler AG and the governments of South Korea and Poland in embracing Chinese debt issuance since 2014, helping to revive a market that's been dormant for much of the period since it was established 11 years ago.
National Bank could also see benefits closer to home from issuing panda bonds, according to Owen.
"It positions National Bank well to support renminbi business in Canada, which I know is something both Canada and China would like to see," said Owen, a former regional head of renminbi solutions at Standard Chartered Bank in New York. "National Bank can kick-start their renminbi business by accessing the currency through the issuance of a bond and demonstrating that they are supporters of renminbi internationalization."
Before it's here, it's on the Bloomberg Terminal.
LEARN MORE