More Hillary Clinton E-Mails Coming From State Department
By
Up to 1,050 pages will be released before election, State says

Republican criticizes FBI immunity deal with top Clinton aide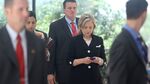 The State Department will release hundreds of previously undisclosed documents from Hillary Clinton's e-mail system before the presidential election under an order Friday by a federal judge, raising the likelihood of further disclosures on a subject that has dogged the Democrat's candidacy.
U.S. District Judge James Boasberg ordered the department to produce as many as 1,050 pages of documents in three batches to Judicial Watch, the plaintiff in a number of disclosure lawsuits, before Nov. 8. The first documents are to be delivered to the conservative government-transparency group on Oct. 4.
The decision Friday came as Republican Representative Jason Chaffetz disclosed that Clinton's former chief of staff, Cheryl Mills, and two other aides were given immunity from prosecution in exchange for their cooperation with the FBI investigation. While Chaffetz expressed outrage, Democrats countered that the immunity agreement was limited.
For a QuickTake Q&A on Hillary Clinton's e-mail system, click here.
The Federal Bureau of Investigation reported in July that it found "several thousand" work-related e-mails from Clinton's time as secretary of state that her lawyers hadn't turned over to the State Department for public disclosure. FBI Director James Comey said then that Clinton and her aides were "extremely careless" in handling sensitive information but that prosecution wasn't warranted.
State Department lawyer Lisa Ann Olson told Boasberg at a hearing in his Washington courtroom Friday that it found about 5,600 work-related e-mails on a disk of deleted messages recovered from the private e-mail server Clinton used. But she said that a "substantial number" were duplicates or near-duplicates of those already made public with redactions.
'Like Candy'
In addition to Mills, the other two aides who received immunity from the FBI were identified as John Bentel, who was director of the State Department's Office of Information Resources Management under Clinton, and Clinton aide Heather Samuelson. A lawyer for Bentel, Randy Turk, did not immediately respond to request for comment.
Chaffetz's disclosure of the immunity grants was reported earlier Friday by the Associated Press.
"The FBI was handing out immunity agreements like candy," Chaffetz of Utah, who's chairman of the House Oversight Committee, said in a statement. "I've lost confidence in this investigation and I question the genuine effort in which it was carried out."
Republican nominee Donald Trump's campaign said the agreement demonstrated criminality.
"Revelations that three additional individuals, including Cheryl Mills, were granted immunity from prosecution in Hillary Clinton's e-mail scandal shows this was without a doubt a criminal scheme," Trump communications adviser Jason Miller said in a campaign statement. "In light of this development, Hillary Clinton must immediately come forward and promise the American people that none of these individuals will ever serve in any capacity in her administration."
While Clinton has said her use of a private e-mail for work-related business was a mistake, the issue is likely to come up Monday in the first debate between Clinton and Trump. The Republican nominee is being advised by some close to him to invoke the e-mail controversy to question Clinton's judgment and intelligence. Polls have shown the issue is a major contributor to voter questions about Clinton's trustworthiness.
"House Republicans are trying to make something out of nothing by rummaging through the files of a Justice Department investigation that was closed months ago without any charges whatsoever, and leaking selective details three days before the first presidential debate," Clinton campaign spokesman Brian Fallon said in an e-mail. "As the case file makes clear, these aides were considered nothing more than witnesses and they cooperated in full with the Justice Department inquiry."
Making 'Political Hay'
Representative Elijah Cummings of Maryland, the top Democrat on the oversight committee, said the immunity agreement was "very limited."
"Ms. Mills was not immunized for any statements she made to the FBI, Congress, or other investigators," Cummings added, accusing Republicans of making "political hay."
Mills previously testified before the House Benghazi Committee and gave a deposition to Judicial Watch in another case, both times discussing the set-up of Clinton's e-mail without invoking the agreement.
A lawyer for Mills and Samuelson, Beth Wilkinson, said in a statement that "the Justice Department assured us that they believed my clients did nothing wrong" and "at all points my clients cooperated with the government's investigation."
The immunity grants covered computers the two women, who are also attorneys, "had used in performing their legal work," Wilkinson said.
On Thursday, the Oversight Committee voted to recommend that Clinton aide Bryan Pagliano, who set up and helped maintain the server, be found in contempt of Congress for twice failing to appear before the committee.
FBI spokeswoman Carol Cratty declined to comment on the grants of immunity to Mills and the others.
Previous Disclosures
The State Department has already released more than 30,000 messages from Clinton's time as secretary of state. It had previously said the disk containing the new messages, one of seven from the FBI, had approximately 15,000 deleted messages to or from Clinton. About 60 percent of those turned out to be personal, however, Olson said Friday.
State Department spokesman John Kirby also said in a statement there might still be personal e-mails among the 5,600, which could also include e-mail chains in which staff continued to discuss a matter after dropping Clinton from a thread.
The department must review 350 pages for release every two weeks between now and the election, but it may not produce all of them as some material is exempted from disclosure under the Freedom of Information Act. Olson said the department doesn't need to produce those that are duplicates. The department plans to produce 500 pages each month after Nov. 4.
Department lawyers said they weren't sure how many pages the 5,600 documents represented, although each message averaged about 1.8 pages in the past, they said. If that pattern held, the department would produce fewer than 600 messages before the election.
In another case, the department had argued that e-mails in which Clinton asked for previously released messages to be printed constituted "near duplicates."
In addition, the department for the first time also gave information about the contents of many of six other disks provided from the FBI, saying one contained the archive Clinton's lawyers already produced, one had information from the Secret Service, one contained a "small body" of classified information, and the remaining three contained information the department would search for further government records.
The case is Judicial Watch Inc. v. U.S. Department of State, 15-cv-687, U.S.District Court, District of Washington. (Washington).