business
Merkel Back From Brink to Assert Control Amid German Defeats
By
Chancellor's counteroffensive feeds talk she'll run again

Party ally satisfied with talks aimed at healing divisions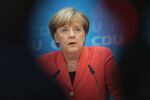 After a run of electoral defeats and government strife, this is the week that Angela Merkel started fighting back.
With most other world leaders gathering at the United Nations in New York, the German chancellor stayed home to tend her wounds and rally the troops after her party's latest setback at the ballot box. Merkel, 62, used the time to clear the decks with a rare admission of lapses over last year's record refugee influx and stepped up efforts to mend fences with her rebellious Bavarian allies, fueling speculation she may be ready to seek a fourth term in next year's German elections.
"This is very likely the start of the process of a fightback," Holger Schmieding, chief economist at Berenberg Bank, said by phone. If Merkel can unite her CDU-led bloc, it "removes the biggest obstacle to running again and she will very likely regain some public esteem," he said.
After almost 11 years in office, Merkel faces slumping poll ratings, a restless electorate and an unprecedented challenge from Alternative for Germany, of AfD, the upstart anti-immigration party that's won seats in more than half of Germany's state parliaments. Two polls this summer suggested that about half the country doesn't want her to stand again and on Sunday her Christian Democratic Union posted its worst result since World War II in city council elections in the capital Berlin.
Support for the AfD rose to an all-time record of 16 percent, suggesting the party would be the third-biggest in parliament if elections were held now, according to a poll for ARD television published Friday. Merkel's bloc and her Social Democrat coalition partner both declined one percentage point to 32 percent and 22 percent respectively, according to the Sept. 19-21 Infratest Dimap poll of 1,018 people.
To rebuild her authority at home, Merkel needs the support of one man in particular: Horst Seehofer.
Immigration Rift
Seehofer heads the CDU's Bavarian sister party which provides crucial votes for Merkel's bloc in national elections. But he also runs the southern region that was on the front line of the refugee crisis that followed Merkel's decision to open German borders to migrants last year.
The influx into Bavaria strained the alliance between Merkel and Seehofer's Christian Social Union. Seehofer called for a cap on immigration, which Merkel rejected on legal and humanitarian grounds, prompting months of sniping. The Bavarian leader has threatened to run a rival campaign in 2017 as he emerged as the chancellor's biggest antagonist on the national stage.
Merkel has until the start of a CSU party conference in Munich on Nov. 4 to patch up the differences with her allies or the likelihood of a lasting rift will increase.
On Thursday night she made a start as the leaders held two separate meetings in Berlin to air their differences and rebuild bridges. Afterward Seehofer emerged smiling.
"I'm satisfied, even very satisfied," Seehofer told reporters, though no specific policy agreements were reached. "We really had a very substantive discussion."
Fighting Back
Another possible sign of reconciliation came on Wednesday when CDU, CSU and the Social Democrats, Merkel's junior coalition partner, ended months of bickering and agreed on a plan to update Germany's estate tax in response to a high-court ruling.
"We're working very calmly and sensibly," said Seehofer. "And that's the way we will keep going."
While still holding out on declaring her candidacy, Merkel didn't sound like a leader about to quit when she faced the press on Monday after her party's drubbing in Berlin.
She pledged to do a better job of explaining her policies and avoid a repeat of last year's surge of about 1 million asylum seekers, but she also insisted her decision last year to let in a backlog of refugees was the right thing to do and said she's determined to woo back support. All national polls show the CDU-CSU would still win the most votes if elections were held now.
Bild, the nation's most-read newspaper, said "there can't be any doubt that she'll run again." Berthold Kohler, co-publisher of Frankfurter Allgemeine Zeitung, Germany's newspaper of record, told Bild that Merkel will seek another term because she's convinced that her refugee policy is right. Even some opposition leaders such as Sahra Wagenknecht, chairwoman of the Left party, say they expect Merkel to contest next year's election.
And Merkel herself has made it clear she's ready for another scrap.
"When I get up in the morning," she said Monday, "I'm always in a fighting mood."
(
Updates with poll showing surge for anti-immigration party in fifth paragraph.
)
Before it's here, it's on the Bloomberg Terminal.
LEARN MORE