Ireland's Noonan Says Options Still Open on AIB Share Sale
By
Government plans to sell as much as 25 percent of bank's stock

European Commission had warned sale could be further delayed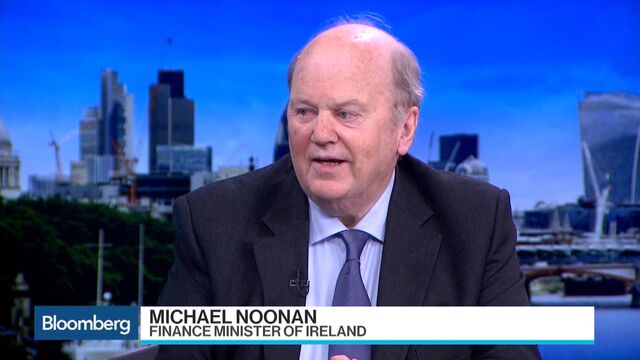 Irish Finance Minister Michael Noonan said he is keeping his options open on the sale of part of the government's stake in Allied Irish Banks Plc, as markets remain volatile and investors continue to shun bank stocks.
The government, which controls more than 99 percent of the lender, has been preparing to sell a portion of its holding for more than year. Noonan had planned to sell a 25 percent stake in the bank to investors before the end of this year, but pushed that plan back to the first half of 2017 citing market volatility.

"My advice is there is no reason why we wouldn't sell," Noonan said in a Bloomberg Television interview in London with Francine Lacqua on Friday. "I'll sell at the best time. It may be in 2017 but there is no decision yet."
The IPO is seen as one of the last steps for AIB to move past the financial crisis nearly a decade ago. The government pumped 21 billion euros ($24 billion) into the bank during the crisis, and has been under pressure to recoup part of that investment. Bernard Byrne, AIB Chief Executive Officer, said this month the bank was "fixed" and ready for the government to start selling its stake.
Market Volatility
"There is so much volatility in the market at present, it is impossible to say with any confidence when the government will be able to start selling down its AIB stake," said Emer Lang, an analyst at Davy in Dublin. "Having said that, markets can turn very quickly so next year cannot be definitively ruled out."
Stock market volatility has raised doubts on the chances of a share sale happening early next year. The Euro Stoxx Bank Index, an index of European banking shares, has fallen 26 percent in the year to date. In its latest report on the state of the Irish economy this week, the European Commission said Ireland may delay the sale citing lack of investor appetite and uncertainty after the U.K.'s vote to leave the European Union.