Fed's Rosengren Highlights Growing Tensions Inside FOMC
by
Boston Fed chief among three dissenters at this week's meeting

Dove-turned-hawk says failing to hike could stoke imbalances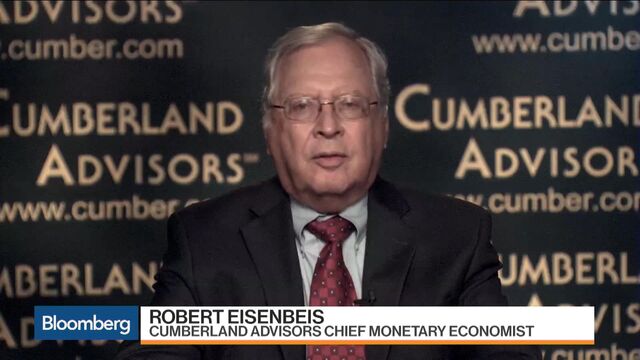 The president of the Federal Reserve Bank of Boston took direct aim at Janet Yellen's argument for keeping interest rates unchanged this week, shedding more light on pressures confronting the Fed chair as she tries to coax the U.S. economy through a period of slow growth and deep uncertainty.
Eric Rosengren, who dissented from the decision by the Federal Open Market Committee on Wednesday, said in a statement Friday the Fed's failure to get back to a strategy of gradual rate increases may threaten the economic recovery.
"I am arguing for modest, gradual tightening now, out of concern that not doing so today will put the recovery's duration and sustainability at greater risk," he said.
Rosengren, 59, has emerged as one of two potent voices inside the Fed pulling Yellen in opposite directions, each armed with Ph.D.'s in economics as well as impressive track records dealing directly with the fallout of past crises. In the opposing corner, Fed Governor Lael Brainard, a former Treasury official, has led the charge to delay rate hikes out of concern for global risks, and the worry that a premature increase would do more harm than waiting too long.
Split the Difference
Yellen has so far tried to accommodate both camps. In her press conference Wednesday, she nodded to the peril of overheating the economy, but expressed a desire to squeeze out more gains for Americans who remain on the sidelines of the recovery.
"The labor market does have that potential to have people come back in without the unemployment rate coming down," she said. "The economy has a little more room to run than might have been previously thought."
Rosengren, who said he expects unemployment to continue to decline, even with gradual rate increases, challenged that assessment.
"Unemployment this low may well have the desirable effect of bringing more workers into the labor force -- but, unfortunately, only temporarily," he said. "Historical experience suggests it also risks overheating the economy, the effects of which include heightened pressure on inflation and potentially increasing financial-market imbalances."
Painful Memories
Rosengren has reason to remember the consequences of financial imbalances. During the financial crisis of 2008-09 he lead the Fed's successful efforts to prevent a collapse in money-market mutual funds.
Rosengren likely made his case during the FOMC's closed-door policy debate on Tuesday and Wednesday, but the majority of its voters sided with Yellen. 
"The committee judges that the case for an increase in the federal funds rate has strengthened but decided, for the time being, to wait for further evidence of continued progress toward its objectives," the FOMC said in its post-meeting statement.
Also dissenting Wednesday were Kansas City Fed President Esther George, a reliable inflation hawk, and Cleveland's Loretta Mester, a more centrist but still relatively hawkish figure on the FOMC.
Rosengren's stance is likely to carry more force with Yellen given it comes from an economist much closer to her policy views.
No 'Inflation Nutter'
Rosengren has "very, very clearly demonstrated that he is not an inflation nutter," said Lou Crandall, chief economist at Wrightson ICAP LLC, in Jersey City, New Jersey. He has "laid out the dovish case for a rate hike," and claiming prudence in central banking "is always an attempt to take the higher ground."
Like Yellen, Rosengren long favored keeping rates ultra-low in order to boost employment. He swung in favor of rate increases only as unemployment has declined to 4.9 percent, at or very close to most estimates of its lowest sustainable level.
"By 2019, I expect the unemployment rate to have declined below 4.5 percent," Rosengren said Friday. "While I have a long track record of advocating for policy that supports robust labor market conditions, that is below the rate that I believe is sustainable in the long run."
Two Fed officials who will vote on the FOMC in 2017, speaking separately on Friday, indicated they lean to the dovish side of the policy debate.
"We don't think the economy is overheating," Robert Kaplan, president of the Dallas Fed, said in Houston. "We can afford to be patient in removing accommodation. We are not as accommodative, probably, as people would think."
Minneapolis Fed President Neel Kashkari, answering questions on Twitter, said he's more worried about raising rates too quickly than he is about moving too slowly.
Before it's here, it's on the Bloomberg Terminal.
LEARN MORE