Faltering TTIP Not Dead Yet as EU Looks for Deal Beyond Obama
by and
Accord no longer expected by year end, trade chiefs say

Canada free-trade accord is set to be signed in October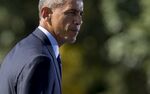 The European Union is pressing on in its beleaguered negotiations with the U.S. on a free-trade accord even as officials acknowledge that any agreement is unlikely before a new president is in the White House.
Although EU governments are increasingly skeptical about the Transatlantic Trade and Investment Partnership as voters step up protests, trade ministers on Friday decided against shelving the talks. The two sides will almost certainly miss their unofficial target completion date of the end of 2016 and the accord will need support from the next U.S. president.
Without a deal before Barack Obama leaves office, the speed of negotiations on the proposed pact "very much depends on who will be the next U.S. president and how he or she will see TTIP in his or her priorities," EU Trade Commissioner Cecilia Malmstroem said after the meeting in Bratislava, Slovakia. "We need to get it right, but it makes all the sense in the world -- still -- to have an agreement with the U.S."
The EU and the U.S. have spent three years working on an accord to expand the world's biggest economic relationship by eliminating tariffs on goods, enlarging services markets, opening public procurement and bolstering regulatory cooperation. While Obama and German Chancellor Angela Merkel have said the pact is a policy priority, European governments have become less enthusiastic as protests have grown and negotiations have faltered.
At the same meeting, the trade ministers gave fresh impetus to CETA, the EU's free-trade deal with Canada, saying that the European Commission would publish clarifications to sooth last-minute concerns in some countries, particularly Austria.
The EU and Canada concluded negotiations after five years and the two sides are expected to sign the deal at a meeting on Oct. 27. It will only come into effect once ratified by national and regional parliaments, which is expected to take place next year.
EU leaders will discuss TTIP at their summit in Brussels next month and Malmstroem said it was clear that governments were listening to the views of voters.
"We all live in the real world, we are very much aware that there are some protests in some countries," Malmstroem said. "That's why we really are committed jointly to make sure we have good agreements that take into account the different interests and respect red lines."
Before it's here, it's on the Bloomberg Terminal.
LEARN MORE