Erdogan Doesn't Care at All If Turkey Gets Downgraded to Junk
By and
Turkish president says credit ratings are based on politics

Erdogan says debt rating institutions aren't 'respectable'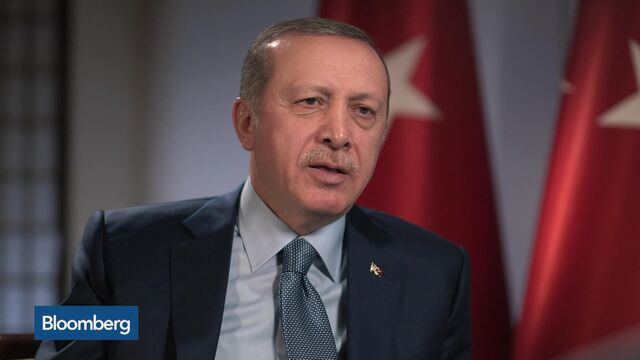 Turkey's President Recep Tayyip Erdogan said he is not worried if his country is rated below investment grade as credit rating firms are making wrong decisions because of their political bias.
"I don't care at all, they're making mistakes and they're doing it intentionally," Erdogan said in an interview in New York on Thursday. "Whether you're honest or not, Turkey's economy is strong."
S&P Global Ratings lowered Turkey's rating immediately after the July 15 attempt to topple Erdogan citing greater political risks. It was cut by one notch to BB, or two steps below investment grade. Last month, Fitch Ratings maintained its BBB-, the lowest investment grade, while reducing the country's outlook to negative from stable. That is in line with Moody's Investors Service, which has placed the country on review for a possible downgrade to junk.
The ratings companies are acting "contrary to economic ethics," making political statements, Erdogan said. "They're raising economies that have collapsed, that are finished, on the other hand, they're either freezing or going towards cutting a country that's standing on its feet, that's upright, and where investments are continuing."
"This is not a respectable stance," he said. "I'm inviting them to be honest."
Moody's, which rates Turkey at Baa3, has placed the country on review for a downgrade within 90 days from the day of the statement on July 18. Back in August, Fitch cited "the potential for further disruption from those behind the coup attempt."
Read These Next:
Watch Next: Turkey's Erdogan on U.S. Relations, Fethullah Gulen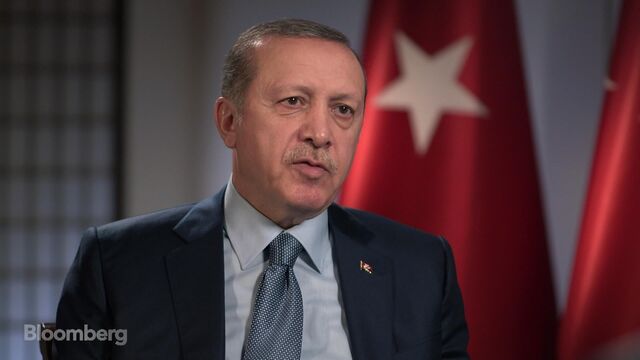 Before it's here, it's on the Bloomberg Terminal.
LEARN MORE