benchmark
Economic Headwind Looks More Like an Anchor as Fed Projects Aggressive Stimulus Through 2018
If Fed projections hold, the inflation-adjusted policy rate will have been at zero or below for about a decade
By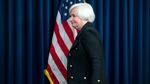 If you are still wondering what happened at the Federal Reserve on Wednesday, perhaps focus on these words from Fed Chair Janet Yellen during her post-meeting press conference.

"We're struggling with a difficult set of issues about what is the new normal in this economy, and the global economy more generally,'' Yellen said. "Which explains why we keep revising down the rate path.''
This is an honest admission by the head of the world's most important central bank that the business cycle isn't developing as they expected. That's one reason why we hear so many conflicting views from different Fed officials recently, and why their strategy revisions are so frequent.
The Fed now sees its real, inflation-adjusted policy rate staying negative next year and only rising to zero in inflation-adjusted terms by the end of 2018. In June, they expected the policy rate to be slightly positive by the end of 2018.

Put another way, it is going to take even more monetary gas than they expected to drive the U.S. economy to the Fed's forecast for  2 percent growth, 4.5 percent unemployment and 2 percent inflation by 2018. Their outlook implies little contribution from fiscal policy to U.S. growth. If lawmakers voted to ramp up government spending, it would potentially require a less aggressive Fed policy path to hit those projections.
"The story this year is a forecast that has barely changed, but a shallower and shallower rate path'' is needed to achieve it, said Laurence Meyer, a former Fed governor who runs a Washington policy analysis firm.
If Fed officials are right, they will have been at zero or below on their real policy rate for about a decade, and that means whatever is slowing U.S. growth is more like a persistent anchor than a passing headwind.


(
For more news and analysis, see Benchmark
)
Before it's here, it's on the Bloomberg Terminal.
LEARN MORE