Dublin Calling for Bankers Weighing Brexit Move, Noonan Says
By
Finance companies await more clarity on Brexit implications

U.K. may lose EU advantages without obligations, Noonan says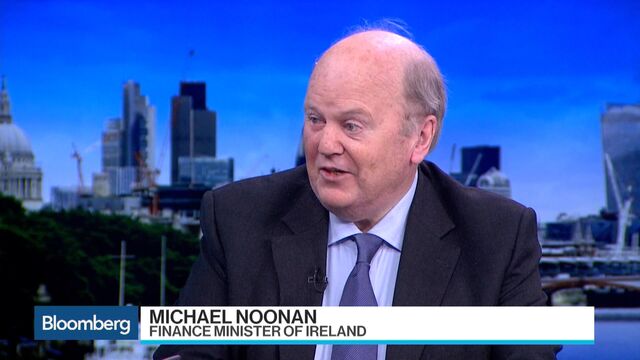 Ireland is drawing interest from finance companies weighing relocation from London after the U.K. voted to exit the European Union, said Michael Noonan, the nation's finance minister.
There had been "a lot of inquiries since the Brexit vote," Noonan said in a Bloomberg Television interview with Francine Lacqua in London on Friday. Companies are unlikely to make any decisions until there is more clarity on the Brexit negotiations, he added.
Dublin is one of the capitals fighting to attract banks that may move units from London after Brexit to retain the passporting rights which allow them to do business throughout the EU. The U.K. won't have access to the single market unless it pays into the EU budget and allows free movement of EU citizens, Noonan said.
Europeans say Britain "can't have the advantages of the EU without the obligations," Noonan said.
Ireland wants the U.K. to retain access to the single market and to maintain free movement of people, Noonan said. Ireland's economy is seen as particularly vulnerable to a so-called Brexit shock, with many Irish companies doing the bulk of their international business in Britain. 
"If not for Brexit we'd be looking at a fairly smooth sea," in Europe, he said. "But Brexit is a very serious issue."