Clinton Postpones Charlotte Visit, Heeding Mayor's Request
The Clinton campaign had announced the trip after Keith Lamont Scott was killed by a police officer, prompting days of protests.
By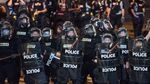 Democratic presidential nominee Hillary Clinton is heeding the request of the mayor of Charlotte, North Carolina, and will postpone a planned Sunday visit to the city for at least a week, her campaign said Friday.
Clinton campaign had announced the trip earlier Friday, just days after Keith Lamont Scott, 43, was shot and killed by a police officer, prompting days of sometimes-violent protests. Clinton will instead visit on Oct. 2, if the city is ready for the security demands that would come with her arrival, communications director Jennifer Palmieri said. 
"Hillary is grateful for, and intends to honor, the invitation from faith leaders to visit with the Charlotte community. After further discussion with community leaders, we have decided to postpone Sunday's trip as to not impact the city's resources," Palmieri said. "In the meantime her prayers are with the people of Charlotte during these difficult days."
The change in plans comes after Charlotte's mayor, Jennifer Roberts, asked Clinton and Republican presidential nominee Donald Trump, who has a trip scheduled for Tuesday, to postpone their travel until the city is better able to handle the high-profile visitors. "At this point, we do have very stretched resources for security and they are working around the clock. If there would be a way to delay those visits in terms of giving us a chance to get our city back to order and back to more of a state of normalcy, that would probably be ideal," the mayor, a Democrat, said Friday on CNN. 
Clinton called Roberts on Thursday to offer her assistance, her campaign said at the time, and aides did not immediately say Friday if a potential visit was discussed during that conversation.
Scott's wife released her cellphone video of the incident on Friday, which includes audio of her shouting "don't shoot him" and saying that he didn't have a gun. Charlotte police say their video of the incident shows Scott holding a gun and that a gun was found at the scene of the incident.
Clinton called on the police department to release its video "without delay," she wrote Friday on Twitter. "We must ensure justice & work to bridge divides."
After the fatal shootings this week of Scott and another black man, Terence Crutcher, in Tulsa, Oklahoma, Clinton said the situation was "unbearable and it needs to become intolerable."
Clinton was last in Charlotte in early September for a rally at historically black Johnson C. Smith University and a fundraiser. North Carolina is one of the battlegrounds for Clinton and Republican nominee Donald Trump and recent polls indicate the contest for the state's 15 Electoral College votes is essentially a tie. 
Monday night, Clinton and Trump will take part in their first head-to-head debate at Hofstra University in New York.
Before it's here, it's on the Bloomberg Terminal.
LEARN MORE