Clinton Grapples With Globalization Vision as Trump Closes In
By
Her challenge is offering wary voters succinct free-trade plan

In a global economy, 'the unprotected are living on the edge'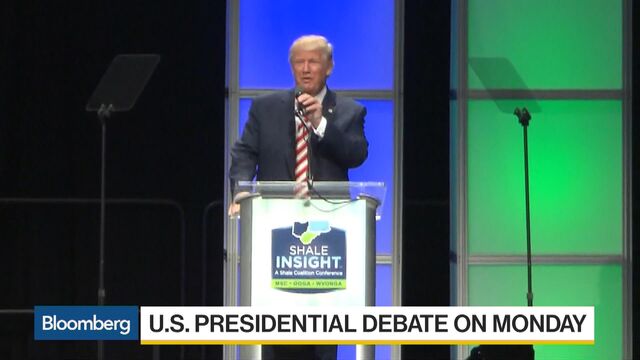 Ask Donald Trump what he thinks of U.S. trade policy, and his answer is clear: We're getting robbed. Ask Hillary Clinton, and the message is far more complicated -- potentially endangering her chances to win over voters feeling marginalized in the global economy.
The two presidential candidates meet for their first head-to-head debate Sept. 26 in New York. While Trump is likely to repeat his disdain for trade rules he says harm American workers, Clinton is running short on time to offer a succinct vision for how the U.S. economy will thrive in a world where labor and capital flow ever more freely across borders.
While economists still largely agree that trade is a good thing, voters have shown more skepticism in this election and Trump has played into their fears. The rhetoric matches the mood of Britons who voted in June to exit the European Union.
"Trade fits into one of the basic messages that Trump has constructed, which is that 'the other' is dangerous to us," whether they are Mexican, Chinese, Muslim or other groups, said Barry Lynn, director of the Open Markets program at the Washington-based New America Foundation. "We're having a different-sounding conversation than we've had in a long time."
For Trump, the international trading system is a fight between nations that leaves winners and losers, and China is beating the U.S. handily. Clinton has a larger communication challenge: acknowledging that there are domestic casualties as well as beneficiaries, offering alternatives to the disenfranchised, and warning that isolation or punishing a rival trading partner invites more pain.
Wary Public
The traditional model for mitigating the downsides of trade has included a mix of wage subsidies and insurance, the Trade Adjustment Assistance program that has been panned for shoddy design, and spotty worker retraining programs. For the 43 percent of registered voters who now see trade as a "bad thing," according to Pew Research Center tallies, the old ways are wildly insufficient.
"The top 20 percent are protected," said John Mauldin, Dallas-based president of Millennium Wave Advisors, an investment advisory firm. "The unprotected are living on the edge, and they're frustrated. And they're ready just to blow stuff up."
Trump's answer could mean canceling trade deals, slapping tariffs on China and other "cheaters," ramping up deportations and slashing refugee admissions. The protectionist moves could cost the U.S. economy, economists warn, though groups including the Committee for a Responsible Federal Budget have said the impact is uncertain because there are too few certain details in Trump's pitch.
In arguing for much of those systems to remain intact, Clinton will have to find other ways of appealing to a growing portion of the electorate that blames globalization for everything from low wages to security worries. So far, she has rescinded her affection for the Trans-Pacific Partnership she supported as Secretary of State, and is now pledging to appoint a "chief trade prosecutor," triple the number of enforcement officers and review existing trade agreements.
Another key might be to go local and stress the need for spending on infrastructure, said Michael Gapen, chief U.S. economist at Barclays Capital Inc. in New York.
Both candidates have proposed massive fiscal stimulus for crumbling U.S. roads and bridges, with Clinton pledging $275 billion over five years to mark the biggest such outlays since President Dwight Eisenhower's creation of the interstate highway system.
The Apprentice
In order to set herself apart from Trump's plans, and to more directly address how workers can make up ground when jobs are lost to trade or to technological advances, Clinton might push more an old European idea that has been gaining traction on this side of the Atlantic: apprenticeships.
"Unlike some of these training programs that can be a little divorced from reality, these are really sectoral-specific and they don't take you on unless there's a job to be done," said Jared Bernstein, a senior fellow at the Center on Budget and Policy Priorities in Washington and former chief economist for Vice President Joe Biden.
While apprenticeships -- an employer's offer of on-the-job training and related classroom instruction -- have been en vogue in Europe since the Middle Ages and were featured in the title of a Trump television show, they've only recently caught on in practice in the U.S.
Germany, in particular, has long been the envy of policy makers, including Labor Secretary Tom Perez, who are desperate to resolve skills gaps and entice more people into the shrinking labor force.
"These programs are proof that apprenticeships aren't just for sorcerers anymore," Perez gushed in a November 2014 online diary of his travels to Germany and the U.K., where he found employers who were enthusiastic about offering the programs in industries beyond manual labor and including law, dentistry, and financial services.
The programs have been slow to catch on since the start of the last recession. There were 447,929 active American apprentices in 2015, little changed from 442,386 in 2008, according to Labor Department figures. Employers can receive government assistance by registering apprenticeships with the government. Clinton is proposing an additional tax credit for businesses offering the program.

Whatever the proposed job fix, candidates will need to make a stronger case for how the economy writ large will sustain the kind of demand needed to even make room for such apprenticeships and other job opportunities. U.S. growth has slowed to an average 1.4 percent year-on-year rate in the decade through 2015, compared with 3.4 percent from 1996 to 2005.
"The major issue these programs face is that you can train workers, but you need to create demand for those workers as well," said Mike Madowitz, an economist at the Washington-based Center for American Progress, which has ties to liberal Democratic groups and to Clinton.
For a Democratic candidate who is more likely to preserve some semblance of the current trade system -- "the answer is not to rant and rave, or cut ourselves off from the world," Clinton said last month -- connecting with voters on their attitudes toward globalization will be an uphill battle.
"If she was going to try to make an appeal, first of all she would have to say that 'I've got resources for people who have really been hit hard,"' said Karlyn Bowman, a public opinion analyst at the conservative-leaning American Enterprise Institute in Washington. "It's a hard sell right now, though -- particularly if you personally have been hurt or your next-door neighbor has."
A solid pitch by Clinton on globalization could be critical to retaking a statistically significant lead in the polls. Clinton holds a slim 2.1 percentage point advantage over Trump nationally, compared with a 6.3-point edge in late August, according to aggregated polls compiled by Real Clear Politics and accessed Sept. 22. In Ohio, a battleground state with a heavy manufacturing base, Trump recently pulled ahead of Clinton and leads by 1.8 points.
Whoever wins, the transition to a new look for globalization could be a long and painful one.
"It hasn't just come out of the blue, so it's hard for me to think it'll disappear out of the blue," said Josh Bivens, director of research and policy at the Economic Policy Institute, which is partially funded by labor groups. "It's been sort of a steadily ratcheting-up of discontent with trade policy over the past 15 years or so" that has changed how people think about globalization, he said.
Before it's here, it's on the Bloomberg Terminal.
LEARN MORE