Christie 'Enforcer' Tells Jurors One Constituent Counted
By and
Wildstein says Twin Towers steel given to win endorsements

Felon who helped hatch Bridgegate breaks three-year silence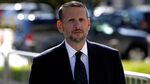 New Jersey Governor Chris Christie used the Port Authority of New York & New Jersey as a "goody bag" to dole out gifts and favors in exchange for political endorsements for his 2013 re-election, the star witness testified at the trial of two Christie allies.
David Wildstein told jurors Friday that the Republican governor backed a strategy that included awarding patronage jobs, giving tours of the World Trade Center site and distributing steel and flags from the Twin Towers destroyed in the Sept. 11 terror attacks. Wildstein said Christie's office coordinated with him on how to use the "Port Authority goody bag" to secure endorsements.
"The Port Authority was asked to play a role in securing endorsements," said Wildstein. He said Christie and his former campaign manager, Bill Stepien, authorized the strategy along with Bridget Anne Kelly, who is on trial. 
Kelly, Christie's former deputy chief of staff, and Bill Baroni, the Port Authority's former deputy chief of staff, are accused of ordering traffic jams near the George Washington Bridge to punish the Democratic mayor of Fort Lee, New Jersey, for not backing the governor's re-election in 2013.
Wildstein, who pleaded guilty last year, broke three years of silence by taking the witness stand during the trial's fifth day. During two hours of testimony, which will resume on Sept. 26th, he wasn't asked about the lane closings.
Political Advantage
But Wildstein, and another former Christie aide who testified earlier Friday, offered a jarring look at the transactional nature of New Jersey government, where public funds, assets, jobs and contracts are traded for personal gain and political advantage. Wildstein told jurors that he and Baroni, his boss, followed a "one-constituent rule" at the Port Authority, the agency that runs the bridge.
"The one constituent rule meant that the only person who matters was Governor Christie," Wildstein said. "If it was good for Governor Christie, it was good for us."
While Wildstein pleaded guilty last year, he's never publicly told the inside account of why he ordered lane closures that snarled cars and emergency vehicles on the first week of school. Wildstein only began Friday to spell out his own biography as a political blogger, a small-town mayor and a campaign operative since the age of 12. 
His first day of testimony shed little light on the most provocative question hanging over the trial -- when Governor Christie learned of the plot and whether he helped plan or encourage it. During opening statements, prosecutors said that Wildstein and Baroni told the governor about the lane closures as they were occurring.  Christie denies he knew of the scheme.
'Aggressive Representative'
Although Wildstein and Christie grew up in the same town -- Livingston, New Jersey -- Wildstein told jurors they had only spoken directly on the telephone twice, most recently in 1995, suggesting the two weren't close.
Wildstein said he was hired at the Port Authority in May 2010 by Baroni, whom he described as one of his closest friends. "Mr. Baroni was going to be an aggressive representative of the Christie administration. My role was to assist in that endeavor," Wildstein said.
Defense lawyers have described Wildstein as Christie's "enforcer" at the Port Authority who falsely implicated Baroni and Kelly to please prosecutors and help avoid a possible 15-year prison term. Kelly and Baroni face as many as 20 years.
"David Wildstein is a vicious guy," Baroni's attorney, Michael Baldassare, told jurors when the federal trial started Sept. 19. "He's a bully. He's a horrible person. He is the most complicated person I've ever met. He is a vindictive individual who would destroy your life."
Only a bit of that darker side came through Friday under questioning by Assistant U.S. Attorney Lee Cortes. Wildstein told jurors that he became friends with Baroni while working on a political campaign in 1998. At the Port Authority, he said they talked constantly throughout the day and again each night. Baroni liked playing the good cop while Wildstein took a harder line.
'Bad Cop'
"Mr. Baroni didn't enjoy playing bad cop," Wildstein said. "He liked being good cop. He felt my particular personality, which wasn't always pleasant, would be helpful to him."
Prosecutors don't deny that Wildstein, 55, is a lying felon.
As a lifelong political operative, Wildstein "engaged in a lot of dirty tricks, a lot of bad things," Assistant U.S. Attorney Vikas Khanna told jurors in his opening statement. "He's shaded the truth. He has lied. But he will also tell you what happened here in Fort Lee. This was different than just a trick."
The scandal has tarred Christie, once a contender for the Republican nomination for the White House, his popularity has plummeted. He now advises nominee Donald Trump.
For more on the Bridgegate scandal and its impact on Christie, click here.
Jurors heard earlier Friday from Matthew Mowers, a former Christie aide and campaign official who was once the main contact in the governor's office with Fort Lee Mayor Mark Sokolich. Mowers testified that despite World Trade Center tours and invites to the governor's mansion in Princeton, Sokolich balked at backing Christie.
Sokolich declined, Mowers said, because he was afraid that local Democrats would punish him for crossing party lines by taking away the municipal contracts held by his law firm.
"I wish I had the balls to do it," Sokolich said, according to a message that Mowers wrote to his boss. Mowers now works for the Trump campaign.
The case is U.S. v. Baroni, 15-cr-00193, U.S. District Court, District of New Jersey (Newark).
Before it's here, it's on the Bloomberg Terminal.
LEARN MORE