China Starts Default-Swap Trading as Buffer Against Failures
Bloomberg News
PBOC has approved rules governing credit-default swap trading

Move shows government may allow more debt failures: Moody's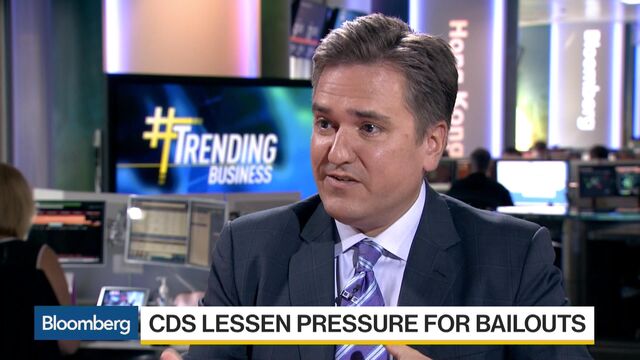 China's approval of credit-default swap trading for the first time is fueling speculation authorities will allow more bond delinquencies as the economy slows.
The People's Bank of China has approved rules governing CDS trading in the nation's interbank market, according to a statement from the National Association of Financial Market Institutional Investors, a unit under the central bank. The purpose is to help diversify credit risks and facilitate healthy development of the market, the statement said.
The swaps, which provide insurance against bond failures, add an arrow in Premier Li Keqiang's quiver as he seeks to rid the economy of zombie companies while ensuring failures don't trigger wider fallout. There is room for defaults to rise. While the number of firms failing to pay debts has soared since the first local note nonpayment in 2014, the nonpayment rate is still low compared with other countries.
"The launching of CDS trading shows the government may allow more bond defaults," said Ivan Chung, head of Greater China credit research at Moody's Investors Service in Hong Kong. "CDS will help investors mitigate the risk and alleviate market sentiment if investors face more defaults or suffer more losses after defaults."
Delinquencies Spread
China's move covers CDS tied to debt of companies, countries or multi-lateral agencies, according to the NAFMII statement. The central bank also approved trading of credit-linked notes, it said.
Goldman Sachs Group Inc. estimated in May that about 0.2 percent of Chinese company bonds are in default, excluding those that were later fully repaid. That pales in comparison to the 0.8 percent of corporate issues that failed in the past 12 months globally, according to data from Moody's Investors Service.
At least 18 local bonds missed payments this year, compared with seven for all of 2015. Bad loans climbed in the first half to 1.4 trillion yuan ($210 billion), the highest in 11 years. Banks's non-performing loan ratio rose to 1.75 percent as at June 30, the highest since 2009.
China had similar instruments to CDS before. Authorities issued rules on instruments called credit risk mitigation warrants in 2010. Yet there was almost no trading of the tool because they are linked to single bonds of issuers, Ping An Securities Co. said in June.
'Milestone Development'
"It is a milestone development for the CDS to be built out in a relatively undeveloped market," said Christopher Lee, chief ratings officer for Greater China at S&P Global Ratings in Hong Kong. "This allows investors to have means to hedge the positions. China has the advantage of learning from other countries to have comprehensive rules."
Local governments have at times stepped in to help firms struggling to repay debt such as Heilongjiang Longmay Mining Holding Group. Xining Special Steel Co. said in a filing in May that the local government had pledged to offer financing support for its note payments if necessary. 
With CDS trading, the government will be under less pressure to bail out many of the troubled companies, according to China Merchants Bank Co. Investors such as HFT Investment Management Co. welcome such a move.
"CDS is a very good tool to help our investments," said Mo Qian, general manager of fixed income research department at HFT.
China needs CDS as credit quality is deteriorating, according to Natixis SA.
"CDS can help indicate the probability of defaults so investors don't have to rely so much on domestic rating agencies, which many foreign investors are doubtful of," said Iris Pang, senior economist of Greater China at the bank in Hong Kong. "CDS pricing can also reflect which companies the government may be more willing to bail out."
— With assistance by Xize Kang, Lianting Tu, and Judy Chen
Before it's here, it's on the Bloomberg Terminal.
LEARN MORE