markets
Brexit Talks Should Be 'Pragmatic,' Latvia Foreign Minister Says
By
Hard Brexit isn't good option for U.K. and EU, Rinkevics says

Latvians living in the U.K. should be able to remain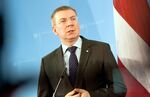 U.K. and European Union talks over Britain's departure from the EU should be pragmatic and not ideological because a "hard Brexit" isn't to either sides advantage, Latvian Foreign Minister Edgars Rinkevics said. 
Latvia is willing to allow some flexibility in negotiations on free movement and the single market between the U.K. and the bloc, Rinkevics said Thursday in an interview at Bloomberg's headquarters in New York. The U.K. should remain in the EU's single market, while the status of Latvians living in Britain shouldn't change after it leaves the bloc, he added.
"To be pragmatic, especially now, when so many loud statements are being made from all sides is something I would advocate for," Rinkevics said. "We are not the country in the EU that thinks that we need to see Britain punished" for voting to leave, he added.
The statement comes as the U.K. seeks a deal on its departure that would incorporate both immigration curbs and free market access. Restrictions on immigration would clash with EU rules on the free movement of labor. Up to 200,000 Latvians currently live and work in the U.K., according to Rinkevics.
"If the U.K. really wants to have whole access to the single market, I can't imagine how the country would avoid also the free movement of labor," Rinkevics said. It will be "be very difficult for the U.K. to get the deal that would actually mean no migration."
Russia Sanctions
The economy of Latvia, a former Soviet republic, will grow 1.4 percent in 2016, down from a 2 percent forecast earlier, central bank governor Ilmars Rimsevics said this month. Brexit will impact Latvia's economy, though it's too early to assess by how much, Rinkevics said.
International sanctions on Russia, one of Latvia's largest trading partners, may be part of the reason behind the growth revision, he said. Punitive measures imposed by the EU and the U.S. after the annexation of Crimea are also weighing on the economies of Russia's neighbors and indirectly affecting Latvia, he said.
NATO Buildup
Since the conflict between Russia and Ukraine in 2014 jolted European security, Latvia has stepped up its efforts to bolster the presence of NATO troops in the country. The Baltic nation will increase its defense budget to 1.7 percent of GDP next year from about 1.4 percent in 2016, Rinkevics said. That's still below the 2 percent threshold called for by NATO.
"We have only five NATO members that now spend 2 percent" on defense, Rinkevics said. "By 2018 we are going to see around a dozen."
— With assistance by Aaron Eglitis
Before it's here, it's on the Bloomberg Terminal.
LEARN MORE