Anxiety Spikes Among G-20, An Analysis of UN Speeches Shows
Words like "fear" and "uncertainty" are more common than last year amid competing global crises
By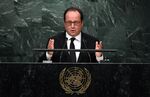 Syria's civil war. North Korean nuclear tests. Brexit. Turkey's failed coup. A volatile U.S. election. This jarring backdrop was hard to miss as world leaders stepped up to the familiar green marble dais during this week's United Nations General Assembly.
Heads of state and government representing the world's largest economies used words like "fear," "uncertainty," "risk," and "terror" 87 percent more often on average than during last year's gathering, according to an analysis by Adam Tiouririne, a leadership communication adviser at Logos Consulting Group.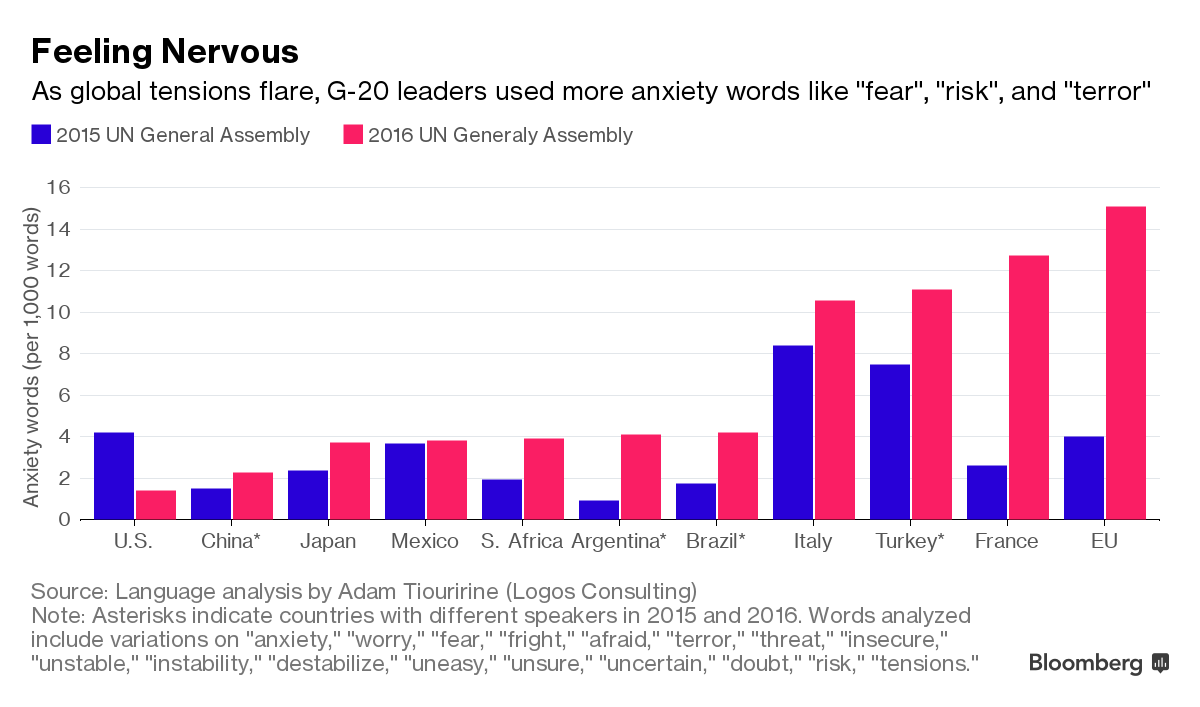 Researchers classify this kind of language into a category of "anxiety words" that they use to analyze health outcomes and even business management. This analysis focuses on variations of 13 such words in 22 speeches covering the 10 G-20 countries whose head of state or head of government spoke the past two years, plus European Council President Donald Tusk.
Academic research has also found that such words reflect people's actual underlying levels of stress, which may explain why U.S. President Barack Obama — who will no longer be troubled with the world's problems after next January — is the only G-20 leader to use anxiety words less often than last year.
On the other hand French President Francois Hollande, whose country has been rocked by terrorist attacks from Paris to Nice in the past year, notched the biggest uptick, from seven anxiety words in his 2015 General Assembly speech to 30 this year. 

The civil war in Syria and its worsening refugee crisis are fueling much of the anxiety that is pervasive in the leaders' frequent mentions of war, migration and terrorism. A broader analysis found that the Middle Eastern country was mentioned no fewer than 50 times by the 14 G-20 leaders who spoke at this year's General Assembly.  

Yet even as global conflicts weighed on the G-20 leaders, economics ultimately emerged as a top issue for many, especially Chinese Premier Li Keqiang who mentioned the subject twice as often as any of his peers.
Note on Methodology: Prepared English-language statements were used, in order of appearance,  for Brazilian President Michel Temer, U.S. President Barack Obama, Turkish President Recep Tayyip Erdogan, British Prime Minister Theresa May, Canadian Prime Minister Justin Trudeau, South African President Jacob Zuma, European Council President Donald Tusk, Japanese Prime Minister Shinzo Abe, and Australian Prime Minister Malcolm Turnbull. Transcripts of delivered remarks or live English translations were used for: Argentine President Mauricio Macri, French President Francois Hollande, Mexican President Enrique Pena Nieto, Italian Prime Minister Matteo Renzi, and Chinese Premier Li Keqiang.
Before it's here, it's on the Bloomberg Terminal.
LEARN MORE